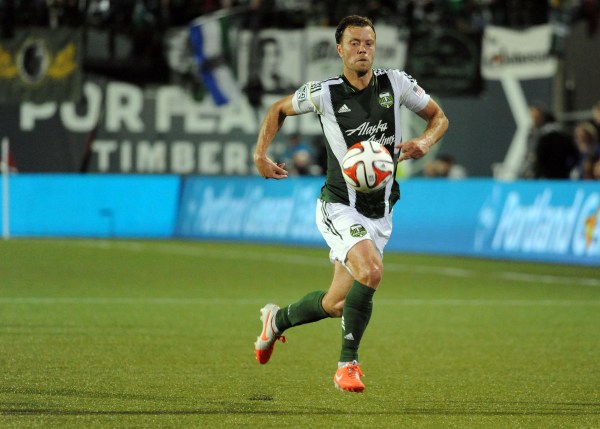 Photo by Steve Dykes/USA Today Sports
By FRANCO PANIZO
Turning to the third player in the depth chart of any position is something typically not done until well after the season has begun, but the Portland Timbers are already dealing with that very predicament before the 2015 season has even begun.
Having lost starting holding midfielder Will Johnson to a broken leg late last season, the Timbers were planning to begin the 2015 campaign with Ben Zemanski as Johnson's fill-in. Those plans were abruptly altered this past weekend after Zemanski suffered a torn ACL in a preseason match.
The injury came exactly two weeks before Portland opens its season at home against Western Conference foe Real Salt Lake, but the Timbers are confident that the next man up can do the job.
"With Will Johnson and Ben Zemanski out, in theory we're going three deep there but we still have a Jack Jewsbury who was an All-Star at one point in that position as a central mid," head coach Caleb Porter told SBI by phone. "He's one of the most experienced players in this club's history, and, honestly, on a short, condensed time to get ready for that game he's a safe bet.
"You know what you get, he's not going to go in a home opener and really do anything surprising in a negative way, and he's a good player, he's solid, he's smart, he's got good feet. He'll actually come and play deep and he'll build up like a (No. 6). He's smart positionally, and that allows (Diego) Chara to play like the (No. 8)."
The 33-year-old Jewsbury saw time during the 2014 season in both defense and midfield, but it was the latter role that he played well in en route to earning a spot on the 2013 MLS All-Star team. He should feel plenty comfortable as a central midfielder after spending a chunk of his 12-year MLS career there, and will allow the Timbers the luxury of not having to force someone out of position to fill the injury-ravaged spot.
"We went right into that when we lost Ben and we've played Jack over the course of his time here and the course of the time that I've been here in that role quite a bit," said Porter. "He does really well as kind of that true six that comes in between the centerbacks and links play. Interestingly enough, it might give us some of that built-in balance, and at times we've struggled with playing two holding mids that both like to push on and play like No. 8s."
With Johnson and Zemanski joining star playmaker Diego Valeri (torn ACL) on the sidelines for at least the first month of the season, there is the chance that the Timbers could be forced to dig even further into their depth chart should Jewsbury pick up an injury or suspension.
If that were to occur, it appears that rookie midfielder Nick Besler would be next in line.
"Even losing Ben, we feel like Jack is slightly ahead of Nick but ironically I think Nick almost reminds us a lot of a young Jack Jewsbury," said Porter. "I think he's a guy that's eventually (going to contribute), whether it's this year or next year or the year after."
For now, it will be Jewsbury that will have to help the Timbers get through the opening weeks of the season. Porter is confident that the veteran will get the job done during the stretch that also includes Western Conference showdowns against the LA Galaxy, Sporting Kansas City and the Vancouver Whitecaps.
Not just because of Jewsbury's experience and ability, but also because of the way the Timbers play.
"We feel like we still can manage it and win games. I feel like we have depth," said Porter. "We also play more of a team game. We've never been a club that's relied solely on individual kind of talent.We have a talented roster, but we don't have a more talented roster than let's say a Seattle or an LA Galaxy or a Red Bull or Toronto. We're not that type of club.
"We're kind of, say, a bottom-end club in terms of buying, but we're kind of top-third and because of that we have to maximize the sum of our parts. … We play more of a team game."