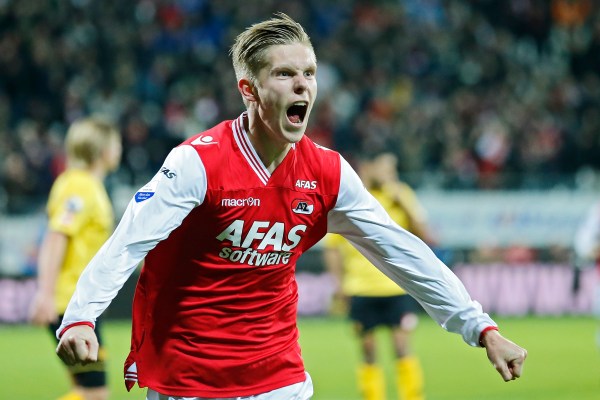 By FRANCO PANIZO
Don't look now, but Aron Johannsson might be heating up.
AZ Alkmaar pulled off an upset 1-0 victory against Ajax on Thursday, and it was Johannsson who secured the three points for the visiting Cheese Farmers with a goal 14 minutes before the final whistle. The goal was Johannsson's second in as many games, but, more importantly, moved AZ within five points of second-placed Ajax's UEFA Champions League qualifiers spot.
Johannsson, who ended a near-two-month scoring drought over the weekend, broke the deadlock vs. Ajax when he pushed home a close-range effort after some nice work from Simon Poulsen. Johannsson now has four goals this season, and they all have come in Eredivisie play.
AZ currently sits in fifth place in the league with 38 points, but is below a guaranteed place in the UEFA Europa League due to a worse goal differential than Feyenoord.
Here is video of the goal:
[youtube http://www.youtube.com/watch?v=bZw162eANyc]
—–
What do you think of Johannsson's game-winning goal vs. Ajax? Is this the beginning of a scoring tear for him? Will he and AZ close the point gap and grab the Champions League qualifiers spot?
Share you thoughts below.