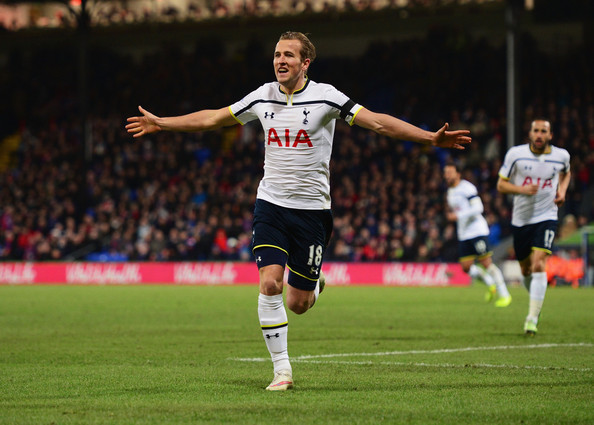 By RYAN TOLMICH
With 115 international appearances to his credit, David Beckham knows a thing or two about representing his country, an honor he believes should be bestowed upon Harry Kane.
Beckham says that he believes the Tottenham forward has done more than enough to earn an England call-up. Kane, who could be a part of England's Euro 2016 qualifying roster next month, has scored 22 goals for Tottenham this season.
"Being English, and seeing someone like Harry and the way he's playing and the way he's played this season, he's having a stunning year," Beckham said. "I think everyone is singing his praises, and rightly so. He's 21, he's working hard and has got a good head on his shoulders, so we will see.
"It doesn't matter what age you are – if you're good enough then you should play,"
Here are some more news and notes to kick off your Monday morning:
DE GEA, MAN UNITED IN CONTRACT TALKS
Reports continue to swirl linking goalkeeper David de Gea with a move to Real Madrid, but the Spanish goalkeeper's agent insists his client will remain with Manchester United.
Jorge Mendes, de Gea's agent, says that he is currently negotiating a contract extension for de Gea, whose deal is set to expire at the conclusion of the 2015-16 season.
"I am negotiating with Manchester United about De Gea's renewal," Mendes told Spanish radio station Cadena Ser. "It is not true that De Gea has found a deal with Real Madrid. I'm negotiating with Manchester United his extension."
FABREGAS TO RETURN WEDNESDAY AGAINST EVERTON
After missing Chelsea's past two matches, Cesv Fabregas appears set to make his return.
Jose Mourinho says that he expects Fabregas to take the field when Chelsea host Everton on Wednesday. Fabregas, who missed matchups with Manchester City and Aston Villa due to a hamstring injury, has contributed 15 assists in 21 appearances for Chelsea this season.
"I think Fabregas plays on Wednesday because against Villa the decision was to protect him," Mourinho said. "I didn't want to risk two players at the same time because Willian had a minor problem from the previous game and was also a risk. So to start two players with a risk was a big gamble. So we gambled with one.
"We didn't miss Cesc against Aston Villa because Ramires is back and the best of Ramires is back too. He was great against Liverpool, Manchester City and Aston Villa. He has a different profile of play to Cesc, but he gives a lot."
QUICK KICKS
Martin Odegaard made his competitive debut for Real Madrid Castilla Sunday by playing 20 minutes against Athletic Bilbao B. (REPORT)
Liverpool midfielder Lucas Leiva could miss up to a month after injurying his thigh in this past weekend's Merseyside Derby against Everton. (REPORT)
Inter Milan sporting director Piero Ausilio says Pablo Osvaldo is nearing a move to Boca Juniors. (REPORT)
Saint-Etienne is threatening to boycott their Coupe de France matchup with Red Star FC unless their currently-banned away fans are allowed to attend. (REPORT)
Manchester City's Pablo Zabaleta has called for midfielder James Milner to sign a new deal with the club. (REPORT)
—
How do you see Kane adapting to the international game? What do you expect from de Gea in the coming years? How many assists will Fabregas finish with this season?
Share your thoughts below.