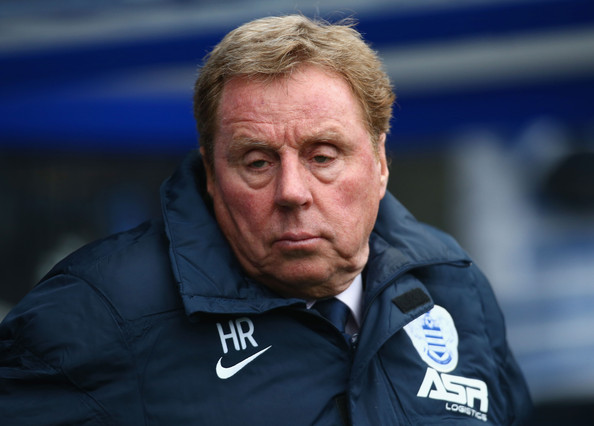 By DAN KARELL
Harry Redknapp shockingly announced his resignation as manager of Queens Park Rangers on Tuesday, citing an upcoming knee surgery and recovery.
The veteran English manager claims that he is set to undergo a full knee replacement and would rather have someone who is able to manage the team full time rather than be a part-time boss while he recovers.
"Sadly I need immediate surgery on my knee which is going to stop me from doing my job in the coming weeks," Redknapp told QPR's official website. "It means I won't be able to be out on the training pitch every day, and if I can't give 100 per-cent I feel it's better for someone else to take over the reins.
"I have had such a fantastic time at QPR. I would like to thank the Board, the players and all my staff, and especially the supporters who have been absolutely fantastic to me since I arrived at the club for their tremendous support."
Redknapp took charge of the club in Nov. 2012, taking over for Mark Hughes, and even though they were relegated from the English Premier League that season, Redknapp guided the side back into the EPL one year later.
Here are some more stories from around the world:
AGUIRRE RELEASED BY JAPAN DUE TO MATCH-FIXING LINKS
Javier Aguirre's time as the head coach of Japan's National Team is over after 10 games.
Following Japan's exit in the Asian Cup quarterfinals, Aguirre has been let go by the Japan FA, mainly for the reasons surrounding his role in an alleged match-fixing scandal in Spain. Aguirre was named along with 34 others including players, coaches, and executives for allegedly playing a role in a match between Levante and Real Zaragoza in 2011.
"We have decided that we will cancel Aguirre's contract," Japan FA president Kuniya Daini told reporters at a news conference. "First of all we'd like to convey to coach Aguirre that the reason for the cancellation is that we want to avoid any influence to the national team on their preparation for World Cup and we want to avoid those risks. There is a possibility that he will be indicted and then a court case could begin."
Aguirre has denied having a role in the match-fixing scandal since news broke that Spanish authorities were investigating.
Aguirre's record as Japan coach is seven wins, one draw, and two losses. Japan fell to the United Arab Emirates in the Asian Cup semifinals on penalty kicks, after the score was tied 1-1 after extra time.
GULATI, U.S. SOCCER BACK PRINCE ALI AS FIFA PRESIDENTIAL CANDIDATE
U.S. Soccer has decided to support a different FIFA presidential candidate than incumbent president Sepp Blatter.
At a media conference in London, Jordanian Prince Ali bin Al-Hussein revealed that the USA were one of six federations to nominate him for FIFA president. Prince Ali needed only five nominations to be able to stand for president in the upcoming elections on May 29.
"Obviously I had to respect their wishes to keep it private to begin with, but I now have their permission to speak," Prince Ali said. "My nominations came from Belarus, Malta, England, Jordan, the United States and Georgia."
Prince Ali is set to take on former Portugal international Luis Figo, Frenchman Jerome Champagne, and Sepp Blatter in the upcoming elections.
LEVY STEPS IN TO BLOCK ADEBAYOR MOVE TO WEST HAM
Emmanuel Adebayor's wish to move to a new club was blocked at the last minute by none other than Tottenham chairman Daniel Levy.
With Adebayor just minutes away from joining London rivals West Ham United, Levy pulled the plug on the deal, deeming the East London side as a "direct rival," according to a report from the BBC.
West Ham chairman David Gold tweeted on his official Twitter account last night that the deal had come down to the wire but fell through right at the end.
QUICK KICKS
Australian international Robbie Kruse is expected to miss four months of action for Bayer Leverkusen after suffering a serious ankle ligament injury requiring surgery in Australia's Asian Cup final victory against South Korea. (REPORT)
Eintracht Frankfurt goalkeeper Kevin Trapp has signed a contract extension through 2019. (REPORT)
Asamoah Gyan is a doubt for Ghana's African Cup of Nations semifinals match against Equatorial Guinea after picking up a stomach injury. (REPORT)
FIFA have opened up disciplinary proceedings against West Ham United and Diafra Sakho due to Sakho's withdrawal from the African Cup of Nations due to injury. (REPORT)
A day after Maccabi Tel Aviv defeated Hapoel Tel Aviv in the latest derby match, Maccabi snapped up one of Hapoel's best players, Gili Vermut, signing him to a three and a half year contract. (REPORT)
—————-
What do you think of these reports? What do you think of Redknapp's resignation? Where do you see Aguirre heading next? What do you think of Gulati backing Prince Ali? Do you see Adebayor playing for Spurs this season?
Share your thoughts below.