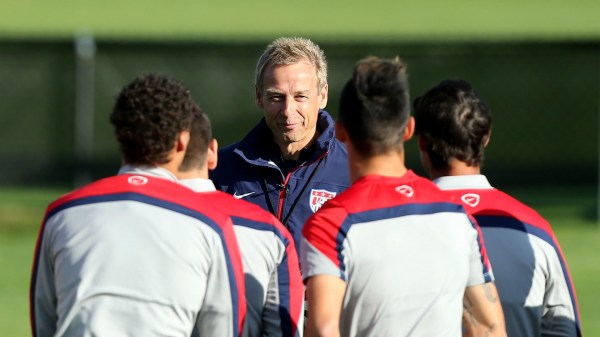 Photo by Kirby Lee/ USA Today Sports
By RYAN TOLMICH
If Jurgen Klinsmann had his way, Major League Soccer's schedule makers would need to be much, much busier.
Klinsmann doubled down on recent concerns about the fitness of U.S. Men's National Team players in an interview on FOX Sports 1 on Wednesday, and restated his desire to extend the MLS season to 11 months.  Klinsmann pointed to the current MLS offseason, which can be up to three months long for some players, as a factor in why some players have been struggling to regain fitness during the January USMNT camp, and during the recent friendly loss to Chile.
"My wish, at the end of the day is that that domestically here the MLS goes to an 11-month season like the rest of the world," Klinsmann told FOX Sports 1. "They shorten a little bit their vacation, but they get back in their rhythm right away and they're prepared for it. Extending that season of MLS would solve my issue that I have right now, but we're working on it."
Klinsmann says that the MLS' extended break, which could be up to three months for non-playoff teams, is one of the causes of his team's current fitness struggles. Having been unable to close out games, Klinsmann is hoping American players learn to put a bigger emphasis on their offseason programs and develop a culture of constant preparation.
"I don't blame anybody. It's just reality," Klinsmann said. "What happens here is that maybe soccer isn't as far as American football, baseball, basketball where athletes in their offseason go specifically for their own preparation before they join their preseason with their professional teams. We don't have that culture yet.
"The MLS season goes nine months and they should take it and go back to preparing themselves for the next year. A couple of guys haven't done that and that's why we're looking a little bit shaky right now, but we're going to get back and hopefully get out of it."
The German-born head coach went on to say that his players' improvements come down to individual efforts. With many of the nation's biggest stars returning to the states with MLS moves, Klinsmann understands that respective clubs and the national team will need to work hard to maintain the highest level possible.
"It's down to their attitude. Obviously, they're the big stars coming back and the big fish in a small pond," Klinsmann said. "Meanwhile, in Europe they're the small fishes in the big pond. I get that, and obviously the financial reasons are behind it as well so it's understandable in one way. It's a challenge then to those players on the other side. We're going to help them, their clubs are going to help them, to hopefully keep the higher standards up to push the envelope there.
"Obviously it's a process. It's a learning curve. The game will get bigger, it will get more recognition, fans will get more educated, the media will get more educated, but we still have a way to go. We all help to make this game grow in this amazing country, but it's not going to happen overnight."