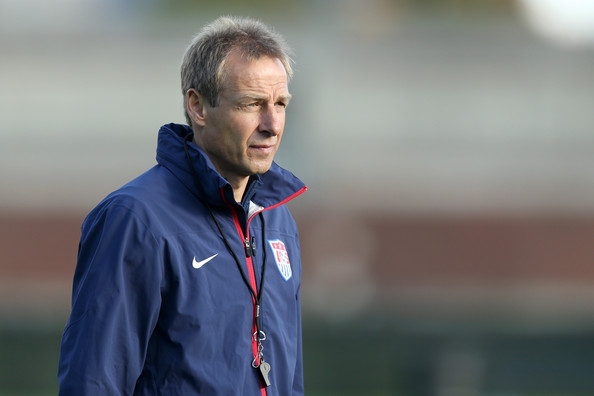 By RYAN TOLMICH
With Sunday's 2-0 victory over Panama, the U.S. Men's National Team put an emphatic exclamation point on the team's January camp, but, according to head coach Jurgen Klinsmann, the annual national team convocation may be under going drastic changes in 2016.
Klinsmann told reporters that the 2016 January camp could be potentially used as a meeting point for the Olympic team, assuming the U.S. qualifies this fall.
"The January camp itself is a discussion that we will have if we keep it like this one," Klinsmann said. "Next year, obviously, we want to be qualified for the Olympics. This is huge. Do we make next year an Olympic team camp out of it? That may be the way we approach it and schedule the senior team guys differently to start their preseason. We'll discuss that.
"It depends kind of what's happening in the year 2016, so once we sit back and talk through all of the pros and cons, we'll figure it out, but it could very well be an Olympic team camp next January."
Here are some more news and notes from Sunday's USMNT victory over Panama:
YEDLIN 'FINE' DESPITE LEAVING EARLY WITH INJURY
DeAndre Yedlin limped out of the USMNT's matchup with Panama in the 72nd minute, but Klinsmann isn't very concerned with any lingering issues for his fullback.
Yedlin was taken out as a precaution and will be evaluated Monday, but the USMNT head coach says that the Tottenham fullback 'should be fine'.
"With DeAndre, I don't have the details now," Klinsmann said. "It's not as bad, but we just moved forward and took him out. He should be fine.
GOLD CUP, CONFEDERATIONS CUP REMAIN MAJOR FOCUSES
Although 2015 and 2016 are not World Cup years, the USMNT still have a pair of major tournaments to eye as motivation for the coming years.
This summer's Gold Cup has been set as a major target for Klinsmann and co., as the USMNT look to qualify for the 2017 Confederations Cup. Klinsmann also once reiterated his intentions of bringing a strong roster to this summer's tournament.
"With the Gold Cup in July, we have a tournament that will hopefully be an exciting one like 2013 and hopefully we're going to win it," Klinsmann said. "We badly, badly want to go to Russia in 2017. Being part of the Confederations Cup is huge because it gives you the absolute best preparation you can have for the World Cup a year later.
"We take the Gold Cup with the best players we have. We go absolutely with the best group, so it's hopefully going to be a lot of fun for everybody. "
One player that is almost guaranteed a spot on the Gold Cup team is Michael Bradley, who also stated the tournament's importance. Bradley says the Gold Cup, along with the 2016 Copa America, make these next few seasons exciting times for the U.S.
"They're both very important," Bradley said of the two tournaments. "The mentality of our team is to take it always one game at a time and take a look at what's coming up and look to improve with every time we step on the field.
"We know it's a very important period coming up with the national team with a lot of important friendly games, the Gold Cup, Copa America next summer. We're very excited and committed to continuing to work hard."
KLINSMANN, IBARRA PLEASED WITH FIRST START
As the U.S. Men's National Team's lone NASL representative, on paper, Miguel Ibarra appears to be a bit of an outlier, but Klinsmann insists that Ibarra has impressed both on and off-the-field.
Despite the general consensus on Ibarra's first national team start being slightly disappointing, Klinsmann still had nothing but praise for the Minnesota United winger.
"He's growing in this group," Klinsmann said. "Every time he comes in now, he's a regular even more, and he proved that in every training session. He has an endless engine. He's very smart tactically. He helps out defensively and he always has an eye on the forwards and he himself, as he shows with his club, he can finish things as well if he's in position.
"I think he's done a very, very good job again. He's totally a respected part of this group now, so it's nice to see the process over half a year."
Ibarra says that the key to his development has been Klinsmann's confidence in him, as the Minnesota United winger and fellow winger Gyasi Zardes benefited heavily from Klinsmann's instruction.
"I was actually kind of confident," Ibarra said. "I was pretty surprised myself, because I usually get jitters, but I went out there confident and  just played my game.
"I think I took it well. I went out there confident, just like what Jurgen had told me. Me and Gyasi had spoke beforehand, and everything just came out the exact way that we had planned it."
KLINSMANN PRAISES SHEA'S FITNESS, WILLINGNESS TO CONTRIBUTE
Brek Shea's adjustment to left back is still very much a work in progress. Shea has had both highs and lows throughout his two-game spell, but Klinsmann says that Shea's willingness to adapt will be a key part of Shea's future success.
"I think he really embraced it and was very positive about it," Klinsmann said. "He wants to play so badly, no matter where, that if you tell him to play center forward, he'll play center forward. He's just so happy to be back in the picture.
"He's so happy to look at a year now where he's going to go onto the field week-in, week-out because he didn't do that the last two years. He was so prepared for the camp. He was sharp from day one on. If we play him as a winger or if we play him as a left back, he doesn't care."
Klinsmann says Shea's biggest leaps will need to be on his ability to focus when on tired legs. As games and the season wears on, Klinsmann says Shea will need to continue to show the ability to contribute for a full 90.
"He has pace, he has physicality, he can intimidate people and he just needs to stay focused," Klinsmann said. "That's what we told him. When you get tired, which all of them will get tired in the second half because this is preseason, then you just need to manage your game and keep things simple. Take one or two touches, move it around and don't give away things, and that's what he did. He kept his focus, stayed in the game and made it all the way through the 90 minutes."