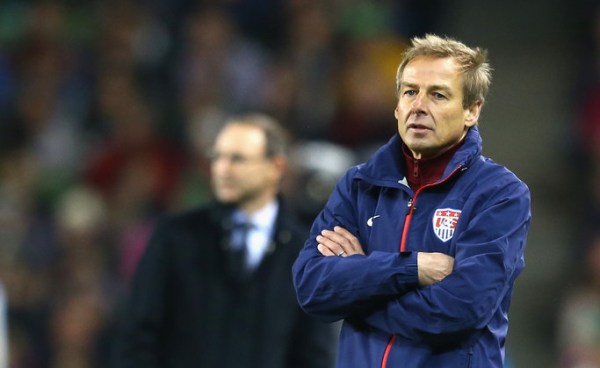 By RYAN TOLMICH
Jurgen Klinsmann found plenty of positives in this past month's camp, but the U.S. Men's National Team head coach is looking ahead at the prospect of bringing his full team together.
With a pair of European friendlies scheduled for March, Klinsmann will soon have the opportunity to assemble all his top weapons for the first time in 2015. While Klinsmann appreciated the opportunity to see new faces in the MLS-based winter camp, the German-born coach is looking forward to seeing players cement their places within the overall roster.
"Now, going forward for the rest of the year, I have the freedom to pull the best players in and start to get things fine-tuned," Klinsmann said. "We want to win the Gold Cup. That means we have to start the process of hopefully getting your regular back four, get your defense back back in place and get them games together and fine-tune things. You've got to build the hierarchy of the team, who's in the first group and who's knocking at the door trying to break in. That's exciting.
"We can pull the European-based players, the Mexican-based players and combine them with the MLS-based players and have the best team together. That's what the best teams in the world always do. When the national team meets, it's only the best of the best come in. It's not an extended version of their program. That's the positive side looking forward and having the best guys coming into Denmark and into Switzerland."
Despite being limited by potential call-ups, Klinsmann was quick to point out the usefulness of putting together a month-long camp like the one that just concluded.
The winter camp, which Klinsmann says will likely be for only Olympic-eligible players next year, gave the head coach "more cards to put on the table" as new prospects showed how they could impact the first team.
"The hope is always finding two, three, four guys that we talked about that give you more options for the senior team inner circle, the key group, which we foun"and also, to get them into the swing already after a long offseason," said Klinsmann. "Then, by March, mix them back in with the entire group, so there were plenty of things for us to see performance-wise, training-wise and chemistry-wise. We know who's a giver and who's a taker, all these things that we talk about so many times, so it gave us a lot of answers really, so it was definitely worthwhile"
For now, Klinsmann is hoping to see his recent batch of players build on this past month's work. With the MLS season rapidly approaching, Klinsmann wants to see the recent call-ups do well before he has to bring together his top team next month.
"I think they will all benefit, hopefully, for the entire 2015 year with a lot of success for them personally," said Klinsmann. "They showed a great attitude in the way we were working throughout camp, which always is expected. Overall, to wrap it up, it was very positive, gave us a lot of insight on a couple of guys and hopefully they take this jumpstart into the preseason with their MLS clubs."