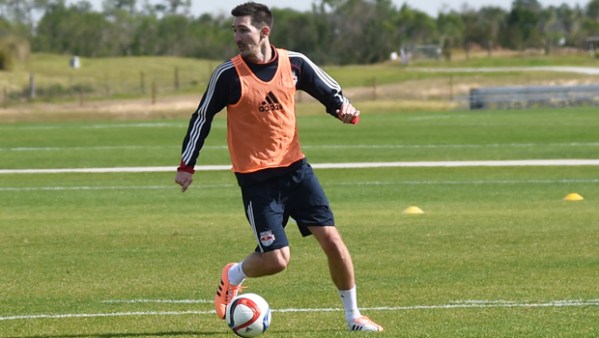 Photo courtesy of New York Red Bulls
By FRANCO PANIZO
CHAMPIONSGATE, Fla. — It did not take long after Jesse Marsch was appointed head coach of the New York Red Bulls in January for the club to identify its top target for the winter transfer window. The Red Bulls were in need of a player who could help pull the creative strings, someone with skill on the ball but also leadership qualities, big-game experience and a strong desire to be in MLS.
Finding a player with all those ingredients could have proven difficult, but Marsch knew just the man for the job: former teammate Sacha Kljestan.
Kljestan had been expressing interest in leaving Belgian side Anderlecht for about six months, and Marsch, New York sporting director Ali Curtis and the rest of the Red Bulls' brass worked endlessly over the span of a few weeks to try and ensure that the veteran midfielder's future would be with them. After some complex negotiations, the Red Bulls were able to land Kljestan last week, signing him to a multi-year, non-Designated Player deal that brought him back to the league where his career started nearly a decade ago.
"It's still very new to me. It's almost five years in Europe," Kljestan told SBI about returning to MLS. "You get used to a certain way, you get used to your program, your schedule, your training, everything like that, so it's different to be with a new team. I've only played for two teams in my career, this is my third, so it's definitely interesting.
"It doesn't feel like it's 100 percent set in stone yet. It's weird. It's difficult to explain, but I think over the next week or so I'll be totally kind of implemented into the team and know the nice things about the team, the way the team handles things like that. It's a work in progress, but it's going well."
Kljestan, 29, joined his Red Bulls teammates at their preseason camp near Orlando on Monday night. He took part in his first training session with the club the next morning, less than 48 hours after suiting up for Anderlecht for the final time in a league match.
There was no fairytale ending for Kljestan in that game, as he came off the bench and couldn't help to break a scoreless deadlock. Still, it was an emotional affair for him. He not only got to play once more in front of the fans that had grown very fond of him since his Anderlecht arrival in summer 2010, but he was also able to say a personal farewell to them prior to kickoff with a message at midfield.
"Right after the game, I got home and I was just sitting and having dinner with my wife and my mom and I was very quiet. I think I was just trying to take it all in," said Kljestan. "My wife was just like, 'What's wrong? Why are you not talking?' I said, 'I don't know. It's a very weird thing to be living in the same house for four-and-a-half-years and then you pack two bags and you're gone.'
"My wife is still there sending everything, so it didn't feel real to me like we moved out of our place yet. The next day at the airport is when it felt really real, and I felt kind of proud, just because a lot of people in the airport came up to me and congratulated me on my time in Belgium and all my hard work for Anderlecht and all that. It felt nice to be recognized, because then later in the day when I got to New Jersey, I spoke to some people on the phone, some friends and some family, my agent.
"They all just said how cool it was to see that kind of send off, because not a lot of Americans players have had that kind of impact on a European club. To know I made a big impact on a big team in Europe and did that for a long time, it made me pretty proud of what I did in Belgium and I'm happy of how my career went there."
Who could blame him? Kljestan not only improved his game and was a regular starter more often than not during his four-and-a-half years with Anderlecht, but he also achieved quite a bit of success. The Huntington Beach, California, native helped Anderlecht win three Pro League titles, four Super Cups, and he played in more UEFA Champions League games than any other American not named DaMarcus Beasley or Jermaine Jones.
The experience was almost everything Kljestan could have imagined when he left Chivas USA nearly five years ago, and one that you can tell he truly enjoyed.
"There were a ton of accomplishments," said Kljestan. "When I sat down and spoke with the general manager the last week before I left, we just talked about my time since he brought me there. We'd been together the whole time and we said my time in Belgium was a 9.5 out of 10.
"I was a regular starter for four of the four-and-a-half years, basically, scored quite a few goals for playing defensive midfield in most of my time there, had a few assists, so I think my team there was very successful and I'm proud of what I did."
As much as Kljestan was enjoying himself at Anderlecht, he began to explore the possibility of moving on last summer. Things were beginning to change at the club, with the planned introduction of a youth movement starting the chain of events.
For Kljestan, "the writing was on the wall." Older and more seasoned players began to leave Anderlecht because of the club's new philosophy, and Kljestan knew it was only a matter of time before he too would have to find a new home.
He received interest from both Olympiakos and the LA Galaxy last summer, but neither club was able to finalize a deal. That forced Kljestan to remain at Anderlecht despite knowing that it was going to be tougher to break into the lineup than it may have been in years past.
The U.S. Men's National Team pool player initially struggled for minutes this season, but eventually broke through in the winter and became a regular contributor again. Still, he jumped at the opportunity to join the Red Bulls when it came up, especially since Marsch was so keen on bringing Kljestan on board.
"That played a huge part in my will to want to play for New York Red Bulls," said Kljestan. "Immediately after he took over, he reached out. He said, 'Look, we're rebuilding the team, there's going to be some changes, but you're my top target and I want to bring you in.' We knew it was going to be difficult with the transfer, with the allocation order, things like that, but he said he was willing to do what he had to do to in order to get me and obviously they gave up two players to bring me in here.
"That's a big move, and not a lot of teams I think would've done that. The fact that Ali and Jesse worked really hard to get my deal done, they put a lot of faith in me and showed a lot of confidence in me, so that makes me feel really good and obviously gives me a lot of confidence coming here to know that I was really wanted."
Making the deal that much sweeter for Kljestan is that he has several ties to the Red Bulls, and the New Jersey area where they train and play games. Kljestan played his college soccer at Seton Hall and he is familiar with Dax McCarty and Luis Robles from previous U.S. Men's National Team camps.
Kljestan also knows his new head coach quite well. He and Marsch were teammates at Chivas USA, and midfield partners a lot of the time during Kljestan's rookie season. The two did not always see eye-to-eye, however.
"He was always like a coach on the field and he was very harsh of me, he was critical of me, because he knew I could do a lot better, he knew I could do more and he knew I needed to do more," said Kljestan. "In the end, I learned to respect him. Look, when I was young I was a little arrogant kid that thought he was the best and didn't like criticism and stuff like that. I've come to grow to respect him and understand him very well, and also we had a great relationship off the field eventually."
Kljestan now will try and fulfill his coach's wishes as the Red Bulls attempt to successfully transition out of the Thierry Henry era this year. Helping Kljestan ease into things is the fact that he is in midseason form, making him a step sharper and quicker than the New York players still working their way back from the offseason.
There are still some things that need to be worked out, like where exactly Kljestan will play and when throughout the season he will be given days off so as to not have him going nonstop for a year-and-a-half.
Regardless, the Red Bulls and Kljestan are both excited about what their future holds.
"I know from playing with him he has a special eye for attacking plays and when he's around the goal he can make things happen," Marsch told SBI. "We want to put him in as many situations where he's a part of combinations around the goal that can lead to himself getting chances and goals, and different guys that will be in the attack."
Added Kljestan: "I think it's going to take some time to find the right partnerships and stuff like that all over the field, but I'm very optimistic, especially seeing the other teams in the Eastern Conference. I hope the rest of the team has as high hopes as I do."