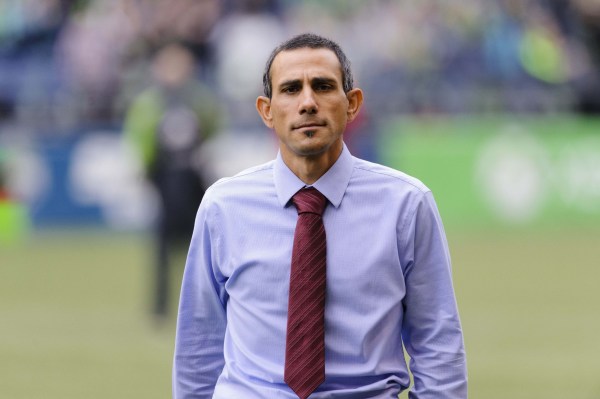 Photo by Steven Bisig/USA Today Sports
By RYAN TOLMICH
Pablo Mastroeni had no idea what to expect when he was thrust into his role of Colorado Rapids head coach just before the 2014 season. With a shortened offseason and no true coaching experience to fall back on, Mastroeni was up against it from the start. The former U.S. Men's National Team midfielder was treading into  unfamiliar waters, and while he initially swam, eventually he sank.
The Rapids dropped 14 of their last 16 games last year, sealing an eighth-place finish in the Western Conference following an opening that had so much promise.
While Mastroeni couldn't quite put a finger on what went wrong down the home stretch, the second-year head coach could point to lessons learned and how those findings will be better applied now that he, and the team, have a season under their belt.
"Everything from having a really young group, having a new staff, having a new coach, having a young coach, having a first-year head coach, there were just a lot of different variables," Mastroeni told SBI.
"The expectations that I had for last year weren't that high because I didn't know what to expect as a coach," Mastroeni added. "There are so many things that you learn as the season went by that I had no real feeling for what my expectations should be. By the end of the season, I realized that it's not so much that you have to win and win and win, but there's a sense of stability that comes with consistent performances."
Those consistent performances start with Mastroeni, who says he has worked tirelessly in the offseason to perfect his craft.
Mastroeni compared his first year on the bench to that of a rookie player, as the former midfielder was still trying to adjust to the nuances that come with a major change. Having had no prior experience in a coaching role, Mastroeni knows that there are countless improvements to make as he heads into his second season.
"I think every aspect of coaching. It's no different than a rookie player, right," Mastroeni said. "It's a new profession for me and it's one that I feel like, in every area, I need to improve. Whether it's man management, whether it's the tactics, whether it's the tactical improvisation from week-to-week or over a three month cycle, I have to continuously improve.
"I spent a lot of time reflecting on my own performance and those areas that I think that I need to get better at, all of those areas. There's unlimited room for potential growth for me. I feel like this is my craft, and I want to be the greatest coach I can possibly be."
Mastroeni believes that he has the commitment to continue to better his craft. Citing numerous nights at home where he forewent family time in favor of studying, planning and, overall, improving.
Mastroeni gave credit to the Colorado Rapids front office for helping him make the offseason roster moves he felt the team needed, such as the acquisitions of Marcelo Sarvas and Sam Cronin. With a full offseason of scouting and development , Mastroeni believes  the Rapids have taken steps toward being competitive once again.
"I think it's critical regardless of the profession that you're in," Mastroeni said of having a full offseason under his belt. "Preparation and planning are fundamental to having a plan with achievable goals in place, a small picture and a big picture. From the moment we were mathematically eliminated last year, we spent endless days planning for the preseason, the type of player that we wanted to bring in, the type of mentality that we thought we needed.
"Having had those couple of months, and taking in the experiences of my first year and going abroad and watching and observing some other coaches, I was really able to, not only plan out, but visualize and see the type of team that I wanted moving forward."
Regardless, Mastroeni knows that the process is no quick fix. It takes time for him to grow as a coach, time for players to ease into their roles, time for the team to gel and become truly a unit. However, Mastroeni sees the process as just that, and is looking forward to putting pieces together for the long haul.
"The process of team building takes time, and I think the strides that we've been taking in this offseason have been tremendous," Mastroeni said. "If we continue to build like this with every offseason, I think we'll have a club that will have sustainable success for years to come if we can get all the pieces in place and get a little bit of luck as well."