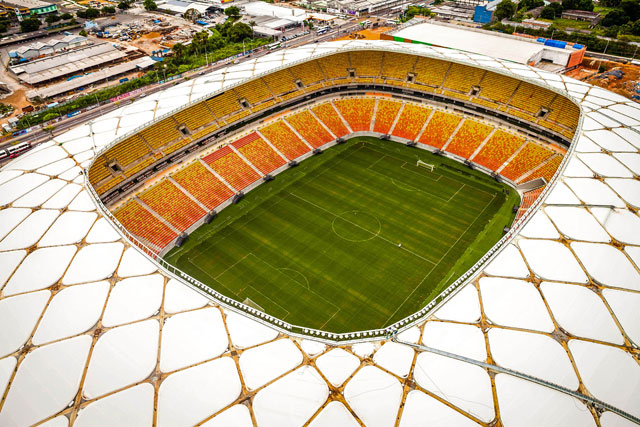 By AARON CRANFORD
FIFA does not like the idea of having Manaus as a host city for 2016 Olympic soccer matches.
In a Friday statement, the sport's governing body said they would prefer to have venues that are closer to the Olympic host city, Rio de Janeiro, which eliminates Arena da Amazônia, a stadium built in Manaus for last year's World Cup at a cost of $270 million.
"We do not consider Manaus as a suitable first option for a hosting venue," FIFA said.
"Given the Olympic football tournament is only two weeks long," they added, "FIFA's preference has also always been on short distances between the other football venues and the Olympic city Rio de Janeiro to provide the participating teams with the best possible Olympic experience."
Their statement comes just one day after the Rio de Janeiro 2016 organizing committee listed Manaus as a possible host city. A final decision will not be made until FIFA's Olympic organizing committee meets next month in Zurich.
Here are Friday's other worldwide news and notes:
CARROLL TO MISS REST OF SEASON FOR WEST HAM
Per a BBC Sport report, West Ham striker Andy Carroll will undergo surgery on his left knee and will miss the remainder of the 2014-2015 English Premier League season.
West Ham manager Sam Allardyce hoped Carroll would only be out for four to six weeks, but the damage will cut his season short.
"The medial ligament on the inside of his knee has a little tear from a fairly innocuous collision," Allardyce said, before a specialist confirmed Carroll would require surgery on Tuesday.
"It's a big blow for him and us but one we've got to cope with."
This injury is just one of many Carroll has faced over the past few years, including one in West Ham's preseason where he tore ankle ligaments in July.
BARCELONA PRESIDENT TESTIFIES IN NEYMAR TAX CASE
The president of Barcelona, Josep Maria Bartomeu, testified in a court trial of tax fraud allegations, which has surrounded the club ever since their signing of Neymar two years ago.
The allegations forced former Barcelona president, Sandro Rosell, out of his position in January of last year. Claims of Neymar's transfer being in the ballpark of close to €95 million have made people suspicious of the transfer, especially since reports initially indicated the move from Santos to Barcelona was near 57 million euros.
In a club statement, Bartomeu defended Barcelona's actions and claims the club never intended to defraud the treasury.
VAN PERSIE MAY MISS FA CUP MATCH MONDAY
Manchester  United squares off against Preston in the fifth round of the FA Cup Monday, but Robin Van Persie suffered a minor knock and may miss out.
United manager Van Gaal will keep an eye on the injured Daley Blind and Phil Jones, who both may miss the Preston match as well, but his focus is on his starting striker.
"Robin van Persie has also something so now I have given the players a day off and only the injured players have visited our training center, but the doctor hasn't called me yet [with updates] so I cannot say anything," he told reporters.
Even with the injuries his side faces, Van Gaal thinks his side can rise up Monday and advance in the cup.
"We have to play now for the third time [against] a lower team. You know the world is against you. Everything, the environment, is for the underdog. You have confirmed it.
"That is more difficult to accept but the chance you can survive is higher because you are playing against a team with lower qualities. You have to be the team with big motivation and in the atmosphere that everybody is against you."
———
What do you think of Manaus not hosting any 2016 Olympic matches? How do you see the Neymar tax case panning out?
Share your thoughts below.