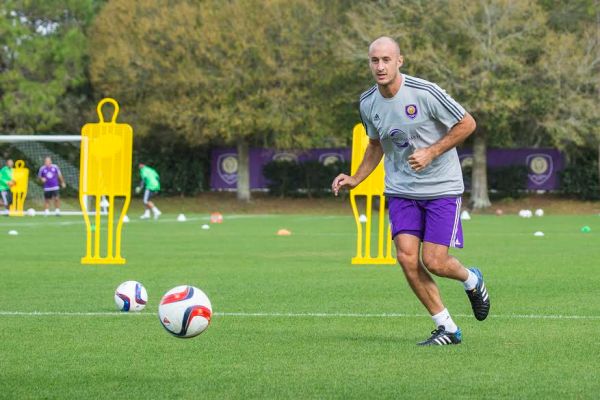 Photo courtesy of Orlando City SC
By FRANCO PANIZO
SANFORD, Fla. — Nearly four years ago, Aurelien Collin was signed by Sporting Kansas City to serve as a key cog in an overhauled defense that needed his blend of experience, leadership and toughness.
Now, he is looking, and being counted on, to bring those same qualities to another back line. One essentially starting from scratch and that he will lead into battle for the first time on his 29th birthday.
Orlando City is less than two weeks away from beginning its MLS adventure, and Collin is a player that the club has long had intentions to lean on heavily throughout the year. Not only is the French centerback being tasked with leading a still-under-construction defense, but also providing the kind of vital locker room presence that will appeal to both his coaches and teammates.
For Collin, the challenges that come with being one of the marquee figures on an expansion team that has a reputation of winning is no big deal. He welcomes, not shuns the added responsibility.
"I was the leader in Kansas City. Here, I'll be the same," Collin recently told SBI. "The players are a bit younger, so I have to be even better than I was in Kansas City as a leader and really take care of any details and it's a big responsibility. But I came here for a new challenge and I'm with the team and organization that honestly is the biggest I've played for and everybody wants to become the best.
"Here, nothing is easy, of course. I didn't come here to play and (just) have a great time. I'm here to win, and to win you have to be the best."
Collin has already been the best. He is a little more than a year removed from being named the MLS Cup MVP, a significant individual award that he won in conjunction with Sporting KC's second league title in 2013.
Things have changed very much for him since then, however. Collin has not only left the only MLS side he has ever represented and the city he has called home for the last four years, but has done so after a 2014 season that saw him and Sporting KC fail to maintain their elite defensive level of play.
He is now on an Orlando City defense that is fairly foreign to him and his teammates. Whereas Collin knew for the most part who he would be lining up with on the back line the last few years and what to expect from them on a weekly basis, he still does not have an established centerback partner with Orlando City, and is surrounded with players who are mostly unknown quantities in MLS.
Some of them are adjusting to moving to the United States. Others are young and have little professional experience. There's also a few that do not speak English.
As the de facto defensive leader, Collin will have to bring them all together and in a short amount of time in order to help the club match the city's strong buzz for this first MLS season.
"The great thing about Aurelien is that he's not only a really good player, but he's fantastic in the locker rooms," said Orlando City head coach Adrian Heath. "He speaks three to four languages, which has been invaluable when you consider all the new guys we've got in and four or five of them don't really speak English. We need somebody who can portray the message and that's what he's been doing."
While Collin might have some different tasks heading into this season than he had in years past in the stable environment that Kansas City provided, his mindset remains largely unchanged. He is not heading into the season thinking of bouncing back from what most observers considered was a down year for him, even going as far as saying he has no individual goals for 2015.
Instead, Collin is just focusing on being the best player and teammate he can be for every game. He is prioritizing the club, and wants to build a great philosophy and strong group mentality at Orlando City.
"We're a young team. We have a lot to build," said Collin. "If we make it to playoffs, anything is possible. That's the main objective, getting to the playoffs."
The road to the postseason for Collin and Orlando will start on March 8 – if a new collective bargaining agreement is finalized, of course. The Lions will host fellow expansion side New York City FC in a highly-anticipated match at the Citrus Bowl that is expected to be played in front of a rocking crowd of 50,000-plus.
Collin will be turning 29 that day, and the present the MLS schedule-makers have given him is a date with star striker David Villa. It's a match-up that Collin can only smile about when asked how to contain the crafty Villa, and one he is eagerly looking forward to.
"He's small, very quick, the kind of striker that I don't like, so that's why it's even better," said Collin. "It's a great challenge for me. I can't wait, and (I'm going to try and) make sure that he didn't score and win that game.
"This game is going to be a huge game and it's the first game in front of 50-60,000 people. I can't wait, and it's my birthday. I can't wait."