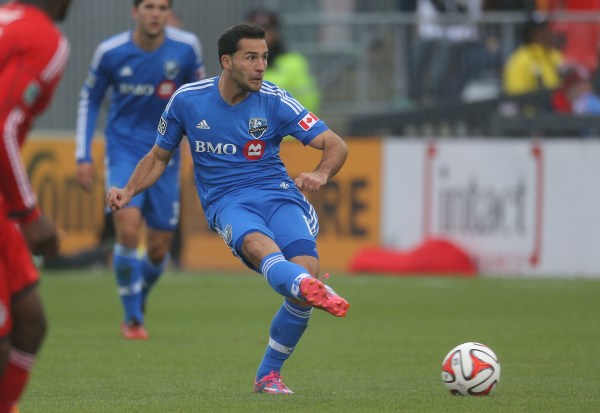 Photo by Tom Szczerbowski/USA Today Sports
By FRANCO PANIZO
The Montreal Impact could have gone back home with a win. They had to settle for a tie and two away goals.
The Impact resumed CONCACAF Champions League play on Tuesday night with a visit against Pachuca, but were unable to come out victorious after allowing the Liga MX side to rally from two goals down. Dilly Duka put Montreal in front by scoring on each side of halftime, but the lead slipped away as the Tuzos netted twice in an 11-minute span to end the first leg of their quarterfinals series in a 2-2 draw.
Pachuca began to mount a comeback at Estadio Hidalgo in the 57th minute, as left back Heriberto Olvera sent a stinging free kick from about 23 yards over a rooted part of the wall. Montreal goalkeeper Evan Bush dove full-stretch to try and make the save, but was unable to get a hand on the ball.
There was little Bush could do on Pachuca's 68th-minute equalizer as well. The Impact's defense was caught giving up a little too much space on a quick attack down its right side, and that resulted in substitute forward Ariel Nahuelpan directing a low cross in with his left thigh.
Fielding a first-choice lineup that is still in the midst of its preseason preparations, Montreal was on the backfoot for much of the match. The Impact, however, found success when hitting on rapid counterattacks. Duka opened the scoring in the the testy match in the 25th minute, finishing a solo dribbling run with a low shot that caught veteran Pachuca netminder Oscar Perez by surprise.
Duka then gave the MLS club a 2-0 lead eight minutes after the intermission. Justin Mapp ran by a number of defenders with the ball on the play before hitting a low shot that Perez parried right into the path of Duka for the simple, close-range finish.
Unfortunately for Montreal, Pachuca piled on the pressure from there and mustered a comeback through Olvera and Nahuelpan's goals.
There were a pair of incidents late in the match that could've warranted ejections for both sides, but the match official only called fouls despite players appearing to take cheap shots at one another during the run of play.
While Frank Klopas' side will be disappointed with having given up the lead, it will return to Montreal for next week's surely intense second leg with two crucial away goals.
The decisive leg in Montreal will be played at Olympic Stadium on March 3.
—–
What did you think of the Impact's 2-2 draw vs. Pachuca? Were you impressed with how Montreal looked at times in the match? What will be the key in the second leg at Olympic Stadium?
Share your thoughts below.