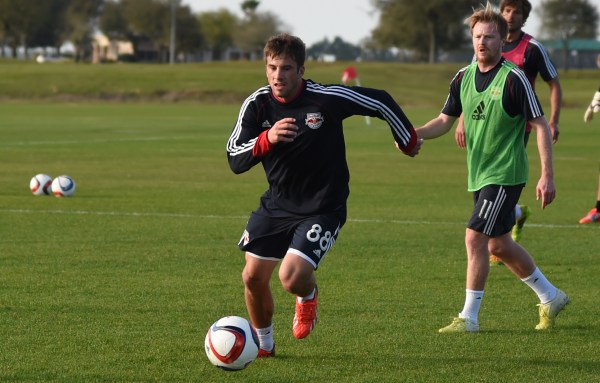 Photo courtesy of Molly Brady/New York Red Bulls
By FRANCO PANIZO
CHAMPIONSGATE, Fla. — Leo Stolz was a teenage boy, living in his native Germany, when the opportunity of a lifetime forced him to make a very difficult decision.
His local club, 1860 Munich, offered him a professional contract in 2011 after seeing him work his way up its academy system. Stolz had always wanted to play pro soccer, especially after becoming hypnotized by Zinedine Zidane's worldly skills at the 1998 World Cup, but also yearned to experience the college life in Southern California that his father so often gushed about.
Coming from a family that focused on academics more so than athletics, Stolz made the kind of decision very few German teenage soccer players, or any soccer player, would make. He passed on the 1860 Munich offer and embarked on his American journey.
"It was kind of tough for me to make a decision back then and I read an article about the system in the United States that I could (play soccer and study), plus my dad studied in UC San Diego," Stolz recently told SBI. "He didn't play sports, but he was all about his time living in Southern California."
Passing up a pro contract to go to college in a foreign country might sound like a crazy decision, but Stolz has made it pay off. Not only did he accomplish a goal of his by studying political science at UCLA, but is now preparing to begin his professional career as a midfielder for the New York Red Bulls following a stellar four-year collegiate career.
The No. 18 pick in the 2015 MLS Draft, Stolz has already begun to impress his new team, showing the qualities that made him one of the highest-rated NCAA players in the country over the past two seasons.
"He's been looking good," Red Bulls head coach Jesse Marsch told SBI. "We're kind of trying to get everybody thinking faster, playing faster, so for him that's a little bit of an adjustment, especially because when he was in college they used him as a No. 10 and he kind of found the game as it went.
"But we're asking him to cover more ground, we're asking him to close things down, we're asking him to play faster, think faster and he's responded really well. You can tell he's psyched to be here. His energy every day has been great, and you see the moments of individual brilliance where he can just see a pass and put a play together that a lot of guys can't. He's going to be good."
There has admittedly been an initial learning curve for the 5-foot-11 Stolz, who is adjusting to the speed of play and more demanding defensive responsibilities. He has no qualms about any of that, though, as he is finally ready to step away from the classroom and onto the field on a full-time basis.
"I'm new to professional soccer now," said Stolz, who turns 24 on Feb. 15. "It's now about putting together my first step in the door and seeing how well I do at the next level."
Stolz's path to the Red Bulls is a far different one than your typical rookie takes to MLS. After making the decision to go to college in the United States, Stolz sought out a group of advisors in Germany who specialize in helping players find American colleges to play for.
"They create a profile, they turn in all your academic and athletic information and U.S. coaches have access to that and can make an offer," Stolz said of the process that eventually helped him land at George Mason University.
After spending the 2011 season as a starter for George Mason, the affable central midfielder transferred to UCLA prior to the start of the 2012 campaign, partially because his father had suggested that Stolz experience the Southern California lifestyle. Stolz fell in love with Los Angeles quickly and also wasted no time in settling in with the Bruins, becoming an immediate starter and impact player.
He went on to accumulate 20 goals and 22 assists in his three seasons at UCLA, capping his college career with a nine-goal, six-assist senior season that earned him the prestigious Hermann Award.
"It was amazing, the entire three-and-a-half years with teammates and the entire environment, living in Los Angeles, academics. I liked it a lot," said Stolz. "I could talk all single day about LA. Big campus. I would love to go back there, and I would if I could, I would do it all over again."
After completing his college tenure this past winter, Stolz had another tough soccer-related decision to make: sign with an MLS club or pursue overseas opportunities.
Undecided, he weighed both options carefully before reports surfaced saying that he would only play in MLS if he were drafted by the New York Red Bulls or LA Galaxy. With collegiate players not usually having the type of power to dictate where they land, some fans and observers believed Stolz was unfairly manipulating the system in his favor.
Stolz, however, maintains that he was open to anything. He did prefer New York or Los Angeles because of a recommendation from a coach he trusted, but that he would not necessarily have been opposed to playing for other MLS clubs if they had taken him in the draft.
"I just looked at my options and there was a back and forth of making a decision of going back to Europe and staying in MLS," said Stolz. "I waited for the draft and I went through the entire process, I wasn't sure what I wanted to. I had trials set up with preseason camps, but after I found out that I got drafted by New York Red Bulls, I thought it was a great city and a great team and a great coach.
"They were all factors that I considered. I looked at the entire package and I thought I would develop a lot better than at the second-division team in Germany. That's why I decided to do it."
Five years after that initial major decision, Stolz has once again chosen an American adventure over a chance to ply his trade closer to home. Given how well that initial decision went, you can't really blame him for that.