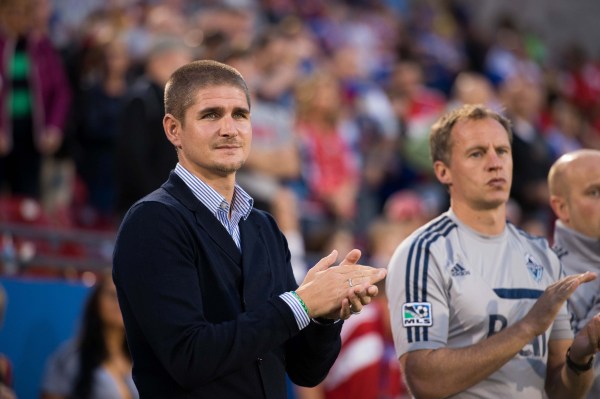 Photo by Jerome Miron/USA Today Sports
By RYAN TOLMICH
Throughout his time with the Vancouver Whitecaps, Carl Robinson has developed a particular ethos for what he expects a roster to look like. That ethos, Robinson says, is a foundation of youth.
As one of the league's more inexperienced teams last season, the Whitecaps stormed into the postseason picture with a late season run before falling unceremoniously to FC Dallas. Despite the elimination, Robinson insists that the experience of last season is one that will harden his group heading into a 2015 with higher expectations.
While the team will once again be led by Pedro Morales, Robinson's side contains a strong core of young assets.
The midfield is anchored by Matias Laba (23) and Gerson Koffie (23), while Russell Teibert (22) will likely remain a solid contributor. The defense boasts offseason acquisition Diego Rodriguez (24), while the frontline will be spearheaded by Octavio Rivero (23) and Kekutah Manneh (20).
The inclusion of such a wide variety of young players would prove daunting to some, but not Robinson. The Whitecaps head coach insists that the club is hoping to be on the forefront of developing young talent, as Robinson believes that the youth prospects aren't given opportunities to shine at a majority of other clubs.
"It's the model that I want to develop at this football club," Robinson told SBI. "I don't think young players are given the opportunity, not just here in Major League Soccer, but throughout the world. I think that's generally because not many managers get the opportunities to play their young players."
This season, Robinson and co. will have even more opportunities to blood young players in game action with the introduction of Whitecaps 2. Entering play in USL, Whitecaps 2 will give Robinson the chance to keep a close eye on development while also giving more seldom-used youngsters a place to earn valuable game minutes.
"It's a very important tool, it really is, for developing young players because young players, as you all know, develop at certain stages," Robinson says of Whitecaps 2. "Some progress quicker than others. There are a number of ways to do it, to reach that professional goal and become a Major League Soccer player.
"What we're doing is allowing players like late bloomers or that need more competitive minutes to get the experience while also trying to reach their goal of becoming a Major League Soccer player. There will be a number of guys that will be with Whitecaps 2 to get minutes from the first team, but it's a platform for them to showcase their talents."
That ability to showcase will give Robinson, and coaches league wide, a chance to see exactly what a young player could do.
With the firm belief in giving youngsters a chance, Robinson says he will continue to fall back on the model in years to come. The coach hopes the Whitecaps become the destination for young professionals looking to make their name in Major League Soccer.
"You can play the young players, give them opportunities, but also build a football club," Robinson said. "If you're able to do it correctly with the right foundations in place, then you'll naturally attract the best young players, knowing that they have an opportunity to play football professionally sooner rather than later, which every young player, every mother and father is dreaming for their child.
"That's what I want. That's the club that they want and that's why I carry a very good young group of players."