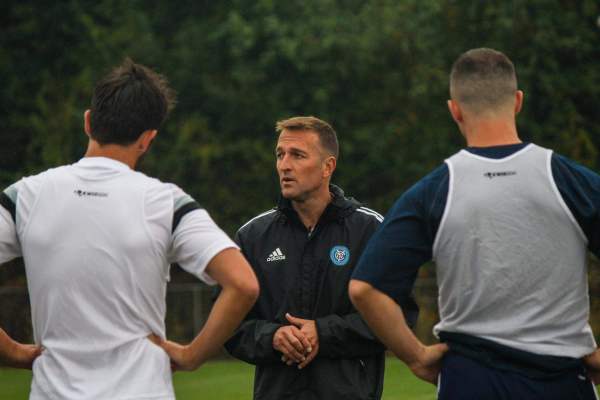 By RYAN TOLMICH
New York City FC head coach Jason Kreis is quite pleased with the performance in his team's first ever game.
NYCFC topped Scotland's St. Mirren, 2-0, Tuesday in Manchester behind goals from David Villa and Tony Taylor. While Kreis said it wasn't quite a "dream start," there were plenty of positives to be taken from the start of the club's preseason.
"I'm pleased. I don't know about a dream start, because, as a coach, you're always looking for how we can get a little bit better," Kreis said in an interview with NYCFC's website. "I'm certainly pleased with the efforts.
"The performance from the guys, from my point of view, a lot of them are taking on the messages we're trying to give them. When you look at the matches, you're always looking at answers to questions, and I think we saw some positive answers tonight."
One of those answers came from the club's marquee player, David Villa. Scoring the club's first ever goal, Villa impressed his manager with his effort following an offseason that saw him isolated before being united with the full team.
"I know it hasn't been easy for him to be in New York City for the past six months without a team, without games to play, training basically on his own," Kreis said. "We were fortunate to get together a group of guys to train with him, to provide him with decent training sessions. He's just worked extremely hard, so it's always pleasing for me to see guys that work so hard and are such good people get positive results and score goals."
While those goals were a nice feather in the hat, Kreis was more pleased with his side's defensive performance.
Having put a major emphasis on defending, Kreis was proud of NYCFC's defensive performance, as the club kept the first of what Kreis hopes is many clean sheets throughout the season.
"It's probably a little bit more important for me that we kept the clean sheet than (that) we scored the goals," Kreis said. "We really, really tried to focus on just defending in our first preseason trip. And to go now through two matches and do as well defensively as we did in both of those, I feel pretty good."