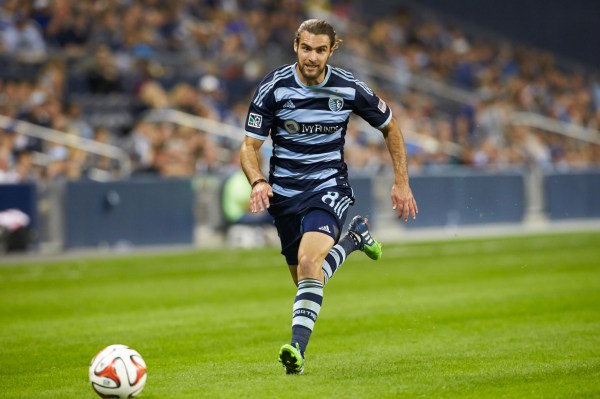 photo by Gary Rohman/MLS/USA TODAY Sports
By FRANCO PANIZO
The MLS preseason action will ramp up a couple notches on Saturday, and with the jam-packed schedule might come the return of Graham Zusi.
Dealing with a foot injury since mid-October, Zusi could make his way back to the playing field when Sporting Kansas City take on the Seattle Sounders in a Desert Diamond Cup game this weekend. Zusi is nearing the completion of a rehab that has forced him to miss the last two U.S. Men's National Team camps, and sounds optimistic about his chances to play again soon.
"I actually think I might get some minutes on Saturday," the 28-year-old Zusi said during the Desert Diamond Cup broadcast of Sporting KC vs. the Colorado Rapids on Wednesday. "Like Chance (Myers), I'm getting that base fitness back up. It's been so exciting to get back on the field with the guys the last couple of days."
The development of Zusi's looming return comes at a good time for both he and Sporting KC. The Western Conference club has three preseason matches left, and Kansas City can use those games as a way to work the winger back to top form before the start of the MLS campaign.
Sporting KC opens the season on March 8 at home against the New York Red Bulls.
What do you think of Zusi nearing his return? Expect that he will be ready to start by the time the season opens? Still think it will take him a bit to get back to his top form?
Share your thoughts below.