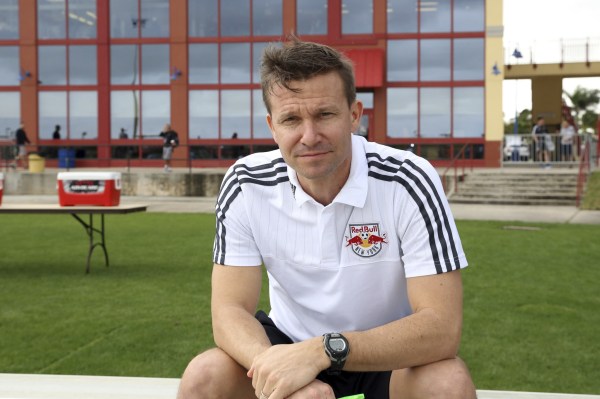 Photo courtesy of Andy Mead/MLS
By FRANCO PANIZO
CHAMPIONSGATE, Fla. — It is growing increasingly likely that the New York Red Bulls will start the 2015 season with just one Designated Player on their books, but things could change as soon as this summer if club deems it necessary to "make a splash."
The Red Bulls have been synonymous with fielding big-name DPs for at least half a decade now, but more of those type of marquee players have left New York this winter than were brought in. Thierry Henry said goodbye to the club in December before announcing his retirement and Tim Cahill was released this past Monday, leaving Bradley Wright-Phillips as the lone DP player on New York's roster.
There currently is not much wiggle room on the roster for the Red Bulls to add pieces before the start of the season, with depth players the most likely to fill out some of the final available spots. The club is, however, planning to leave one slot open in case it needs to make an impact move when more players become available during the summer transfer window.
"We're still kind of looking around at particular different pieces to put in and I think we're also leaving room so that if we need to make a big move in the summer that we're going to," head coach Jesse Marsch told SBI. "I think it's kind of like this is the beginning of the process. We feel like we have a lot already in this team.
"We've made some big moves obviously to get some important guys here and I think along with the established guys that are already here, that've done well the last two years, we're just trying to get the thing moving and then figure out, at the midpoint, what else we need to add."
New York has been criticized for not spending on a big-name player this offseason while the LA Galaxy and Toronto FC have brought over the likes of Steven Gerrard and Sebastian Giovinco. But the Red Bulls have a history of signing DPs in or closer to the summer, with Wright-Phillips and Claudio Reyna the only two of the club's seven Designated Players to agree to deals during the winter months.
Here are more notes from the Red Bulls' camp:
GRELLA MAKING AN IMPRESSION
While there might not be many roster slots left, one trialist who is making a good case for himself is Mike Grella.
Grella has come into New York's preseason camp sharp and has shown a nose for goal that could be useful to the club. Improving the 28-year-old's chances of landing a deal is that Wright-Phillips is currently the only forward on the roster, and the Red Bulls' brass has stated repeatedly that adding depth at that spot is on the to-do list before the start of the campaign.
"His mentality of being here and working every day has been fantastic and then he's been scoring goals. That's the best way to describe it," Marsch said of Grella. "He's been sharp and alert and fit and a lot of different things, but in the end, as a forward, the byproduct has all been that he's scoring goals.
"That's a good sign for him and I think he's made an impression on a lot of people, not just me, and I think he's done well."
Marsch added that Grella has joined the Red Bulls with the hopes of finding a permanent home. Grella – a Glen Cove, New York native – has bounced around different clubs throughout the world since leaving Duke University in 2008 and is looking for some stability for he and his family.
He will give himself a good shot at that if he continues to perform as he has thus far.
"Mike has flexibility. He can play up top, he can play out wide," said Marsch. "For right now, I think he's been a very pleasant surprise."
SEKAGYA'S STATUS STILL UP IN THE AIR
Ibrahim Sekagya might want to be a head coach at some point down the road, but that holds no bearing on whether he returns to the club for good in 2015.
Sekagya is currently trialing with the Red Bulls despite being a regular contributor during the past season-and-half, and his future remains murky at best. New York has reportedly been considering using the veteran as a player/coach this season, but Marsch said he is looking at Sekagya from a player standpoint right now and nothing more.
"I know he wants to coach in the future, but I'm just trying to evaluate where he is as a player and how he fits into this group," said Marsch. "He had a strong end of the last year, and now I'm just trying to figure out what it will mean this year for the way that we're playing and the group that we have.
"I think he's such a smart player that I think it's obvious he'll be a good coach when he's done, but for right now it's just focusing on him as a player."
Sekagya has his work cut out for him if he is to earn another contract. The Red Bulls have five centerbacks on their roster right now, though Armando could be heading for the exit door in the coming days or weeks.
LADE BEING LOOKED AT AS WIDE OPTION
The question as to what Connor Lade's best position remains a relevant one.
Lade shone throughout his rookie season in 2012 as a fullback and wide midfielder for then-head coach Hans Backe, but was seldom used in the two years that followed. Lade juggled different positions under Backe's successor, Mike Petke, when he did see the field the past two seasons, serving in wide spots before experimenting as a central midfielder.
New coach Marsch has weighed in on the debate, but it still is not all that clear as to what position is better suited for Lade.
"I think he's probably best at outside mid, but I like him in the center of midfield, too," said Marsch. "The issue is we have a lot of depth there. Using him at outside back is probably the best way to use him. I think he's smart, I think he's sharp, I think he works his ass off.
"There's not many qualities that I don't like about Connor, so I'm really excited to work with him and we're going to make him better."
—–
Who do you think the Red Bulls should potentially go after this summer as a DP? Consider Grella a lock to make the squad at this point? Expecting Sekagya to earn a contract?
Share your thoughts below.