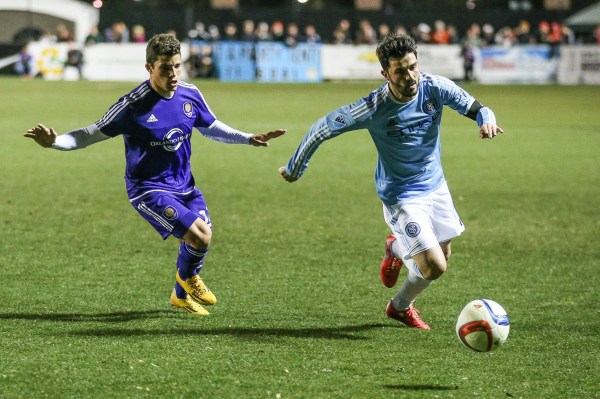 Photo by Jim Dedmon/USA Today Sports
By MICHAEL PENG
With just a few weeks remaining ahead of the regular season, MLS clubs are in the thick of a series of preseason tournaments with bragging rights on the line.
Wednesday proves to be a busy day for preseason action, as 15 MLS teams are scheduled to take the field for various tournaments.
Headlining the day's action is the Carolina Challenge Cup, which pits New York City FC against the Houston Dynamo, while Orlando City takes on the Charleston Battery.
The Desert Diamond Cup also provides three games, as the Seattle Sounders take on the new England Revolution, Real Salt Lake faces Sporting KC and the Colorado Rapids match up with FC Tucson.
In addition, the IMG Suncoast Pro Classic and Simple Invitational combine to provide four more games, ensuring a full evening of soccer action as the regular season rapidly approaches.
Take a closer look at the games on Wednesday's schedule below:
NEW YORK CITY FC vs. HOUSTON DYNAMO (Carolina Challenge Cup, 4 p.m., STREAM)
The 2015 Carolina Challenge Cup resumes action on Wednesday with a pair of matches on its schedule, starting off with New York City FC and the Houston Dynamo at 4 p.m.
The kickoff was originally scheduled for 5 p.m. but was moved up due to heavy rain forecast in Charleston, South Carolina.
NYCFC is coming off a 1-1 draw with fellow expansion club Orlando City SC last week, getting the lone goal from 2015 MLS SuperDraft's second overall pick Khiry Shelton in that match.
The Dynamo meanwhile, who are under new head coach Owen Coyle, were unable to find the net in their two recent matches against USL sides Austin Aztex and Charleston Battery, dropping both contests by the scores of 1-0.
ORLANDO CITY vs. CHARLSTON BATTERY (Carolina Challenge Cup, 6:30 p.m., STREAM)
Orlando City will take on USL side and host Charleston Battery in the nightcap of the Day 2 action in the Carolina Challenge Cup, beginning at 6:30 p.m.
Team captain Kaká found the net for the Lions in the match last Saturday against New York City FC and substitute Austin Savage did the same for the Battery in a 1-0 win over the Houston Dynamo.
Orlando City has this match and one more this upcoming Saturday against the Dynamo to prepare for its inaugural MLS season, so look for head coach Adrian Heath to make the most of the time available to mesh talents like Brek Shea, Aurelien Collin and Honduran Designated Player Bryan Rochez. 
COLORADO RAPIDS vs. FC TUCSON, (Desert Diamond Cup, 7:30 p.m., STREAM)
Round 3 of the 2015 Desert Diamond Cup is set to take place on Wednesday as well, with the Colorado Rapids taking on host FC Tucson to lead off the action at 7:30 p.m.
The Rapids saw Gabriel Torres find the net for them in their last match against the New England Revolution, which resulted in a 1-1 draw. Meanwhile, FC Tucson was overwhelmed by Real Salt Lake, 3-1.
Goalkeeper Clint Irwin impressed for Colorado against the MLS Cup runner-up Revolution, and it'd be intriguing to see if head coach Pablo Mastroeni sticks with Irwin or go back to the club's new acquisition Zac MacMath, who conceded two goals against Sporting Kansas City in the first game.
SEATTLE SOUNDERS vs. NEW ENGLAND REVOLUTION (Desert Diamond Cup, 8 p.m., STREAM)
Two clubs that were involved in the conference finals last season, the Seattle Sounders and the New England Revolution, are set to square off at 8 p.m.
Despite falling to Sporting Kansas City, 3-2 in their previous match, the Sounders got two late scores from Victor Mansaray and Kenny Cooper to up their total goals to a tournament-leading eight so far.
Meanwhile for the Revs, Diego Fagundez was able to net an equalizer at the 54th minute to earn a draw for the reigning Eastern Conference champions against the Colorado Rapids.
The Sounders currents sits in third place of the tournament with three points and the Revs in fifth with just one, but both sides still have an outside chance of getting into the championship game of the tournament.
REAL SALT LAKE vs. SPORTING KC (Desert Diamond Cup 10 p.m., STREAM)
The two frontrunners in the 2015 Desert Diamond Cup, Real Salt Lake and Sporting Kansas City, are set to face each other for a 10 p.m. kickoff.
RSL took care of FC Tucson with a 3-1 victory last Saturday, with goals coming from Alvaro Saborio — who had two — and Devon Sandoval. Sporting KC, on the other hand, saw scores from Graham Zusi, Krisztian Nemeth and James Rogers in its 3-2 win over the Sounders.
RSL currently tops the tournament table with six points and a 4-to-1 goal differential, while SKC follows two points behind and a 5-to-4 ratio.
The top two teams from the table advance to the championship game on Saturday.
COLUMBUS CREW vs. PHILADELPHIA UNION (IMG Suncoast Pro Classic, 5 p.m., STREAM)
The Columbus Crew and Philadelphia Union, a pair of 2-0-0 teams in the IMG Suncoast Pro Classic so far, will square off Wednesday for a 5 p.m. kickoff.
The Crew are fresh off a 2-0 victory over a Coast Rica Under-23 side last Saturday, thanks to goals by Kei Kamara and Federico Higuain, while the Union easily handled London United, 6-0, with new acquisition Fernando Aristeguieta recording a brace.
Both sides have tallied nine total goals and conceded none so far in the tournament, but considering the fact that they played against underwhelming competition, this meeting could serve as a more accurate measuring stick to how either club is progressing this preseason.
Toronto FC vs. New York Red Bulls (IMG Suncoast Pro Classic, 7:30 p.m., STREAM)
After earning respective 1-0 victories in Day 2 of the IMG Suncoast Pro Classic last Saturday, Toronto FC and the New York Red Bulls will face each other Wednesday at 7:30 p.m.
TFC got past Danish side HB Koge behind Jonathan Osorio's 53rd-minute strike, while RBNY defeated Oklahoma City Energy FC courtesy of unsigned draft pick Manolo Sanchez.
A win by the Red Bulls would advance them into the tournament championship on Saturday, where they will face either the Columbus Crew or the Philadelphia Union.
VANCOUVER WHITECAPS vs. STABAEK, (Simple Invitational 8 p.m., STREAM)
The Vancouver Whitecaps are set to take on a team coached by a familiar face to those that have been around MLS.
Coming off a 1-0 draw with Cascadia rivals Portland Timbers, the Whitecaps will take on Bob Bradley's Stabaek on Wednesday night.
The Whitecaps victory came courtesy of Pa-Modou Kah, whose winner put a stamp on what turned out to be a fiery friendly with the Timbers
Stabaek, meanwhile, are coming off a 0-0 draw with the Chicago Fire.
PORTLAND TIMBERS vs. CHICAGO FIRE, (Simple Invitational, 10:30 p.m., STREAM)

In the nightcap of the Simple Invitational, the hosting Portland Timbers come up against the Chicago Fire.
The Timbers will need to keep a level head heading into Wednesday's friendly, as Caleb Porter's men saw two players sent off last time out against the Whitecaps.
The Fire, meanwhile, will mainly focus on just finding the net, as the team has scored just one goal in three preseason games.
—
Which games are you looking forward to? Which players do you expect to standout?
Share your thoughts below.