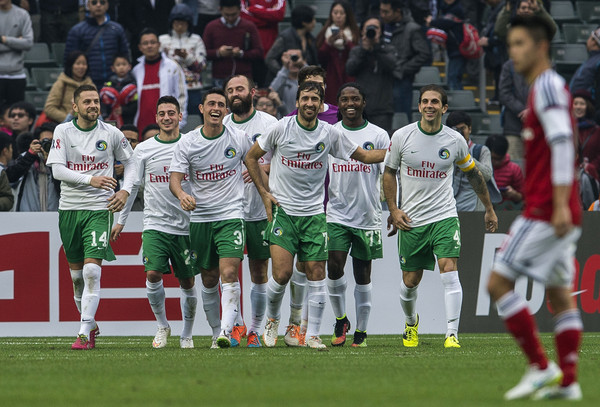 By RYAN TOLMICH
Despite having to come from behind on two separate occasions, the New York Cosmos opened up the Raul era by claiming a preseason trophy.
The Cosmos topped the South China Football Team, 4-2, in a penalty-kick shootout to claim the Lunar New Year AET Cup in Hong Kong after regulation concluded with a 2-2 scoreline.
With 19,522 fans in attendance, South China opened the scoring in the 19th minute through Chan Siu Ki, the all-time leading scorer for the Hong Kong national team. The Cosmos responded in spectacular fashion just four minutes later, as Sebastian Guenzatti smashed home a Hunter Gorskie cross with a scissor finish.
Mahma Awal restored the South China advantage in the 71st minute, paving the way for a looping, deflected equalizer from Cosmos midfielder Andres Flores.
Raul kicked off the penalty kick shootout by converting before Cosmos goalkeeper Jimmy Maurer delivered a pair of saves, leading the way for offseason signing Adam Moffat to provide the clinching penalty finish.
The Cosmos are back in action Feb. 28 for a preseason visit to Sacramento Republic.
Here are some more of Thursday's NASL news and notes:
ROWDIES LOOKING FOR IMPROVED DEFENSE
Thomas Rongen admits that the Tampa Bay Rowdies of 2014 were one of the league's most exciting teams, but the head coach is hoping to avoid some of the goalfests that became the team's calling card last season.
Rongen, in his first year in charge of the Rowdies, is looking to revamp the team's defense. The Rowdies finished tied for last place in goals allowed last season, and Rongen is hoping that a series of offseason acquisitions will plug the holes in what was the NASL's leakiest defense last season.
"Last year, just look at the amount of goals that Tampa gave up late in games in, on paper, exciting games," Rongen told SBI. "You know, 4-3 losses, 3-2 losses. They just gave up too many goals. With the signings of Stefan (Antonijevic) and Gale (Agbousomonde) and Brad (Rusin) and Tamika Mkandawire and Darnell (King), we knew that was an area that we wanted to get…We have quality now to (prevent goals) for long stretches."
ARMADA BUILDING ROSTER AROUND EXPERIENCE, INTANGIBLES
When scouring the earth for players, there are a number of ways to analyze talent. Some look for pure athleticism while others look for technical ability.
The Jacksonville Armada, meanwhile, are focused on something else: intangibles.
As a new franchise, the Armada are in for a slew of new experiences as the club heads into its debut season. Because of that fact, general manager Dario Sala has sought out players who not only provide skill on the field, but mettle off of it.
"I'm a big believer in the intangibles of the game," Sala told SBI. "Every time I scout or recruit those players, I was more into what their life goals are because I know what they can do on the field. I was more interested in and investigated and was searching for the approach that they have for life and why they're coming here and why they're going to be playing for the Armada.
"After interviewing them, visiting them in their country, bringing them here, it was a great experience. It's exactly what we need to build this team. I'm pretty happy with what we have and hopefully we can continue building up from that."
The Armada roster boasts 13 nationalities, creating a unique blend of cultures.
Sala, a native Argentinian who came to the U.S. in 2005 to join FC Dallas, has embraced his role as mentor for even the most experienced players. As someone who has been through the changes that come with a move to a new country, Sala has no problem being up front and honest about what lies ahead.
"The one thing is, I can share my experience as a player because I played as a professional here in MLS," Sala said. "When I talked to them about the idea of the Armada and Jacksonville as a city and the division that we play in, the North American Soccer League, I gave them good information about what it takes to play in this league, the things on and off the field that they will have to get accustomed to.
"I can be their guide and I told them that the things they can do here is more important than what they can't."
SCORPIONS ADD COLOMBIAN YOUTH INTERNATIONAL WINGER
After capturing last year's Soccer Bowl crown, the San Antonio Scorpions have gotten a bit younger with the addition of a Colombian youth international.
The Scorpions announced Wednesday that the club has signed 20-year-old Cristian Palomeque on loan from Atletico Nacional. Palomeque has made 20 appearances for Colombia on the youth levels and was part of the Colombian side that won the Under-20 South American championship in 2013.
"This is exactly the kind of player we are focused on as an organization; young, fast, skilled, and with a very high ceiling," said general manager Howard Cornfield. "I suspect Palomeque will quickly become a fan favorite with his play on the pitch and I, for one, can't wait to watch him."
The Scorpions currently have 13 players on the roster.
—-
What do you take away from the Cosmos victory? How do you expect the Rowdies defense to perform in 2015? What do you think of the Armada's approach to constructing their roster?
Share your thoughts below.