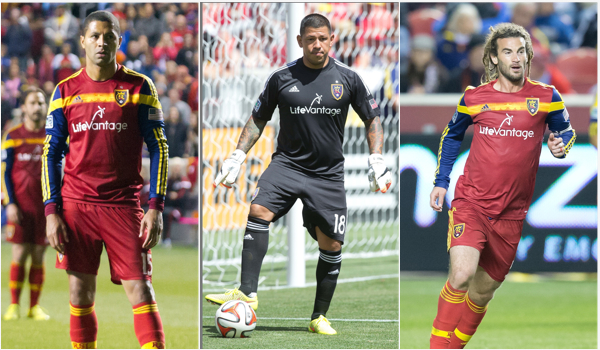 By DAN KARELL
Even without Jason Kreis at the helm, Real Salt Lake didn't look much different than it's previous iteration.
With the likes of Kyle Beckerman, Nick Rimando, and centerback pair Chris Schuler and Nat Borchers, RSL proved that they were still one of the best teams in the league, and backed it up with a third-place finish in the Western Conference.
After drawing the LA Galaxy at home in the Western Conference semifinals, head coach Jeff Cassar and RSL hit the road to try and advance to the finals, only to be clobbered, 5-0.
That game was a big turning point for the team.
Since then, many of the veterans of the team have been plucked away by the likes of the Portland Timbers (Borchers), New York City FC (Ned Grabavoy, Chris Wingert), and Toronto FC (Robbie Findley). General manager Garth Lagarway left for the Seattle Sounders.
Veterans such as Beckerman, Rimando, midfielder Javier Morales, and forward Alvaro Saborio are another year older.
The RSL front office filled a few of the huge holes in the team, acquiring back defender Jamison Olave and signing Demar Phillips and Wellington "Pecka" Paeckart, but they'll likely rely on a lot of the young guns that have been waiting in the wings to feature for the team.
Players like Luis Gil, Luke Mulholland, Aaron Maund, and Jordan Allen will likely all play bigger roles this season. There's even talk of a formation change, from the iconic RSL 4-4-2 diamond formation to a 4-3-3 formation.
Heading into Jeff Cassar's second year in charge, his challenge will be to prove that he can keep the team's same level of consistency, even after losing so many key players in the offseason.
Here's a closer look at what to expect from Real Salt Lake in 2015.
REAL SALT LAKE SEASON PREVIEW
2014 FINISH: 15-8-11, 56 points (third in Western Conference)
KEY ACQUISITIONS: Jamison Olave, Pecka, Demar Phillips.
KEY LOSSES: Nat Borchers, Chris Wingert, Ned Grabavoy, Robbie Findley, Sebastian Velasquez.
NEWCOMER TO WATCH: Jamison Olave – He's not a newcomer per se, but Jamison Olave returns to RSL after being traded to the New York Red Bulls ahead of the 2013 season. Olave was acquired again this past offseason, and will play a key role, despite his age (34), in partnering with centerback Chris Schuler and replacing Nat Borchers on the back line.
PRESSURE IS ON: Luis Gil – It's been five years since Luis Gil joined Real Salt Lake, and in that time, he's grown from a promising 16-year-old midfielder into one that's ready to blossom. Last season, Gil had his first extended period with RSL, but only managed two goals and two assists. With all the veteran midfielders gone from the side, Gil will be counted on to step up and provide scoring and/or playmaking ability from midfield.
OUTLOOK
Jeff Cassar is doing his best to see the bright side of his team's recent fortune.
Following an uncharacteristic 5-0 thrashing to the LA Galaxy in the 2014 Western Conference semifinals, Cassar saw his team gutted, losing key veterans and one of the key front office architects.
At the end of the year, Garth Lagarway left for the Seattle Sounders and Nat Borchers left for the Portland Timbers, while through MLS player movement mechanisms, RSL lost starters Ned Grabavoy and Chris Wingert to New York City FC (along with Sebastian Velasquez) and forward Robbie Findley to Toronto FC.
Add to that a quiet offseason, with only three or four additions of note, and you could be excused for expecting doom and gloom from Cassar. Instead, he sees the departures of many core RSL players of the past as a chance for new players to step up.
"I think it's really opened the door for some of our core players that we've had before to step up into bigger roles in the leadership department," Cassar told SBI in a phone interview."
"You talk about Tony Beltran, you talk about Chris Schuler, you talk about Luis Gil, these are guys who have a bigger voice in the locker room. They've been core members now for several years and it's an opportunity for them to step up."
Despite the departures, RSL still possess some of MLS' best players. The aforementioned Schuler and Beltran have formed in the past along one of the league's best backlines, goalkeeper Nick Rimando is as always a strong and steady presence, and Kyle Beckerman, who has criminally never made an MLS end of season Best XI team, continues to plug away from his holding midfield position.
Alvaro Saborio, through his injury struggles, returns to the squad and once last year's breakout star Joao Plata returns from injury, RSL will again have one of the more feared attacking duos up top.
Add to that the additions of former RSL starter Jamison Olave, re-acquired from the New York Red Bulls, midfielder Wellington "Pecka" Paeckart, and veteran left back Demar Phillips, and RSL looks like a team that can still compete for a playoff place.
Although he isn't considered a new signing, RSL will be able to rely more this season on Designated Player signing Sebastian Jaime. The Argentine was signed last August on a multi-year deal but he only made seven appearances, starting three games in 2014.
This season, after settling in in Salt Lake, Cassar believes that Jaime is ready to shine and prove that he's worth the Designated Player label.
"I think he's going to have a big impact on our team," Cassar said. "We knew bringing him in at the end of the year was not going to be easy. Especially coming from a Chilean league that's typically a little bit slower and more technical, it was going to take him some time to adjust. I thought he did a great job last year but I thought him coming into preseason, he's made a big jump in his game.
"He knows the speed that MLS plays at and the physicality that MLS plays at. So I think he's miles ahead of where he was when he came into our team last year and he's fit in extremely well so far this preseason."
As mentioned at the top, Cassar and his coaching staff's challenge is to prove that even with a change of players, RSL can keep up the same standard of consistency that they achieved under Jason Kreis.
The 2013 season was supposed to be a re-building year after Will Johnson, Olave, and Fabian Espindola were all offloaded. But RSL outperformed everyone's expectations and finished in second place in a tough Western Conference that season, only one point behind the Portland Timbers.
Now, it's up to Cassar to see if he can continue the club's legacy of reloading instead of rebuilding and beat the odds in 2015.
"I think it's just making sure we maintain that high standard every training session, every game, every gym session, every regeneration session," Cassar said of the coaching staff's biggest challenge this year. "RSL has been successful for a long time now and now's not the time to take our foot off the gas at all.
"We have a lot of things to play for this year….so we're going to need everyone contributing."
PROJECTED STARTING LINEUP