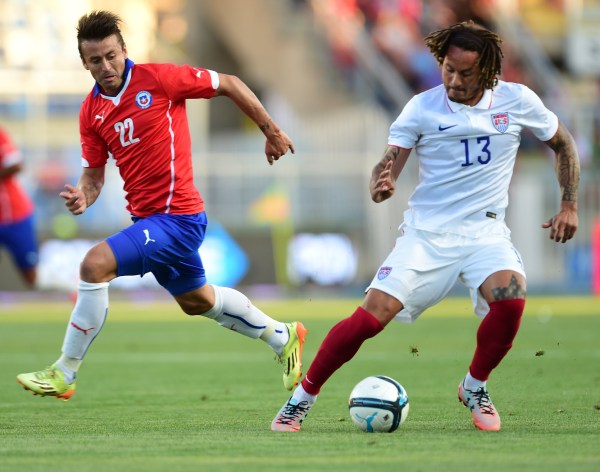 By IVES GALARCEP
The 2015 CONCACAF Gold Cup might still feel like it's a long time from now, but the reality is we are only about five months from knowing the team Jurgen Klinsmann will select to try and defending the U.S. team's title.
Four months will likely fly by, but there will be a plethora of friendlies to bring Klinsmann closer to finding the team he wants, and now that the first friendly of 2015 is in the books, the U.S. coach must have a slightly clearer picture of his options.
What we are still trying to figure out is just how serious is Klinsmann's commitment to a shift to the 3-5-2 formation. He only used it for the first half of the Chile friendly, but given the personnel in the player pool, we shouldn't be surprised to see much more of the new formation in the more than half-dozen friendlies between now and the Gold Cup.
The next match is next week against Panama, and that match should help weed out some pretenders and identify some more serious candidates for Gold Cup roster spots.
As we reach the end of the first month of the new year, here is a look at the latest SBI 23 for 2015:
Projected USMNT Gold Cup Roster (January 2015 Edition)
(New additions in BOLD)
GOALKEEPERS
Brad Guzan, Nick Rimando, Bill Hamid
Outlook- Rimando continues to look like a good bet for the back-up spot behind Guzan, leaving Hamid and Johnson to fight for the final spot. Hamid's injury kept him from taking part in the January camp, but both players still have plenty of time to state their cases.
Missed the Cut– Sean Johnson, Steve Clark, Cody Cropper
——————
DEFENDERS
Jermaine Jones, Greg Garza, Fabian Johnson, Matt Besler, John Brooks, Omar Gonzalez, Timmy Chandler, Steve Birnbaum
Outlook- The potential shift to a 3-5-2 formation would certainly shake things up in terms of trying to project a roster. Would it mean trouble for someone like Greg Garza, a more natural fullback than wingback? Would it mean a premium on mobile central defenders who can function as the marking backs in a three-man defense? Would that mean trouble for the likes of Gonzalez and Brooks?
Until we know more about Klinsmann's commitment to a formation change, we will stick with a similar-looking group of defenders. One player who boosted his stock is Steve Birnbaum, who impressed against Chile and looked well-suited for a right marking back role in a 3-5-2.
Robbie Rogers not getting a call drops him down in the pecking order, but you have to wonder whether Rogers might not be an excellent option as a left wingback at some point.
Missed the Cut– Tim Ream, Matt Hedges, Michael Orozco, Chris Schuler, Eric Lichaj, Perry Kitchen, Robbie Rogers.
——————–
MIDFIELDERS
Michael Bradley, Alejandro Bedoya, Mix Diskerud, Geoff Cameron, DeAndre Yedlin, Kyle Beckerman, Lee Nguyen, Brek Shea
Outlook– By signing with Orlando City, and setting himself for some regular playing time, Brek Shea works his way back into the Gold Cup conversation. He also showed in the Chile friendly that he just might be a good wingback option. If Orlando City plays Shea as a left back, as some have suggested, it could help Shea's development even further.
Yedlin shifts into the midfield group considering he seems more likely to play as a wingback or wing midfielder than pure right back. Graham Zusi misses out for now, but the veteran could certainly play his way back into the conversation.
We list Cameron in midfield for now, but he could be the perfect option as the right marking back in a 3-5-2.
Missed the Cut– Graham Zusi, Wil Trapp, Alfredo Morales, Joe Corona, Danny Williams, Harrison Shipp, Luis Gil, Miguel Ibarra,  Joe Gyau, Teal Bunbury.
——————
FORWARDS
Clint Dempsey, Jozy Altidore, Aron Johannsson, Rubio Rubin.
Outlook- The same four forwards we listed last month remain in their slots. One interesting question surrounds Rubin, who could wind up missing the Gold Cup if Klinsmann decides Rubin should be limited to the Under-20 World Cup. If so, then someone like Zardes could get the nod, and given how good he looked in his cameo against Chile we should see more of Zardes in the coming friendlies.
Missed the Cut– Gyasi Zardes, Chris Wondolowski, Bobby Wood,  Jordan Morris, Charlie Davies.
—–
What do you think of this group of 23 players? Who are you happy to see included in the squad? Who is missing that you feel should have made the cut?
Share your thoughts below.