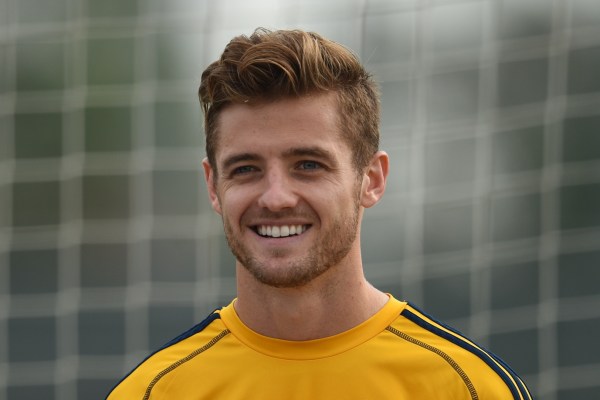 Photo by Kyle Terada/USA Today Sports
By RYAN TOLMICH
The fact that long-time friends Robbie Rogers and Jurgen Klinsmann had not spoken in the time since Rogers announced that he is gay had become a major talking point of this winter, but it appears the two have found time to reconnect, and put the recent issues behind them.
Rogers told the LA Galaxy Insider that he and Klinsmann are back on speaking terms after the pair went years without talking following Rogers' announcement that he was gay. Klinsmann was a major mentor for Rogers during the fullback's rise, leading to Rogers discussing the pair's estrangement in his recent book.
What followed was a series of interviews with both parties where the two said they would be open to talking once again. With communication now a bit more frequent, Rogers is looking forward to putting the mini-feud behind him in an issue that he himself describes as "dumb".
"It was just stupid. I think that it was stupid that it became a back-and-forth in the press. It's not about soccer, it's about me and my relationships," Rogers told the LA Galaxy's website. "Anyone that has read my book knows that I love soccer, but if there was one thing that I cherish more, it's my family, my friends and my relationships. But Jurgen and I have shared a few emails, and we'll talk now which is a good thing. The book did its job.
"This was something that when I was writing the book was bothering me, but last year, I didn't think about it once. If the people close to me knew what I wrote in the book, they wouldn't even ask me because they knew that I was over it. I never think about it anymore and the only thing that I thought was dumb was going back in forth in the press rather than having a conversation. I'm sure that he feels the same way. We both don't have time for that kind of stuff."
One thing Rogers does have time for is White House visits, as the Galaxy made a stop to visit President Barack Obama a few weeks ago. The visit saw the President praise Rogers for his trailblazing for gay athletes in comments that the fullback really took to heart.
Where Rogers hopes to make his biggest, however, is on the field. Rogers is finally enjoying himself and embracing the idea that he is an athlete, not just a gay athlete. With newfound confidence in himself, Rogers is looking forward to cementing his legacy on the field.
"Legacy wise, people will think of the fact that I went to the White House and President Obama talked about how I am one of the first gay players. That will always be spoken about when my name comes up, but last year and this year; I haven't thought much about it," Rogers said. "But even when Obama talked about that, I was just surprised and shocked because I really don't consciously think of myself as a gay athlete anymore.
"That's why I've enjoyed the sport so much more than before when I thought that 'oh, I'm the gay one.' Not that it is a bad thing, but now I can just enjoy my sport and not think about it. I think that as time goes on and hopefully I can stay healthy and contribute then hopefully people will just start to think of me as a great outside back."