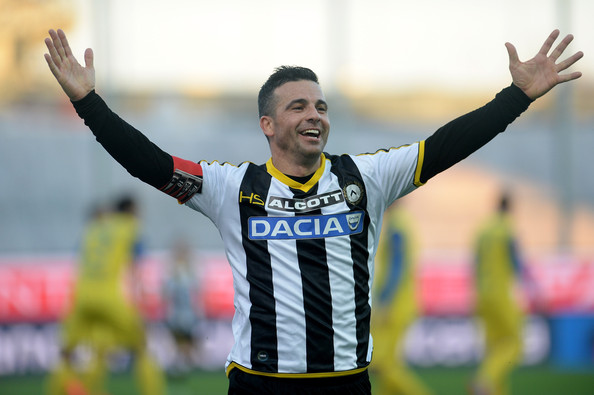 By RYAN TOLMICH
Antonio Di Natale is reportedly set to say goodbye to a nearly 20-year career in Italy in favor of starting anew in New York.
Italian outlet Gazzetta reported Tuesday that the 37-year-old striker will leave Udinese at the conclusion of his contract this summer with hopes of making a move to the U.S. Specifically, the Italian forward is reportedly interested in the New York area, as the New York Red Bulls and New York Cosmos are listed as possible landing spots for Di Natale.
The forward has reportedly been offered a deal worth roughly $9 million over two seasons.
For their part, the Cosmos denied that there have been conversations with the Italian, although the team didn't close the door on future interest.
"We have not had any discussions with Antonio Di Natale," a Cosmos spokesman told SBI. "However, if he were to leave Udinese at some point, we would be potentially interested."
Di Natale, who currently sits seventh all-time on Serie A's scoring charts with 200 goals in 400 career matches, has scored 14 goals in 20 total contests for Udinese this season. On the international level, Di Natale made 42 appaerances, with 11 goals, for Italy before retiring from national team duty following Euro 2012.
What do you think of the Di Natale news? See him coming to MLS, or think he could join forces with Raul at the Cosmos? Not buying this rumor?
Share your thoughts below.