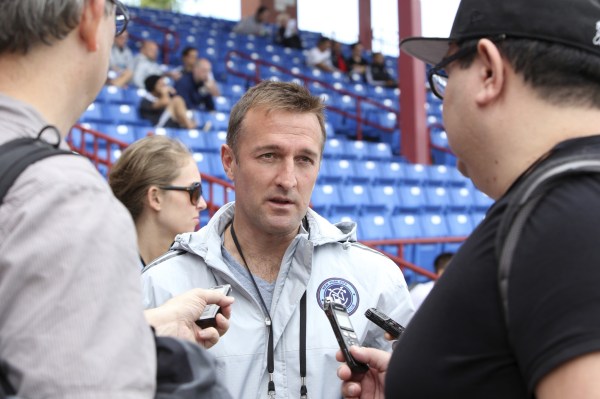 By AARON CRANFORD
New York City FC head coach Jason Kreis hopes his side learns from their mistakes after their 2-0 loss to Denmark's Brondby.
After NYCFC's first game against St. Mirren, Kreis said the defensive performance impressed him the most. He lauded the team's ability to keep a clean sheet in their first-ever match, but his side's second test left much to be improved upon.
"The positives are that I still think we still created quite a few goal-scoring opportunities," Kreis told NYCFC's website, "and with a little bit more sharpness in and around the box, I think we walk out of here with a goal or two in our pockets.
"Also, I think a big positive is now to see the group how it deals with some negativity because this is our first bit of it. It's our first loss in preseason, and it's our first opportunity to get the group together and see whether or not we can respond in a positive way or a negative way."
A staple of a Kreis-coached side is the ability to keep possession and wear down the opposition, prompting opponents to employ a more counter-attacking approach. Brondby offered that very approach, giving NYCFC a look at a style of attack they will likely run into countless times throughout their inaugural MLS campaign.
"I'm used to seeing a lot of our opponents recognize that in possession, they probably aren't going to win that battle," Kreis said, "so to drop off and create us some problems that we need to find answers to, and I still think we tended to get in and around them and get some chances to score."
Overall, Kreis is happy with his side's ability to find ways around Brondby, even if none of their attacks ended with a goal.
"I think that today's game, you look at the scoreline, and you're a little disappointed," Kreis said. "I'm a human being. I understand this. But for me, it was a very similar performance to the first game. There are still a lot of positives to be drawn, and there are negatives to be drawn, and so, we have to continue to move forward and try to improve to correct our mistakes."