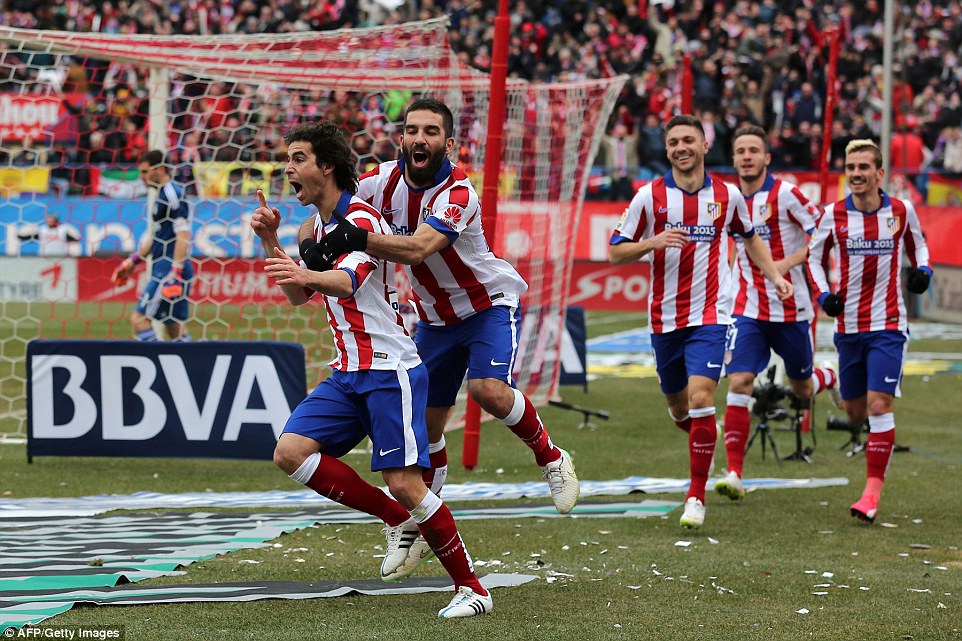 By ADAM TROXTELL
Real Madrid looked nothing like Spain's league-leading team in a heavy defeat by city rivals Atletico Madrid.
Los Rojiblancos devastated their big-spending neighbors, 4-0, on Saturday, completing a season sweep against Real for the first time since the 1950s. Atletico was fierce in attack, putting 11 shots on Iker Casillas' goal.
Real, in contrast, only managed one shot on target even with Cristiano Ronaldo restored to the starting lineup after his suspension. The club's possession was confined to the midfield as the Atletico defense spat out every ball thrown forward.
Atletico laid a one-two punch on the visitors midway through the first half. First, Mario Mandzukic set up Tiago from the edge of the area as the ball was squeezed under Casillas in the 14th minute.
Four minutes later, substitute Saul Niguez produced a special effort. Guilherme Siqueira sprinted up from left back, chipping the ball in from the end-line to Niguez whose overhead kick bounced off the post and in.
It only got better for Atletico from there. Antoine Griezmann's 67th minute strike and a late header by Mandzukic completed the rout that saw Real's lead at the top of La Liga reduced to four points.
Elsewhere, the rivalry theme continued as Tottenham came back to beat Arsenal in North London. There was also a first win in 2015 for struggling Borussia Dortmund in Germany.
Here is a full look at Saturday's action from Europe's top leagues.
ENGLISH PREMIER LEAGUE
Harry Kane has achieved hero status at Tottenham.
The young English striker scored both of Spurs' goals in a 2-1 comeback victory against heated rivals Arsenal. Aside from gaining bragging rights, the win also takes Tottenham up to fifth place, ahead of Arsenal in the Premier League standings.
Slightly against the run of play, Arsenal found the opening goal. Mesut Ozil was in the right place at the right time when Olivier Giroud scuffed a volleyed shot toward the back post. The German applied a tidy finish for the 11th-minute lead and his third goal in three games.
Spurs seemed shaken by the Arsenal goal, but they exited halftime on a mission. David Ospina was forced into a flying save when a corner was headed toward goal, but Kane was there to sweep the ball into the net off the rebound.
Arsenal tried to possess the ball and take away Tottenham's momentum, but it only grew into a crescendo with four minutes to go. Back from the African Cup of Nations, Nabli Bentaleb send a left-footed cross right onto the head of Kane for the winner.
The second rivalry match of the day ended in a goal-less draw between Everton and Liverpool. Youngster Jordan Ibe hit the post for Liverpool with a powerful effort toward the end of the first half in the best chance of the game.
Simon Mingolet was called into action late in the second half when Seamus Coleman's volley looked destined for the far corner.
Here is a full look at the results from England:
Tottenham 2, Arsenal 1
Aston Villa 1, Chelsea 2
Leicester City 0, Crystal Palace 1
Manchester City 1, Hull 1
QPR 0, Southampton 1
Swansea 1, Sunderland 1
Everton 0, Liverpool 0
GERMAN BUNDESLIGA
Borussia Dortmund finally looked like a former champion of Germany on Saturday.
Pierre-Emerick Aubameyang scored twice to lead Dortmund in a 3-0 win against Freiburg. With 11 shots on target, Jurgen Klopp's men dominated the game and moved off the bottom of the Bundesliga in the process.
Things looked positive for Dortmund inside 10 minutes when Aubameyang caught up with a poor Freiburg pass back toward goal. He sidestepped Roman Buerki in goal before sliding a pass to Marco Reus for the 1-0 lead.
Another bad turnover set up Aubameyang in the 56th minute when Ilkay Gundogan sent him through on goal for an easy finish. His second came in the 72nd minute as Dortmund rolled past their opponents.
The top of the league remains as it was with leaders Bayern Munich winning, 2-0 against Stuttgart and challengers Wolfsburg beating Hoffenheim, 3-0.
American John Brooks started in a valuable 2-0 win for Hertha Berlin against Mainz. Hertha climbed out of the bottom three thanks to a pair of first-half goals.
Here are more results from Germany:
Koln 0, Paderborn 0
Freiburg 0, Dortmund 3
Mainz 0, Hertha Berlin 2
VfB Stuttgart 0, Bayern Munich 2
Wolfsburg 3, Hoffenheim 0
Hamburg 2, Hannover 1
FRENCH LIGUE 1
Marseille left open the possibility of losing ground in the title race with a 1-1 draw against Rennes.
Ola Toivonen handed Rennes a shock lead in the 27th minute. It left Marseille chasing the game, and an equalizer was found through Lucas Ariel Ocampos in the 60th minute. The comeback effort was hindered when Mario Lemina was sent off with just six minutes left.
Lyon can now extend its Ligue 1 lead to five points with a win against PSG on Sunday.