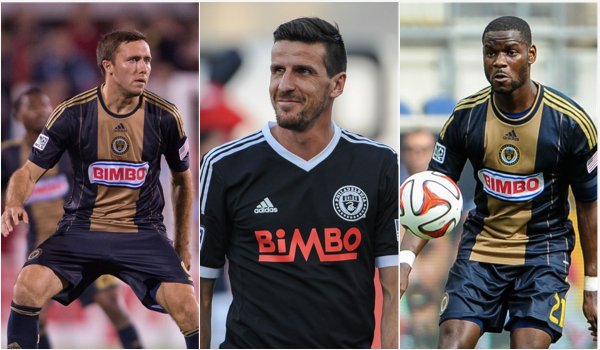 By MATT STYPULKOSKI
After winning just three of the first 16 matches in 2014, the Philadelphia Union had to make a change.
The man on the wrong end of that change was manager John Hackworth, who was fired after only two years on the job. In his place came interim manager Jim Curtin.
Under Curtin, the Union managed to turn things around and get back in the playoff hunt, with the added benefit of a deep run in the U.S. Open Cup.
Though the efforts to win a trophy came up short in the Open Cup final against Seattle, and the postseason push faded down the stretch, the second half of 2104 provided hope for 2015 – and earned Curtin a permanent job.
Now the goal is to maintain that late-season form more consistently and, ultimately, make the jump from seven points below the red line to the club's second-ever berth in the MLS Cup Playoffs.
Here is a closer look at the 2015 Philadelphia Union:
PHILADELPHIA UNION SEASON PREVIEW
2014 FINISH: 10-12-12, 42 points (Sixth in Eastern Conference)
KEY ACQUISITIONS: C.J. Sapong, Fernando Aristeguieta, Steven Vitoria
KEY LOSSES: Carlos Valdes, Leo Fernandes, Amobi Okugo, Zac MacMath,
NEWCOMER TO WATCH: C.J. Sapong. While all three of the Union's additions stand to make an impact, the Sapong has the potential to be a serious threat up top if he can regain his former MLS Rookie of the Year form. Though the 26-year-old's minutes dropped off during his final two years in Kansas City, he proved during his first two seasons – with 14 goals and seven assists -that he can be a valuable attacking player in this league.
PRESSURE IS ON: Maurice Edu. After joining the Union on loan from Stoke City last offseason, Edu, naturally a defensive midfielder, spent most of his time anchoring the back line. He fared well enough to earn an All-Star Game selection and a permanent, multi-year deal with Philadelphia this offseason. Both of those will only serve to bolster the pressure and expectations heaped on Edu this season. With the addition of Vitoria, he will need to be a key cog in the midfield for the Union this season. Plus, the 28-year-old will be hoping that a strong season could force Jurgen Klinsmann to take another look after he was left off the World Cup roster last summer.
OUTLOOK
Jim Curtin has spent the preseason drilling one word into his players' minds: playoffs.
"That's the goal right now," Curtin said. "I talk to all my players and in every meeting, all we talk is playoffs. To the point where I want it to be so ingrained in their heads that that's our sole focus right now."
The Union have made a handful of moves this offseason as a means to that end.
Former Sporting Kansas City striker C.J. Sapong and newly signed Designated Player Fernando Aristeguieta have been brought in to bolster the attacking core. Combined with Andrew Wenger, who Curtin named as possibly the best player in preseason thus far, and other forwards like Sebastian Le Toux, the manager will have plenty of options going forward.
"There could be a situation at times where it almost looks like a 4-2-4 when we attack," Curtin said. "C.J. and Fernando both have the quality where they can run and run for 90 minutes…Even with both of them on the field, when we don't have possession it can look like the 4-2-3-1, where either Fernando or C.J. does the dirty running underneath and takes away the other team's holding midfielder."
After trading away Amobi Okugo and sending Carlos Valdes out on loan, the Union have also taken steps to shore up a back line that leaked 51 goals last season. Center back Steven Vitoria was brought in on loan from Benfica and is expected to slot into the starting lineup.
"He can really start our attack," Curtin said. "He's got very good feet for a guy who's 6-foot-5. He can pass. He can play that 30 or 40 yard ball on the ground in the midfield, but then he can also hit that 60-yard ball in the air to get from one side to the other. I really like what he's done offensively with his feet and defensively he brings experience."
His presence will also allow Maurice Edu – who signed a new, multi-year deal over the winter – to spend the majority of his time at his more natural defensive midfield position.
And with Zac MacMath gone on loan to the Colorado Rapids, Rais M'Bolhi is set to be the unquestioned starting goalkeeper – though Andrew Blake could see some work here and there, especially in Open Cup matches.
The one area of weakness that the Union did not particularly upgrade in the offseason is its depth. Though a few players that were regular starters last season, like Conor Casey, moving to the bench to make way for new signings will help bolster it a bit, the Union are still not a particularly deep team.
But the starting XI should be stronger. And though a number of changes to the lineup can often leave teams with a learning curve, so far, Curtin has been pleased with how his squad has gelled in its play. But he may be even more enthused with how it's adjusted in other areas.
"[Edu] has taken more of a vocal leadership role," Curtin said. "He's usually more of a lead-by-example kind of guy. But he's talking more, he's barking at guys. I love it, it's the loudest group we've had. I think we had a good team last year but I think the fact that you add in Steven, who talks, Mo taking a more vocal role, C.J. will speak. It's good, it helps you get through games in those tough moments."
That infusion of starting talent and a solid crop of leaders has left Curtin with a good feeling about his team. That's not to say he's under any illusions that the Union's building process is complete, but this season should provide a stepping-stone toward the ultimate goal.
"Obviously you want to win MLS Cup and you want to win the Open Cup," Curtin said. "That's everybody's goal at the start of the season. But for me, right now, the first step is get in the playoffs and win a series, because that's something the club has never done. Our guys are on board for that and will do anything to get that done for our fans."
PROJECTED STARTING LINEUP