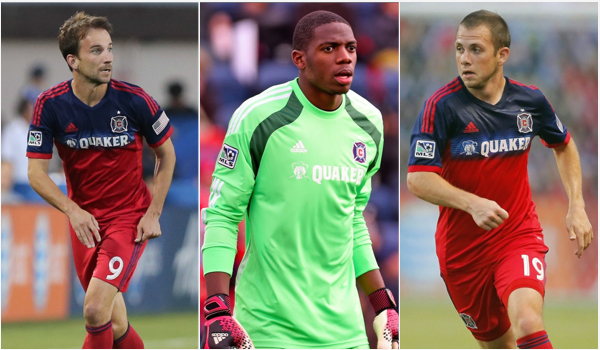 By DAN KARELL
After nearly making the playoffs in 2013, the Chicago Fire took a step back in 2014.
Club legend and fan-favorite Frank Klopas was let go in favor of former MLS Coach of the Year winner Frank Yallop, but injuries to key players and salary cap issues kept the club from making the kind of moves that they've made this offseason.
There were bright spots last year in Harry Shipp's emergence paired with Quincy Amarikwa, but Designated Player Juan Luis Anangono flopped, Mike Magee was injured most of the season, and both offense and defense was in short supply. All of that led to the Fire's six-win season and their second consecutive season missing the playoffs.
This time around, the Fire have been completely re-tooled on both sides of the ball. The club used all three of their Designated Player slots on attacking players, signing Nigerian forward Kennedy Igboananike and Ghanian international David Accam, in addition to Scottish midfielder Shaun Maloney.
The Fire also made under-the-radar pickups, signing Joevin Jones to be the new left back and Adailton, Eric Gehric, and Matt Polster to challenge at center back along with Jeff Larentowicz.
While they still may have some work to do to make sure all the new signings gel into the team, the Fire are nonetheless an improved product from last season.
Here's a closer look at the 2015 Chicago Fire:
CHICAGO FIRE SEASON PREVIEW
2014 FINISH: 6-10-28, 36 points (Ninth in Eastern Conference)
KEY ACQUISITIONS: Kennedy Igboananike, David Accam, Shaun Maloney, Eric Gehrig, Adailton, Michael Stephens.
KEY LOSSES: Gonzalo Segares, Bakary Soumare, Patrick Ianni.
NEWCOMER TO WATCH: David Accam – With Mike Magee still recovering from hip surgery and the Fire in need of a consistent goal scorer, Frank Yallop signed Ghanian forward David Accam this past offseason. One of two Designated Player forward signings, Accam is coming off a season in Sweden where he scored 17 goals in 25 games, and that form earned him a call-up to the Ghanian National Teal at the African Cup of Nations.
PRESSURE IS ON: Shaun Maloney – The Scottish international surprised many by joining the Fire this offseason from Wigan, essentially forcing his way out by mutual contract termination. For all his talent though, Maloney has a poor injury history and with two new Designated Players up top, Maloney will need to stay fit so he can provide service and score goals all season long.
OUTLOOK
There's no doubt that the Fire would get a positive grade for their offseason moves, but the team hasn't been able to come together as a unit until the trip to Portland for the Simple Invitational.
Sean Johnson (U.S. Men's National Team) and David Accam (Ghana) were away on national team duty and both Kennedy Igboananike and Shaun Maloney picked up some minor knocks along the way in preseason, meaning that those four were missing valuable time on the field.
It doesn't help that MLS is a league comparable to others by talent level, but not by size and scale. The league is notoriously difficult to adjust to, with many of the foreign imports taking six months or more to adjust to the travel, heat, and level of physicality.
Yallop is hoping that by bringing his players in during the offseason, they'll be able to settle and gel with the team quicker than a mid-season pick up.
"As you look at the success rate for new or foreign players coming in (to MLS), I think it's below .500, but if you pick the right guys, it could be 100 percent," Yallop told SBI in a phone interview ."I'm hoping that these guys settle quickly, get used to the league and get used to each other.
"There's going to be times when they're not going to play particularly well and it's up to the squad to back them up and make sure that we're helping out at all times and if they need a bit of a break from the team, I'll figure it out."
The squad overhaul involved Yallop and the club letting go of 16 players. A 17th, midfielder Alex, was re-signed at a new salary figure this offseason.
Some of the departing players included MLS veterans such as Sanna Nyassi, defenders Bakary Soumare and Patrick Ianni, and club legends Gonzalo Segares and Logan Pause. The latter two both retired in the offseason and took roles in the club's front office.
In their place, the Fire picked up the three Designated Players, and then added former Columbus Crew defender Eric Gehrig, Brazilian centerback Adailton, left back Joevin Jones, and centerback Matt Polster from the MLS Draft. The club also made an underrated signing of Michael Stephens, who will either start or be one of the first players off the bench in central midfield all season.
It was a fresh change for the club after a tough offseason a year ago.
"I felt that coming into last year, there was absolutely zero scope to make changes other than a couple of little trades here and there," Yallop said. "It was more of a forced move. Now, you have a chance of cleaning out some salary so you can go pick and choose who you get. Obviously, there's no guarantee that anybody's going to be better than what we had, but I feel that the group is now how I like it."
The new defensive recruits have also opened up a battle at the centerback positions. Converted midfielder Jeff Larentowicz looks to be one of the starters, but anyone from Adailton, Gehrig, or Polster could grab the other centerback spot.
"I've been very happy with all four (centerbacks), to be honest," Yallop said. "They've got great energy, they want to be coached, they want to listen and get better. And I think the big thing for me is it's a joy to coach kids like that. When you're fighting against any change with a player, and they don't really want to change, it becomes tough. These guys are really into it, they want to learn, and be good for the team."
The Fire likely won't be a finished product until halfway through the season, or when Mike Magee returns to full fitness. Yallop revealed that Mike Magee is back on the field in light training – "he's just got back on the field" – but isn't ready for full contact in practice coming off serious hip surgery.
But when he does return, Yallop will have a delightful problem of figuring out how to play Shipp, Magee, Accam, Maloney, and Igboananike all at the same time.
"We have electric quick players who are going to excite," Yallop explained, "and not only exciting the fans and people watching, but they're exciting to play with.
"We've got some good weapons and we've just got to get the balance right.
PROJECTED STARTING LINEUP