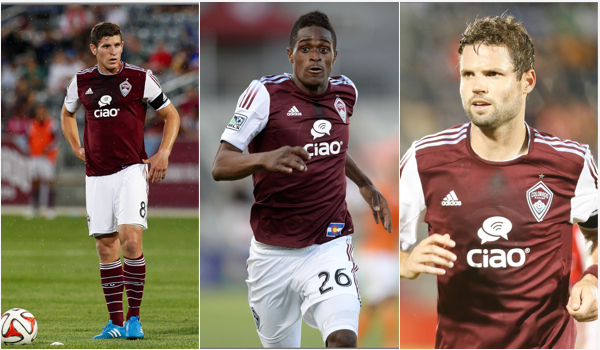 Photo by USA TODAY Sports
By RYAN TOLMICH
Following the team's performances heading down the home stretch of the 2014 season, the Colorado Rapids have nowhere to go but up.
Despite remaining competitive throughout the opening half of last season, the Rapids capitulated as the season came to a close by earning just five points from the team's final 16 games in a run that included 14 straight losses. That streak saw the team fall all the way to eighth in the Western Conference, sealing a stamp of disappointment on a season that started with so much promise.
Promise proves to be the key word again as the Rapids enter 2015, as this year's iteration of the team is built around a crew of youngsters set emerge as mainstays, such as recent U.S. Men's National Team callups Shane O'Neil and Dillon Serna. Meanwhile, the team has brought in its share of experience as well as two-time MLS Cup winner Marcelo Sarvas and six-year veteran Sam Cronin give the team plenty of leadership .
Second-year head coach Pablo Mastroeni also possesses a revamped defense after the 2014 backline boasted the unfortunate honor of conceding the most goals in the league.
Overall, Mastroeni and the Rapids hope that a year full of growing pains and lessons learned lead to a more promising 2015, one that could once again vault the club back into contention in the Western Conference.
Here is a closer look at the Colorado Rapids leading up to the 2015 regular season:
COLORADO RAPIDS PREVIEW 
2014 FINISH: 8-18-8, 32 points (eighth in Western Conference)
KEY ACQUISITIONS:  M Marcelo Sarvas (trade from LA Galaxy), M Sam Cronin (Trade from San Jose Earthquakes), M Lucas Pittinari (loan from Belgrano, M Juan Ramirez (transfer from Argentinos Juniors, GK Zac MacMath (loan from Philadelphia Union),D Bobby Burling (Waiver Draft), D Michael Harrington (Trade with Portland Timbers) D Axel Sjoberg ( MLS Draft)
KEY LOSSES: F Edson Buddle (Option Declined), M Tony Cascio (Expansion Draft), F Danny Mwanga (Expansion Draft), D Marvell Wynne (Option Declined), D Chris Klute (Trade with Columbus Crew), M Jose Mari (move to Levante), D Zat Knight (Mutual Consent)
NEWCOMER TO WATCH: Juan Ramirez. The 21-year-old Argentine joins the club as a Young DP after amassing 81 games and five goals in Argentina's first division. The speedster gives the Rapids a major spark on the left side with pace and his ability to beat players off the dribble. A former club teammate of Vancouver Whitecaps midfielder Matias Laba and San Jose Earthquakes forward Leandro Barrera, Ramirez is a major cornerstone of the club's youth movement that is expected to step in and contribute from the get-go.
THE PRESSURE IS ON: Gabriel Torres. The Panamanian forward showed flashes in the 2014 campaign, but Torres' first full season with the Rapids was largely considered a disappointment. After contributing three goals in seven games in 2013, Torres concluded the 2014 season with the same amount of finishes in 23 appearances. As the club's only Designated Player in 2014, Torres made just 11 starts last season and, with Kevin Doyle potentially on his way to the team, minutes will be hard to come by again for Torres if he fails to rise to the occasion.
OUTLOOK
Looking back on last season, head coach Pablo Mastroeni struggles to put a finger on quite where it all went wrong.
Was it the defense, which, statistically, was the worst in the league? Was it the inexperience and naivety of a rookie coaching staff? Was it the injuries, which seemed to pile up continuously to expose the team's lack of depth?
For Mastroeni, it's impossible to pick out where it all went wrong, but the Rapids are determined to not let it happen again.
"It's hard to put a finger on exactly on that one thing because I think it's very dynamic," Mastroeni told SBI. "I think it's impossible to put one little episode into a vacuum and dissect it and call it 'the reason'. I think it was a few different events that kind of snowballed and kind of became to big for us to be able to handle.
"The responsibility is for everyone to educate themselves a bit more, be a bit more reflective, players and coaches alike, coming in with a new mindset and a new mentality and, with the addition of some new players, the guys that I wanted to bring in are guys that had some experience, guys that I feel have that psychological immunity because they've been playing soccer for a long enough time to overcome moments that we encountered last year."
Two of those guys that bring some of that immunity are Marcelo Sarvas and Sam Cronin, who Mastroeni believes can be key cogs both on the field and off of it.
The duo bring valuable intangibles to the Rapids as both leaders and players. Sarvas and Cronin have been a part of a pair of MLS Cups and a Supporters Shield, respectively, offering a young and impressionable Rapids group a pair of teammates that have experienced the game at the league's highest level.
On the field, Sarvas and Cronin give the Rapids a chance to win a battle that Mastroeni is all too familiar with. As a former midfielder himself, Mastroeni is fully aware of the dirty work that is required in the midfield trenches, and the coach is excited at the prospect of bringing in two players that can help lead the charge.
"I think they're guys, and I've told them, that I'm going to lean on quite a bit this year," Mastroeni said. "If you can win that midfield battle every game, you put yourself in position to come away with the type of results, in a highly contested Western Conference, that we're looking for. They bring both bite and technical ability but for me, what impresses me the most, it's that leadership perspective, that never giving up and always fighting until the end, that spirit.
"Whether it's been in training or the games, they've brought that. For me, those two guys are critical pieces and guys that can help mold the club and the team that represents the way that the club wants to do it, the way I want to do it, to be a tough team to play against when we don't have the ball and a dynamic team when we do have the ball. Both of these guys have the ability to help us out tremendously."
While winning the midfield battle should be a major goal, the Rapids will struggle if the team continues to leak goals like the backline did in 2014.
In the defense, the addition of Bobby Burling will push young Shane O'Neill to improve alongside captain Drew Moor, while fellow newcomer Michael Harrington will fill a major void in the fullback position. In goal, the Rapids have an embarrassment of riches, with incumbent goalkeepers Clint Irwin and John Berner being joined by former Philadelphia Union starter Zac MacMath.
However, despite the additions, the defense still leaves plenty of questions, mainly at right back, where the team lost Chris Klute and Marvel Wynne. A handful of trialists have been given a chance at the role, as has in-house product Marlon Hairston, but the position remains a major question mark.
In addition, the club has little depth at the centerback position outside of the trio of O'Neill, Burling and Moor, who is still recovering from surgery following a knee injury in August. One possible stand-in is rookie Axel Sjoberg, a hulking six-foot-seven draft pick out of Marquette University.
If the defense is truly revamped and reenergized, the Rapids can focus more on working through a midfield that boasts arguably the best young talent in the league.
The combination of Dillon Powers and Dillon Serna, ages 24 and 21, respectively, proved to be a legitimate in the midfield, as the duo combined for eight goals and 13 assists last season.
Add in Argentine playmakers Lucas Pittinari and Juan Ramirez, also both under 24, and the Rapids have a midfield group that has plenty of depth, talent and potential to grow.
"Pittinari has been one of the real, real bright spots in the early preseason," Mastroeni said. "He's just an all-around midfielder. He's good with the ball, can find a pass forward, can switch the play of attack, get organize defensively, can step up and press defensively, gets in good spots effectively.
"At a young age, this guy is definitely a guy to keep your eye on, a guy that has a lot of upside and one that I'm excited to have in with the group for sure."
Things are also a bit crowded at the forward position, which returns leading scorer Deshorn Brown. Designated Player Gabriel Torres and Vicente Sanchez are also sure to get their looks, while team is "close, but not quite there yet" in the pursuit of Wolves forward Kevin Doyle.
Overall, Mastroeni expects that the competition brewing at every position is necessary to truly battle harden last year's youthful group. With a season of frustration under their belt, Mastroeni believes the more constant battles in practice will continue to push the youngsters to improve and put forth a better performance than that of 2014.
"I think what we did with the group this year is make every position that much more competitive," Mastroeni said. "I think bringing in a player like Juan Ramirez who plays a long the same lines as Dillon Serna, we'll have some great competition throughout the year. The expectations are to continue to improve and to continue to challenge yourselves every day.
"What I say to all the players is to be the best player at your position every day and work toward that. Don't worry about the weekend, you have to win every day. I think that's the challenge going into this year. They had a lot of playing time last year and I think they did well with it, and I think they learned a lot going through all of the hardship that they went through."
For Mastroeni, that hardship is, hopefully, going to result in lessons learned.
After starting last season off strong, last year's Rapids fell off a cliff and were unable to maintain any sort of consistency, other than the consistency of losing. Mastroeni is ready to embrace consistent performances in a more positive aspect in order to get the results necessary to remain in contention for the long haul.
"The first 20 games I think we found ourselves third in the Western Conference and if we could have just kept that momentum going, you win one, you lose one, you tie one, you win one, just keep building with that and understand that consistent performances will get you into the playoffs. Better performances at home as well, that's the focus for me this year.
"Everyone wants to win every game, everyone wants to win MLS Cup, everyone wants to go to the playoffs. I think that goes without saying, but for me, for this group this year, it's to be more consistent week in, week out with our performances and that will hopefully give us results in a positive way."
PROJECTED STARTING LINEUP