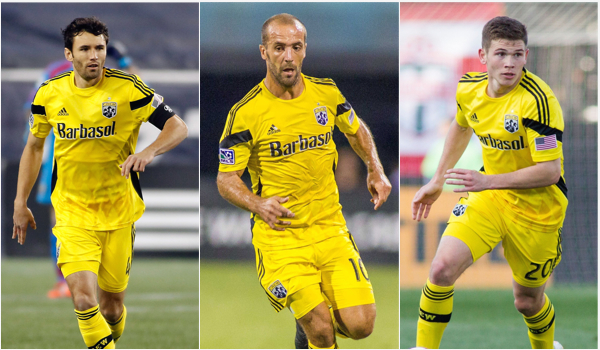 Photos by USA Today Sports
By DAN KARELL
It's safe to say that the 2014 MLS season was nothing short of a success for the Columbus Crew.
In year one of the Gregg Berhalter era, the former U.S. Men's National Team defender took a team that had missed the playoffs three years in a row and transformed it into a team with its eye on the title. The Crew displayed an open and attractive brand of soccer and over the last ten games of the season, the Crew won eight games and lost just once, rocketing up to third in the MLS standings.
Although they were walloped in the playoffs by the New England Revolution, the 2014 season was still a success, with Berhalter putting Columbus back on the map as a team to watch in MLS.
While Argentine midfielder Federico Higuain remained the team's playmaker and star player, others stepped up to help him. Midfielders Wil Trapp and Justin Meram had breakout seasons and earned national team call-ups, and Steve Clark's first season in MLS was good enough for him to be a candidate for Goalkeeper of the Year.
Part of last season's success was a strong and underrated recruitment policy. Berhalter signed Clark, defenders Waylon Francis, Michael Parkhurst, and Giancarlo Gonzalez, and midfielder Hector Jimenez ahead of the 2014 season, who all played big roles.
That recruitment continued over the course of the season with the signings of Romain Gall and Emanuel Pogatetz, as it did into this offseason with the signings of former Sporting Kansas City star Kei Kamara, international players Kristin Steindorsson, Mohammed Saied, Hernan Grana and Cedrick Mabwati (summer 2015), and a shrewd draft-day acquisition of former USMNT call-up Chris Klute.
The latest signings have not only increased the depth of the Crew, but raised expectations as the team prepares for the upcoming season with their eyes on an MLS Cup title.
Here is a closer look at what to expect from the Columbus Crew in the 2015 MLS season:
COLUMBUS CREW SEASON PREVIEW
2014 FINISH: 14-10-10, 52 points (Third in Eastern Conference)
KEY ACQUISITIONS: Kei Kamara (signed), Chris Klute (traded from Colorado Rapids), Mohammed Saied (signed), Hernan Grana (signed), Kristin Steindorsson (signed), Cedrick Mabwati (signed).
KEY LOSSES: Josh Williams, Eric Gehrig, Jairo Arrieta, Bernardo Anor
NEWCOMER TO WATCH: Kei Kamara. After an ultimately disappointing spell with Middlesbrough, Kamara returned to MLS last October and signed with the Crew, the team who drafted him in 2006. Though he wasn't allowed to play a minute last season, the offseason departure of Jairo Arrieta and the lack of goal-scoring from the No. 9 position last season means that Kamara is be expected to be a goal-scorer and offense facilitator from day one.
PRESSURE IS ON: Ethan Finlay and Justin Meram – The two American wingers carved out a place in the lineup by the end of the season after appearing as bit-part players earlier in the season. Finlay scored a team-high (tied with Designated Player Federico Higuain) 11 goals and seven assists, and Meram chipped in with nine goals and five assists in 34 games in 2014. But the Crew majorly reinforced the winger position in the offseason, and with the acquisitions of national team level players such as Kristin Steindorsson (Iceland) and Cedrick Mabwati (DR Congo, arriving in July), both Finlay and Meram will likely have a short leash to prove that last year wasn't a fluke and that they can carry over their form from last year into 2015.
OUTLOOK
After some modest expectations from Crew fans and the media heading into last season, much more is expected from the club this time around.
The Crew did nothing but strengthen their squad this offseason, both at positions of need, such as at forward and right back, and positions that head coach Gregg Berhalter feels are important, such as along the outside part of the field.
Berhalter deserves plenty of credit for the way he's re-constructed the Crew squad, but there were mistakes made last season too. The team played without a reliable No. 9 forward for much of the season, putting more pressure on the likes of Federico Higuain, Ethan Finlay, and Justin Meram to score. The Crew traded away fan favorite Dominic Oduro for Alvaro Rey, who lasted all of a month before returning to his native Spain.
And the team played nearly all of the season with a make-shift right back, sometimes cycling between departed defender Eric Gehrig and Josh Williams, and current midfielder Hector Jimenez.
To address those issues, the Crew added forward Kei Kamara last August, and outside backs Hernan Grana and Chris Klute in January. Berhalter and Co. are hoping that Kamara can find his form that made him one of the most effective forwards in MLS back in 2012 and 2013, while Klute and Grana are experienced defenders who are expected to play significant minutes this season.
All three players are coming off disappointing campaigns, and they're out to prove that last season was just a fluke.
After acquiring Klute, Berhalter dropped some hints on his recruitment policy over the last 12 months, and what we can expect from him in the future.
"It's no secret that our fullbacks have an extremely high workload," Berhalter said in January. "If you look at last year, we played a number of people at both left and right back so we need enough bodies there at those positions."
For all the focus on the new players on the club, Berhalter made a point this offseason to keep the core of the squad intact.
Central midfielder Wil Trapp is coming off a breakout season that established him as one of the league's best young midfielders and earned him a call-up to the full U.S. Men's National Team, where he made his debut in the second half at Chile in a 3-2 defeat.
Similarly, Justin Meram's big season earned him a pair of call-ups to the Iraqi National Team, where he featured for the Lions of Mesopatamia at the Asian Cup in Australia in January.
Down the stretch of the season, Tony Tchani stepped up his game as a top holding midfielder in the league, and goalkeeper Steve Clark and defender Michael Parkhurst locked things down defensively, giving the team one of the best spine's in the league.
Perhaps most importantly, Higuain is back to 100 percent fitness after struggling towards the end of last season as he dealt with a variety of nagging injuries. Higuain is coming off his second consecutive season with 11 goals and he could have had more if not for a few missed penalty kicks.
Berhalter this offseason feels confident that Higuain will remain his influential self in the coming season.
"Federico's played 29 of 34 regular season games so that's quite a bit of game time," Berhalter said. "I don't see him as an injury prone player, I think he had one and a half injuries that we had to deal with last season that kept him out some time, but overall we expect him to be on the field more than not. We expect him to be on the field the majority of the season."
The Crew are banking on their returning players stepping up next season and the new players having a big impact on the field to take the team to the next level. A large chunk of the squad remained in Columbus to train in the offseason and Berhalter lauded the team for their strong fitness base on arrival for preseason training.
They'll need to be clicking on all cylinders when they exit preseason, as they have to face the likes of Toronto FC, the Vancouver Whitecaps, the New York Red Bulls, and New England Revolution in the first six weeks of the season.
But with a spine of Clark, Parkhurst, Trapp, Tchani, Higuain, and Kamara, the Crew have a great chance to make waves across MLS this season and challenge for an MLS Cup title.
PROJECTED STARTING LINEUP