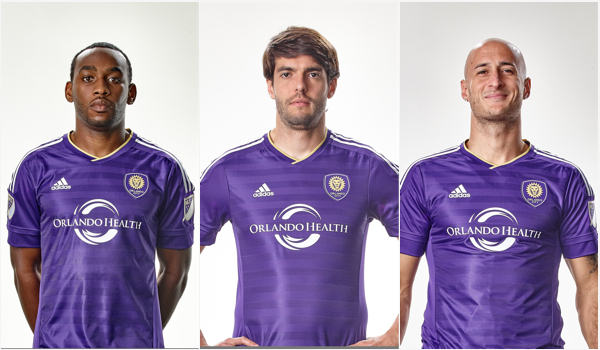 By MIKE GRAMAJO
After all of the hype and buildup, Orlando City is finally ready to take the field for its inaugural MLS campaign.
Orlando City will look to translate the club's winning history from its USL days, and with the likes of Designated Player Kaka leading the way, the Lions have now shifted the focus on winning an MLS Cup as the league's newest expansion side.
With head coach Adrian Heath, regarded as the most successful coach in the history of the USL after winning consecutive titles, at the helm, the Lions also bring a new flavor of soccer into MLS' 20th season.
While the team has plenty of new faces, eight players from the 2014 USL season have made the jump to MLS: Kevin Molino, Darwin Ceren, Tyler Turner, Tommy Redding, Luke Boden, Harrison Heath, Rafael Ramos and Estrela.
Orlando City had a busy, and early, MLS offseason. Bringing in the likes of veteran players such as Aurelien Collin from Sporting KCand Amobi Okugo from Philadelphia Union, Orlando City has managed to build a competitive roster that has the potential to contend from the get-go.
Here's a closer look at Orlando City leading up to the 2015 regular season:
ORLANDO CITY SEASON PREVIEW
KEY ACQUISITIONS: GK Tally Hall (signed from Houston Dynamo), M Kaka (signed), M Amobi Okugo (trade with Philadelphia Union), D Aurelien Collin (trad with Sporting KC), D Brek Shea (signed).
NEWCOMER TO WATCH: Kevin Molino. The 24-year-old Trinidad and Tobago international lit up the 2014 USL season, scoring a record 20 goals in leading Orlando City to the club's third USL regular season championship. Highly regarded as one of Heath's favorites, his development as a player has come a long way.
After winning USL MVP in 2012 and 2014, Molino went from being a natural attacking midfielder, to a proven goalscorer, which was another reason why he was the first player to sign for Orlando City's MLS inaugural season after turning down multiple offers from Europe.
THE PRESSURE IS ON: Brek Shea. After a two-year absence from MLS for playing in Europe, the former FC Dallas player is returning back to the league, and will play a different position. His time at Premier League side Stoke City was unsuccessful and saw his playing time reduced heavily, while loan stints at Barnsley and Birmingham City weren't enough for Shea to break into the Potters starting lineup.
Since joining Orlando City last December, he's been part of an experiment that United States Men's National Team head coach Jurgen Klinsmann has used him in most recently, left back. Although playing as winger in the midfield for a majority of his career,  Heath has also utilized Shea in that position. Shea has sown plenty of promise in his new position, but the former FC Dallas star will need to continue his adjustment as the team heads into real soccer.
OUTLOOK
Adrian Heath and his men have made it no secret: they want to win everything. With that belief, Orlando City has built around proven winner Kaka, but the roster as a whole is set to display a mix of veteran and young players on the field.
OCSC are looking at not only the present, but the future. United States Youth National Team players such as defenders Tyler Turner, Tommy Redding and Conor Donovan will be looked upon to carry on the torch in the evident future. Meanwhile, key MLS veterans like Collin, Okugo and Hall will man the fort during the Lions' inaugural run.
"I see certain things coming together," Heath told SBI. "I think we get better each and every day, not only on the field, but sitting in the changing rooms, talking to each of the guys on what we're trying to have. It's not easy to do it in a short period of time, 25 new players in trying to learn a new system."
That system that Heath mentions several times is a possessive-attacking style that proved to be successful in the USL. The club is normally known to run in a 4-2-3-1 formation, but adjustments have seen Heath run a 4-2-2-2 formation for certain occasions. That "new" system will look to be built around Kaka, who will dictate the game from the middle while having Molino control the right side of the attack.
In addition, 20-year-old Honduran international Bryan Rochez will be charged with providing goals in a front line that includes on-loan Martin Paterson, MLS veteran Danny Mwanga and top draft pick Cyle Larin.
While the attack promises to be potent, questions do remain in defense, especially centerback. Collin's spot is certain, but the team's other starter isn't quite concrete, as loanee Seb Hines will likely compete with the team's youngsters for the other spot.
Regardless, Heath understands that things will take time, and the head coach is confident in the group he has assembled coming together in time to start off on the right foot.
"It's going to take time, it's a process," added Heath. "Our preparations this week gets more intense, we're getting to that stage where we have to start to nail the pieces together. We got good players, and we have a little bit of everything. We got experience where we need it, we got athleticism, we got growth in the younger players, and the secret now is gelling them all together."
While the team isn't fully gelled yet, Heath believes his team will have a winning product once they kick the ball for the first time in MLS on March 8. There are still a few positions not locked yet, but there are certain players making their case.
"We obviously have a lot of depth," said Heath. "It's a good thing to have depth, it gives us something to work on and produces more competition within the players to earn a spot in the starting lineup. I'll like to be settle on my mind on what our starting lineup is on the opening day. Sometimes it takes a little longer than that."
PROJECTED STARTING LINEUP