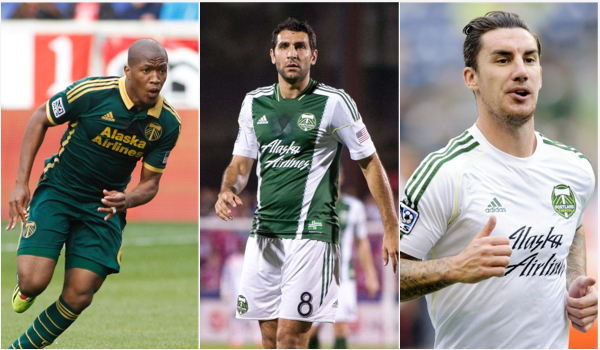 By FRANCO PANIZO
Caleb Porter's reign in Portland started with so much promise, but the unexpected stumbling block that was the 2014 season has the club in need of a bounce-back year.
A slow start to the season and an unhealthy dose of defensive miscues ultimately proved to be too much for the Timbers during the 2014 campaign, as they missed out on the playoffs during the final weekend of the regular season. It was a large disappointment for the Rose City, and for a Portland team that had reached the Western Conference Finals just a year prior in Porter's first season in charge.
With the aim being to get back into the stacked Western Conference's elite, the Timbers have addressed what they feel are their areas of need while keeping most of the rest of the roster untouched. Continuity is something the club wanted even after last year's struggles, and they have that with the likes of Diego Valeri, Darlington Nagbe and Fanendo Adi all returning.
Portland is currently dealing with a number of injuries to key players, however. Valeri, starting defensive midfielder Will Johnson and his backup Ben Zemanski will all miss at least the first couple of months of the season, leaving the Timbers to have find alternative methods to get by until they return.
That might make it seem like the club is in store for a third straight season in which it comes slowly out of the gates, but the Timbers believe they have the answers to getting off on the right foot en route to successfully returning to the postseason.
Here's a closer look at the 2015 Portland Timbers:
PORTLAND TIMBERS SEASON PREVIEW
2014 FINISH: 12-9-13, 49 points (sixth in Western Conference)
KEY ACQUISITIONS: Nat Borchers, Adam Larsen Kwarasey, Dairon Asprilla
KEY LOSSES: Donovan Ricketts, Pa Modou Kah, Michael Harrington
NEWCOMER TO WATCH: Adam Larsen Kwarasey – With the dependable and sometimes spectacular Donovan Ricketts offloaded to Orlando, the Timbers will need Adam Larsen Kwarasey to step in and produce immediately. The good thing for Portland is that the 27-year-old Kwarasey is joining the club with a good bit of experience under his belt. He has been the starter for Norwegian side Stromsgodset for the last five years, and has also appeared 21 times for Ghana – including against the U.S. Men's National Team at last year's World Cup – on the international level for Ghana.
PRESSURE IS ON: Nat Borchers – The whole defense will have to step it up this year in order for the Timbers to reach their potential and enjoy a bounce-back season, but it is Borchers who will shoulder much of the responsibility. The veteran centerback was brought in to shore up the back four, and is arguably Portland's biggest offseason acquisition. Borchers is being counted on to provide his leadership, organizational skills and physicality, and it will be especially important that he does so from the get-go given how competitive the Western Conference is.
OUTLOOK: Lady Luck is not on the Timbers' side right now.
The start of MLS season is a week away, and already the Timbers have lost several important pieces of their squad to injury. Valeri, Johnson and Zemanski are all recovering from leg problems, but the club does not seem overly worried about their absences despite desperately wanting to buck the trend of starting seasons slowly.
That's because Portland has had months to prepare for life without Valeri and Johnson. The two key players had surgeries late last season, and the Timbers knew that they would be without both of them when the 2015 season began. While Johnson is now set to be replaced by Jack Jewsbury after first-choice back-up Zemanski tore his ACL in preseason action, finding someone who can fill in for Valeri and do what the Argentine playmaker does is impossible.
Portland does not have anyone on its roster that can create the way Valeri does, but it does boast a bevy of attacking weapons that can take his spot in the lineup. There's the likes of Adi, Nagbe, Maximiliano Urruti and Gaston Fernandez, and all have shown they can be productive in the attack.
Talented players like them are part of the reason why the Timbers have finished in the top three in goals scored in MLS in both of their seasons under Porter, but it isn't the only one. Portland's offensive-minded playing style is also a factor, and is why the club believes it can make up for the loss of Valeri in March and April.
"One of the things I've decided is instead of trying to force a like-for-like player in there – we don't have a No. 10 that's like-for-like with Valeri – what we've done is move more into a 4-4-2, which isn't a major adjustment tactically," Porter told SBI in a phone interview. "It's simply just pushing the 10 higher and now playing with two strikers, because that fits the players we have. Why play with a 10 when we don't have a like-for-like 10?"
On the defensive side, the Timbers need vast improvement. The 2014 season was a giant step back from where they showed they were in Porter's first year, conceding 52 goals and needing to be tinkered with often in an effort to correct the ongoing issues.
Portland entered the offseason with an MLS-tested centerback on their wish list, and landed one when it traded allocation money to Real Salt Lake for Borchers. The veteran is a proven winner in the league, and will slot in right next to Designated Player Liam Ridgewell at the heart of the club's back line.
Borchers, 33, will have to do more than clean things up, however. He needs to learn his new teammates' preferred styles of play, and is also being counted on to lead a defense that said goodbye to starting goalkeeper Ricketts. Kwarasey is filling in goal for the Jamaican, but is new to the league and will likely need some time and games to adjust to MLS and all of its intricacies.
It's certainly a challenge for Borchers, but one the Timbers are confident he will tackle head-on.
"We get a guy that's been around, that's been in a club that plays in a similar style that we play, he's been at a club that's been in the playoffs every year, he's been at a club that's won MLS Cup, he's a leader, he's got a great mentality," Porter said about Borchers. "We knew on and off the field that he would be a great fit from a character standpoint, and from a soccer standpoint he's a good fit for all those reasons, but also he's good on the ball. I think he's actually very underrated on the ball.
"One of the things I've seen in the four weeks is that he's clean. He's simple and clean and he's composed and he's smart, he knows how to read the game, he's an organizer, so he can kind of boss the line. You look at central defenders in the league, there's two ways to go: You go with the athlete or you go with the one that's smart. Both of them give up goals, but I'd rather go with a guy that for 90 minutes is locked in, tuned in and switched on every single game, and although he's going to get beat some times, he's not going to get beat between the ears."
With Borchers on board and the 2014 squad mostly still in tact, the Timbers think they have what it takes to get back to the playoffs in a Western Conference filled with talented clubs. Portland is banking on its continuity to pay dividends, and not just from a player personnel standpoint.
The Timbers believe that one of the factors that has contributed to their slow starts in recent seasons is that the fitness coach has been changed each of the past two years. Now, with 2014's fitness coach returning and his established offseason program allowing players to arrive to preseason in better shape, the Timbers think they can get off to the type of start that will keep them from having to play catch-up for much of the season.
For Portland, stability is the key and why the club believes it is capable of rebounding in 2015.
"When you're flipping a club and you have turnover, it takes time for your group to settle," said Porter. "We've added four players and really we've only added two players to the starting lineup. The continuity should help us start better because we're not figuring out who's starting as much and we're not tinkering as much and the group isn't settling in to a new way of doing things like we were in Years 1 or 2."
PROJECTED STARTING LINEUP