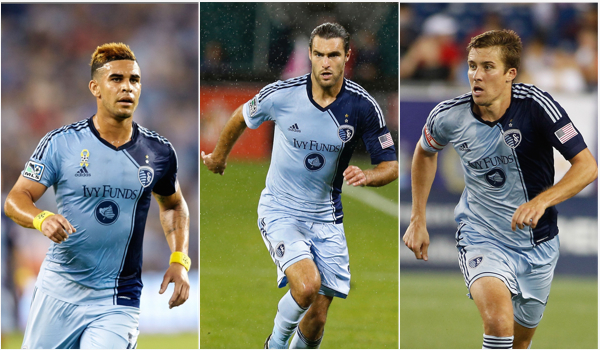 Photos by USA TODAY Sports
By TATE STEINLAGE 
Sporting Kansas City did not foresee an early exit from the 2014 MLS playoffs when the season began just three months after lifting an MLS Cup.
Then again, Sporting KC did not anticipate season-ending injuries, the rigors of a loaded schedule or the effects of a World Cup on two of its stars, either.
But that was the reality for Sporting KC in 2014. The team limped, quite literally, down the stretch, falling from a Supporters' Shield contender in August to nearly missing the playoffs in October.
Dom Dwyer enjoyed a breakout year, setting a club record for the most goals in a single season. But elsewhere, Sporting KC struggled. The midfield lost experience and a defensive presence when Oriol Rosell left midway through the season to join Sporting Club de Portugal. Rosell's absence left a strain on the back line, which uncharacteristically allowed easy goals.
As a result, Sporting KC has been busy this offseason. Fourteen players have exited, including longtime defender Aurelien Collin, and 12 have been brought in. The team will make the jump to the Western Conference this season, eying a better conclusion than the one it endured a year ago.
Here's a closer look at Sporting KC leading up to the 2015 regular season:
SPORTING KANSAS CITY PREVIEW 
2014 FINISH: 14-13-7, 49 points (fifth in Eastern Conference)
KEY ACQUISITIONS: M Roger Espinoza (signed), M Bernardo Anor (traded from Columbus Crew SC), F Krisztian Nemeth (signed), D Jalil Anibaba (traded from Orlando City SC), D Saad Abdul-Salaam (drafted), M Connor Hallisey (drafted), M Amadou Dia (drafted).
KEY LOSSES: D Aurelien Collin (traded to Orlando City SC), F Claudio Bieler (out of contract), F C.J. Sapong (traded to Philadelphia Union), F Soony Saad (out of contract), GK Eric Kronberg (option declined), GK Andy Gruenebaum (option declined), F Sal Zizzo (option declined)
NEWCOMER TO WATCH: Krisztian Nemeth. The 26-year-old Hungarian has made splashes this preseason, scoring a hat trick and an assist in the club's first preseason friendly and finishing a penalty kick against the Colorado Rapids on Feb. 18. Sporting KC head coach Peter Vermes has had Nemeth on his radar for several years, and with Sapong no longer with the club, Nemeth should see playing time early on, especially if he is able to complement Dwyer in the attacking half.
THE PRESSURE IS ON: Ike Opara. After suffering a season-ending right ankle injury in the first month of the season in 2014, Opara has returned to training and is the favorite to pair with defender Matt Besler at the centerback position.
Opara was a surprise in 2013, his first season with the club. This year, though, he is expected to remain healthy and fill in for Collin, who had been a staple of the club's back line for four seasons, as a starter.
OUTLOOK
The term "rebuilding project" doesn't really apply to this Sporting KC team. Vermes has a strong core group of players who have been with the club since its rebrand in 2011. In fact, defender Chance Myers is the third-longest tenured player in the league at eight seasons in Kansas City.
Still, 26 total roster moves this offseason to date is quite the number compared to last offseason when the biggest move was goalkeeper Jimmy Nielsen announcing his retirement.
Sporting KC has brought in a mix of players who have experience in MLS and overseas. Some are proven talent. Others are what Vermes describes as "long-term projects." The club has addressed areas of concern on the back line and in the midfield, but how it all comes together remains to be seen.
"We made some great additions to the team," Vermes told SBI recently. "Bringing new players in, there's going to be a little bit of an acclamation period, but as we all know the MLS season is a long season. It's going to be important for us to keep progressing.
"We're still missing a couple guys to injury and a new player we signed recently to visa stuff. It may take a little time to bring things together, but it's a long season and we have to prepare and get ready for that aspect."
With Dwyer up top and Besler, Opara, Seth Sinovic and — eventually — Myers anchoring the back line, Sporting KC has the talent to compete for hardware. The midfield alone is among the top groups in the league with Espinoza returning to join Benny Feilhaber, Paulo Nagamura and Jorge Claros, who now has valuable MLS experience under his belt in the defensive midfield role. Anor will also provide valuable depth with his experience.
"We're just working to get better all the time. I don't think we have solidified who that group will be yet, but obviously adding Roger at the moment has been a good piece for us," Vermes said. "He still has to get back into a rhythm and his role within the midfield. He took a little time off, which he needed, when he left Wigan, so like I said, it's not going to all hit right away. I'm probably one that doesn't want it to hit right away, because we have a lot of potential and we're going to slowly chip away to get to that place.
"We're not there yet but there's good attitude in the group to get there. It's good to have that attitude on a regular basis."
With just the U.S. Open Cup to focus on outside of league play, Sporting KC will play fewer matches than in 2014, when the club played in the knockout round of the CONCACAF Champions League in the second week of the season.
However, Sporting KC will have to deal with the summer's Gold Cup, with several players likely set to represent their countries. There is also the move to the Western Conference, which could cut into training time due to travel.
Either way, Vermes said his group is hungry to write a better ending to 2015 than it did a year ago.
"It's a very prideful group, they want to constantly have success," Vermes said. "They're going to fight for that through the course of the entire year, and that's the approach we have to have."
PROJECTED STARTING LINEUP