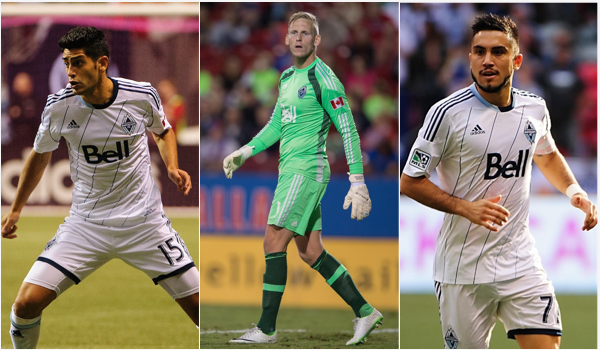 By RYAN TOLMICH
When one thinks of the teams that comprise the MLS' elite, it's easy to name teams such as the Seattle Sounders or the LA Galaxy, but if Carl Robinson has his way, the Vancouver Whitecaps will soon be counted amongst those vying for the league's top prize.
After picking up a crucial away victory in Seattle on their way to a late-season run into the MLS Playoffs, Robinson and the Whitecaps were one step away from their chance to go toe-to-toe with the Sounders in last year's postseason. However, a heartbreaking, albeit controversial loss to FC Dallas saw the team depart the postseason on the sourest of notes.
Last season's iteration of the Whitecaps was built around a solid defense, one of the league's best, with 13 clean sheets to the team's name. The attacking end of the game was a whole different adventure, however, as the Whitecaps mustered just 42 goals, six fewer than any other playoff team.
With a talented young striker and some defensive replacements in tow, the Whitecaps are determined to remedy their offensive woes, maintain their defensive strengths and, ultimately, stake their claim as one of the league's true contenders.
Here is a closer look at the 2015 Vancouver Whitecaps:
VANCOUVER WHITECAPS SEASON PREVIEW
2014 FINISH: 12-8-14, 50 points (5th in Western Conference)
KEY ACQUISITIONS: F Octavio Rivero (Transfer from O'Higgins FC), D Diego Rodriguez (loan from Juventud de las Piedras), D Pa Modou Kah (free), M Deybi Flores (loan from Motagua)

KEY LOSSES: M Sebastian Fernandez (option declined), D Johnny Leveron (option declined), D Carlyle Mitchell (out of contract), D Andy O'Brien (out of contract), M Mehdi Ballouchy (Expansion Draft), F Omar Salgado (Trade with NYCFC)
NEWCOMER TO WATCH: Octavio Rivero. Acquired in the offseason as a Young Designated Player, the Whitecaps are hoping that Rivero will be the medicine to last season's sputtering attack. With 10 goals in 16 appearances for Chile's O'Higgins FC, Rivero has proven he has the talent to find the net abroad. The 22-year-old striker kicked off his Whitecaps career with two goals int he club's first preseason game, lending credence to the belief that he could be the contributor the team hopes he can be.

PRESSURE IS ON: Pedro Morales. The Chilean midfielder took the league by storm in his inaugural MLS campaign after being acquired from Malaga a few weeks before the 2014 season. With 10 goals and 13 assists last season, Morales asserted himself as the Whitecaps' top playmaker and contributed to more than half of the teams goals. If last season is any indication, the Whitecaps will once again lean heavily on the 30-year-old playmaker, who will be tasked with both scoring and helping acclimate Rivero to his new surroundings by providing assists in bunches.
OUTLOOK
The Whitecaps' building comes from the front, as the lack of a bonafide goalscorer was what kept the Whitecaps from emerging over the hump into the league's elite. As the league's lowest scoring playoff team, the Whitecaps were held back by an attack that failed to produce a double digit goalscorer.
Leading the way in the goalscoring department was midfield maestro Pedro Morales with eight, while the forward trio of Darron Mattocks, Kekutah Manneh and Erik Hurtado combined for just 14.
"I think it's unlucky that we were the lowest scoring team that got into the playoffs," Robinson said, "but we were also the team that kept the most clean sheets, so after losing Camilo at the start of last year and not really replacing him, we decided which way we wanted to go and the foundation was that we wanted to build a strong team at the back, but also creative going forward.
"When you look at the chances created, unfortunately enough for us, we weren't able to take enough of our chances. That is why we weren't competing with LA and Seattle because we didn't score enough goals. That will come this year and hopefully we get more goals from different areas, not just the center forwards."
Robinson and co. are banking on Octavio Rivero being that goalscorer, and the 23-year-old Uruguayan has done his part by banging in goals throughout the team's preseason run.
Rivero has already made quite the impression on his coach, and the young forward fits in just fine with the club's ethos of banking on young talent. While his age and room for growth was a major selling point, Robinson says Rivero has already shown that he can compete in the league from day one and the coach expects the forward to step in and provide the spark necessary to push the team to the next level.
"Working with him on a daily basis, he is a very special talent," Robinson said of his forward. "If you look at modern day football, and positional players in his area, I think he's got the lot. I really do. I think he can hold the ball up, I think he can run in behind, I think he can score goals. He's physical, he's quick. I think he can supplement our forward line this year."
Behind Rivero is a midfield unit that can go toe-to-toe with virtually any in the league. Spearheaded by Morales, the Whitecaps will likely feature Manneh and experienced playmaker Mauro Rosales to create from the sides. Behind that trio will likely lie Matias Laba and Gershon Koffie, as the Whitecaps boast a midfield group filled with experience, creativity and fight.
"You look at all the teams throughout Major League Soccer and most games are won in that midfield area," Robinson. "Fortunately, I have some very good midfield players with the right balance of younger midfield players as well. Two in Pedro and Mattias, they were excellent last year. They need to continue that form and make players around them better as well and I think they do that.
"The important thing for me (about Morales and Laba), they are top players and everyone knows they're top players, is the way they are and how the conduct themselves off the field as well because they are both leaders of the group and they lead by example and that's important when you're trying to build a winning team and compete to win a trophy."
Despite all of the flash and flare that come in the group's midfield, Robinson still knows that the backline is the group's bread and butter. Frequent contributors Andy O'Brien and Johnny Leveron have departed, but veteran Pa Modou Kah and young Uruguayan Diego Rodriguez have entered in their place.
The team's defensive core generally intact, led by Kendall Waston, Steven Beitashour and Jordan Harvey, as well as goalkeeper David Ousted. Despite leading the league in clean sheets last season, Robinson expects to see improvement in his group while also maintaining the same strict mentality that led the team to the top of the defensive leaderboards last time out.
"We know that every player has room to improve on," Robinson said. "We did keep a number of clean sheets last year, but I'm looking at the goals we gave away and we gave away some sloppy goals. Our job is to make sure that we don't give away sloppy goals and we continue to perform to the standard that we had defensively last year.
"It's not as easy because certain decisions win games, but as long as the they keep the right mentality as a group, we certainly have a platform to build from the back."
Finally, as a manager entering his second season in charge, Robinson doesn't just expect improvement out of players; he expects it of himself.
"We need to be more consistent. We went to Seattle, we went to Portland, and we won away from home," Robinson said. "We just weren't consistent enough. That will be a big factor for me this year, asking questions with why we weren't consistent enough. Was it because I didn't put in the right personnel in when someone else was tired? Did I not make the right tactical decision at the right time?
"I looked back at every game of last year and I know what I got right and what I need to improve on. The day I stop improving as a coach is the day I'm probably better off walking out of the game and hopefully, I can have a long career in the game. "
That career continues into 2015 and, hopefully for the Whitecaps, another MLS Cup playoff run. With eyes fixed on joining the league's elite, Robinson knows that he is entering just year two of a process; one that will set the team up for success in both the present and future.
"It's not going to happen overnight, unfortunately, because there are literally 19 other teams that want to be competing with LA, having won three MLS Cups out of the last four," Robinson said. "It's a bigger project, it's not as easy as saying it, and it does take a lot of work. When I say work, I say building a foundation, building a core group of players, having the right balance of players and not just in the short-term, but also in the medium and long-term.
"To continue building this young group of players. To continue building the consistency in this young group of players and exciting the 22,000 fans that we fill BC Place with. As always, it's always a challenge to get into the MLS playoffs, but maybe we can get a little bit further. That has got to be the target every year. "
PROJECTED STARTING LINEUP