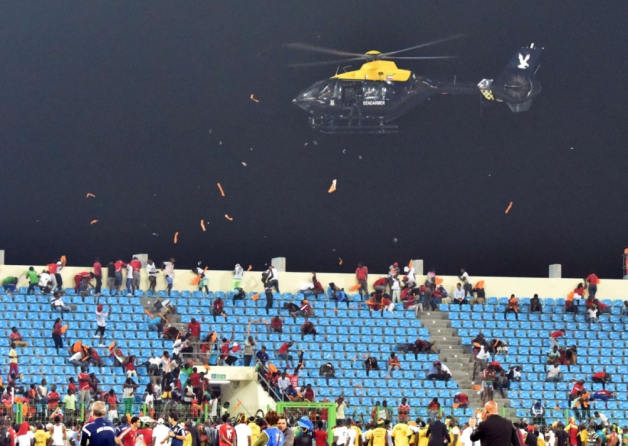 By ADAM TROXTELL
Ghana eased into the African Cup of Nations final on the pitch, but getting to the final whistle proved more difficult due to events off of it.
The Black Stars' 3-0 win against hosts Equatorial Guinea had to be stopped twice due to fan violence. At one point, Ghana fans had to be shielded by police behind a goal while authorities cracked down on trouble makers in the stands using teargas.
Host nation Equatorial Guinea's night began to head south when Jordan Ayew converted a penalty for Ghana in the 42nd minute. Mubarak Wakaso then doubled their lead in the 45th minute.
After that goal, police had to protect Ghana's players and coaches from objects thrown from the stands. Play resumed in the second half, but it only got worse.
Andre Ayew sealed the victory with a 75th minute goal, and then trouble started. Ghana fans began to flee their seats and enter the pitch with about 10 minutes to go, and police protection was required as the match was delayed for about 30 minutes.
Soon a helicopter was seen flying overhead and teargas was deployed to control home supporters. It remains to be seen if any action will be taken against the host team, which is set to play DR Congo for third place on Saturday. Ghana will play Ivory Coast in Sunday's final.
Here are some more news and notes from Thursday:
'NO CHANCE' KLOPP WILL RESIGN
Borussia Dortmund boss Jurgen Klopp is dedicated to seeing out the team's mission of escaping an improbable relegation battle.
In the wake of a 1-0 loss to Augsburg on Wednesday, Klopp said he will definitely not resign. Dortmund already pledged its loyalty to the 45-year-old that once saw the team to a Bundesliga title and a UEFA Champions League Final.
"There is no chance I will resign," Klopp said. "I am convinced of our mission in the second half of the season."
Wednesday's loss left Dortmund two points from safety at the bottom of the Bundesliga.
MIRALLAS 'READY FOR A NEW CHALLENGE'
Everton might face a fight to keep their Belgian winger happy.
Kevin Mirallas reportedly told Belgian newspaper La Capitale that he is eager to play in the Champions League, with Everton currently in 12th place and 16 points behind fourth. Mirallas did point out that the winners of the Europa League, which Everton is still alive in, qualify for next season's Champions League.
"I'll make a decision after the season," Mirallas said. "I have never said I absolutely want to leave Everton. I like it over here, but I feel ready for a new challenge."
—-
What do you think of these developments?
Share your thoughts below.