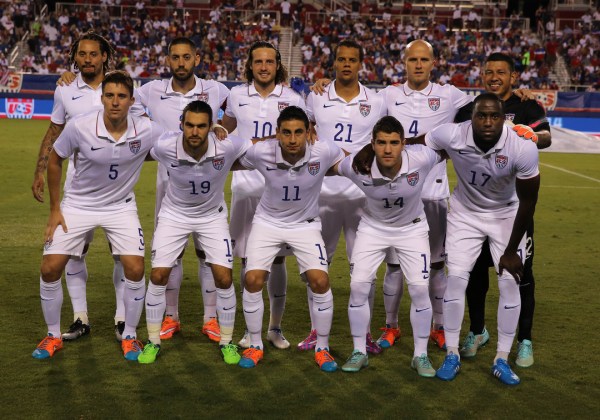 By IVES GALARCEP
CARSON, Calif.– With a familiar foe up next, and a five-match winless streak to snap, the U.S. Men's National team will be looking for a more complete performance against Panama on Sunday than the the one put forth in last week's 3-2 loss to Chile.
The big question heading into Sunday's match is just how different a look will we see from Jurgen Klinsmann's team. Will he trot out the 3-5-2 formation again, and will he use a similar-looking starting lineup, or shake things up considerably?
One potential lineup move Klinsmann could make is deploying Lee Nguyen in an attacking midfield role. In my recent Goal.com column, I made the argument that it's time for Klinsmann to give Nguyen an extended run as a starting playmaker.
Will Klinsmann give him a nod against Panama? That is an option, but there is another more likely scenario to consider as we ponder the lineup we're most likely to see on Sunday.
Here is the projected lineup we could see starting against Panama: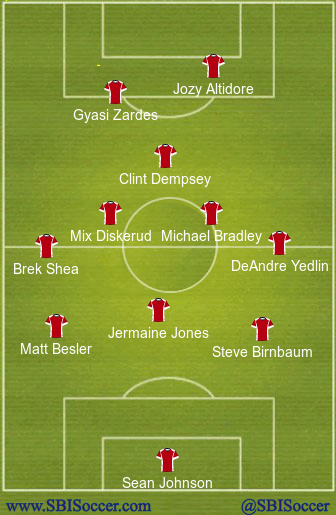 Some thoughts:
Word out of camp is that Gyasi Zardes has looked very good. His impressive cameo against Chile has earned him a look, and starting in his home stadium would be good motivation.
If Zardes starts, then Dempsey will remain in his attacking midfield role, unless Klinsmann chooses to give him a rest in order to give Lee Nguyen a start.
Brek Shea and DeAndre Yedlin should reprise their wingback roles in this 3-5-2/5-3-2 system. In fact, the back five should remain the same.
Now, if Klinsmann decides he wants to go with a 4-3-3? That would be a tricky one. We would probably see the same players as above, with Birnbaum sitting, and Lee Nguyen coming in as a midfielder and Dempsey as a third forward. Shea and Yedlin would be deployed as fullbacks. This deployment could lead to defensive issues though, so a 3-5-2/5-3-2 seems more likely.
And a 4-4-2? Klinsmann would have his hands full trying to put together a starting lineup with say a diamond midfield. Could he deploy Zardes wide left, as the LA Galaxy have done at times? That's possible, with Yedlin on the right wing, but then who would play right back? Could we see a Birnbaum or Shane O'Neill at right back?
Given the personnel available, staying with the same formation that started against Chile makes sense, though another halftime switch to a 4-4-2 could be in the cards (not that it would be advised given the fullback options).
What do you think of our projected starting lineup? What changes would you make to it? Which formation would you use against Panama?
Share your thoughts below.