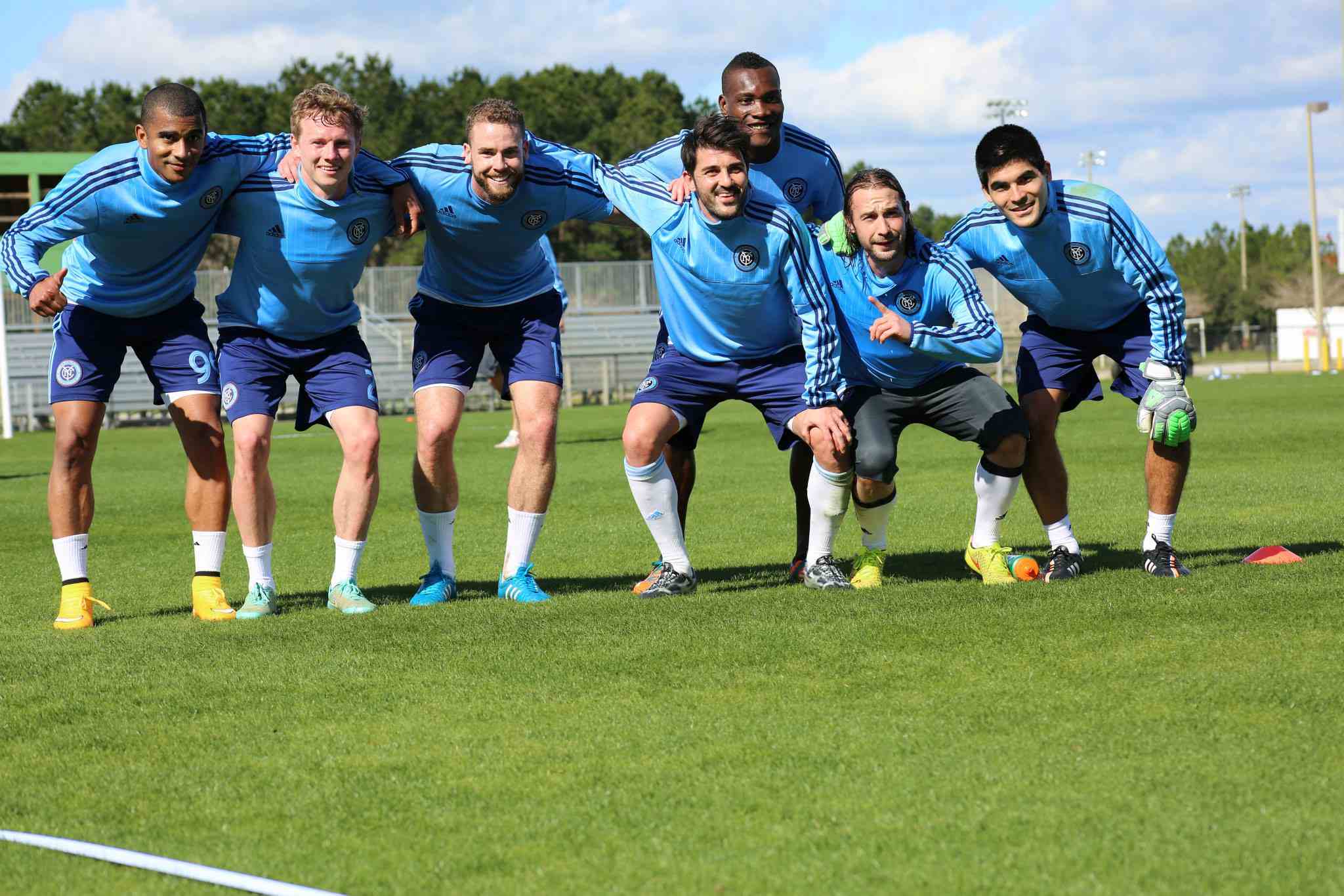 By DAN KARELL
With less than a month to go until the start of the MLS season, New York City FC's roster is starting to come into form.
Head coach Jason Kreis won't have the services of Frank Lampard from the start of the season, but his squad still has an MLS MVP candidate in David Villa up front, and a solid spine of players including Mix Diskerud, Andrew Jacobson, Kwame Watson-Siriboe, and, potentially, George John.
Mix in creative players on the wings like Ned Grabavoy, Tommy McNamara, and Sebastian Fernandez, and NYCFC has a solid foundation for their inaugural year.
With that, let's take a look at what NYCFC's starting 11 for their opener at Orlando City on March 8 could look like:
GOALKEEPER
Kreis has arguably his most difficult roster decision with the man between the sticks. NYCFC has three goalkeepers signed to the roster: the veteran Josh Saunders, NASL standout Akira Fitzgerald, and the young and promising Ryan Meara.
On paper, Saunders seems the most likely to start. The 33-year-old has won three MLS Cups in his career (two with the LA Galaxy and one with the San Jose Earthquakes), and is coming off a short stint with the San Antonio Scorpions, where he helped lead the side to an NASL Soccer Bowl title.
Back in 2012, Meara was the front-runner to win the MLS Rookie of the Year before a serious hip injury derailed his impressive season. After spending a season playing second-fiddle to New York Red Bulls starter Luis Robles, Meara was loaned to NYCFC for the season and has a chance to again prove that he's one of the top young goalkeepers in U.S. soccer.
Fitzgerald meanwhile has been a solid goalkeeper in North Carolina, first for Wake Forest and then for the Carolina RailHawks, for the last seven years. Now he's getting his first chance to make it on an MLS roster.
DEFENSE
For at least the 2015 season, the NYCFC defense can be characterized as a veteran group. Seven players have more than 44 years of experience between them, and both Chris Wingert and Jason Hernandez, likely starters, are above the age of 30.
Jeb Brovsky was a regular starter for two and a half seasons for the Montreal Impact and is likely to occupy one of the wingback spots along with Wingert.
The wildcards are George John and Josh Williams. John missed the entire 2014 MLS season with a knee injury, undergoing surgery last July 31 after rehab proved unsuccessful. Williams meanwhile missed a large amount of time from July through late September after an ultrasound revealed a blood clot that ultimately required surgery to remove a rib and forced the 26-year-old outside back onto blood thinners.
If John and Williams can return to their previous form, NYCFC could have one of the stronger defensive corps in the league. If not, expect Andres Mendoza and Kwame Watson-Siriboe to split time as Hernandez's center back partner.
MIDFIELD
Assuming that Kreis keeps his 4-4-2 diamond formation on the narrow Yankee Stadium soccer field, Mix Diskerud will likely play the top of the diamond, with Ned Grabavoy on the left.
Andrew Jacobson could play the bottom of the diamond, and one of Sebastian Velasquez, Mehdi Ballouchy, Kwadwo Poku, or Tommy McNamara could feature on the right side, or really in any of the front three places.
New signing Javier Calle, a left-footed midfielder, could be seen as a backup for the top of the diamond and play on the left side of the diamond. Matt Dunn, a central midfielder, could provide cover early in the season to Jacobson.
When Frank Lampard arrives, he'll likely play behind Diskerud, but he'll move forward and make late runs into the box as he's done throughout his career.
FORWARDS
David Villa is a lock to start up top, of course. The question is, who will start alongside him.
Depending on the situation, Patrick Mullins, who impressed in stretches for the New England Revolution last season, could be a good option to play off Villa. Meanwhile, against bigger, stronger defenses, tall forwards such as draft pick Khiry Shelton or Slovakian international Adam Nemec could be options.
Mullins, with MLS experience, is the best guess to start, but Nemec could certainly take the spot based on his international experience.
————
What do you think of NYCFC's squad? Who do you see starting on March 8 against Orlando City?
Share your thoughts below.