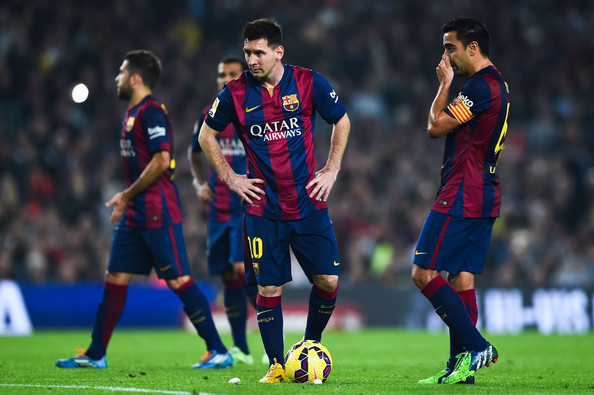 By ADAM TROXTELL
Two of the hottest teams in Spain come face-to-face at the Camp Nou on Sunday with an important three points up for grabs.
Barcelona hosts Villarreal as they try to keep pace with Primera Division leaders Real Madrid. The Catalans have won seven straight games in all competitions and currently find themselves four-points behind in second place.
They meet another seemingly immovable object in the form of Villarreal, who has not lost a La Liga game since Nov. 2. It's been 18 games since the Yellow Submarine last tasted defeat, and the streak has helped them climb to within three points of the last UEFA Champions League spot.
In England, Arsenal gets the day started with a home game against Aston Villa, who has not won a league game in seven outings. In the later game, Southampton will try to jump back into third place in the Premier League as they host Swansea.
Juventus can extend its lead at the top of the Serie A standings to nine points with a win at Udinese. Lyon is also trying to maintain a healthy title advantage on a trip to Monaco in Ligue 1 play.
Ghana faces Guinea with a trip to the African Cup of Nations semifinals on the line. The Black Stars got the better of Guinea when the two had to qualify for the tournament out of the same group, though they also tied twice. Ivory Coast plays Algeria in the second quarterfinal of the day.
If you will be watching today's action, feel free to leave your thoughts, opinions and some play-by-play in the comments section below.
Enjoy the action (today's soccer TV schedule after the jump):
8:30 a.m. – Fox Sports 1 – Celtic vs. Rangers
8:30 a.m. – NBCSN – Arsenal vs. Aston Villa
9 a.m. – GolTV USA – Werder Bremen vs. Hertha Berlin
9 a.m. – beIN Sports USA – Udinese vs. Juventus
9 a.m. – beIN Sports en Espanol – Chievo vs. Napoli
11 a.m. – NBCSN – Southampton vs. Swansea
11 a.m. – beIN Sports USA – Ghana vs. Guinea
11 a.m. – beIN Sports en Espanol – Almeria vs. Getafe
11:30 a.m. – GolTV USA – Augsburg vs. Hoffenheim
1 p.m. – beIN Sports USA – Sevilla vs. Espanyol
1 p.m. – Univision – Toluca vs. Universidad Guadalajara
3 p.m. – beIN Sports USA – Barcelona vs. Villarreal
6 p.m. – Univision Deportes – Guadalajara vs. Pachuca