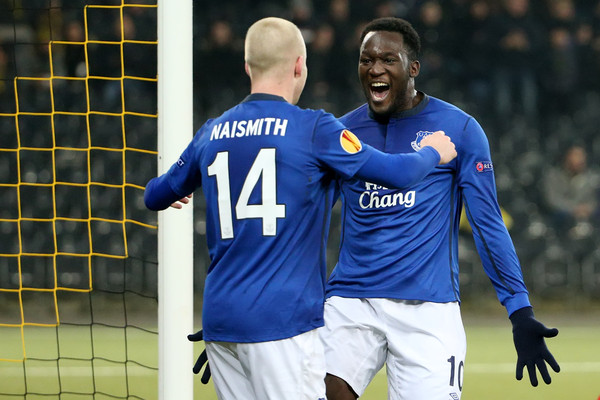 By MICHAEL PENG
The Europa League field will be trimmed to 16 after Thursday with the second leg of the Round of 32 taking center stage of the soccer world.
Everton and Napoli each tallied four away goals in their respective first leg victories and are early favorites to move on, while other sides like Sporting CP and Olympiacos look to overcome two-goal deficits at home today.
In addition, both Liverpool and reigning champions Sevilla will look to hold onto 1-0 advantages as they head on the road to take on Besiktas and Borussia Monchengladbach, respectively.
Meanwhile, the CONCACAF Champions League will resume as well with the first leg match between DC United and Alajuelense scheduled for an 8 p.m. kickoff. Other items on the ledger include Copa Libertadores action featuring Boca Junior and Santa Fe.
If you will be watching today's action, please feel free to share your thoughts, opinions and some play-by-play in the comments section below.
Enjoy the action (Today's soccer TV schedule is after the jump):
TODAY'S SOCCER ON TV
12:00 p.m. ­— Fox Soccer 2Go — Dinamo Moskva vs. Anderlecht
12:00 p.m. ­— ESPN3/Fox Soccer 2Go — Zenit vs. PSV
1:00 p.m. ­— ESPN3/Fox Soccer 2Go — Borussia Monchengladbach vs. Sevilla
1:00 p.m. ­— Fox Soccer 2Go — Legia Warszawa vs. Ajax
1:00 p.m. ­— Sky Sports 1 — Dynamo Kyiv vs. Guingamp
1:00 p.m. ­— ESPN Deportes — Salzburg vs. Villarreal
1:00 p.m. — ESPN3/Fox Sports 1/Fox Soccer 2Go — Besiktas vs. Liverpool
1:00 p.m. — ESPN3/Fox Sports 2/Fox Soccer 2Go —Fiorentina vs. Tottenham Hotspur
1:00 p.m. — Fox Soccer 2Go —Internazionale vs. Celtic
3:05 p.m. — Fox Sports 1/Fox Soccer 2Go — Everton vs. Young Boys
3:05 p.m. — Sky Sports 1 — Club Brugge vs. AaB
3:05 p.m. — ESPN Deportes/Fox Soccer 2Go — Athletic Club vs. Torino
3:05 p.m. — Fox Soccer 2Go — Sporting CP vs. Wolfsburg
3:05 p.m. — Fox Soccer 2Go —Olympiacos vs. Dnipro Dnipropetrovsk
3:05 p.m. — ESPN 3/Fox Soccer 2Go — Napoli vs. Trabzonspor
3:05 p.m. — ESPN3/Fox Sports 2/Fox Soccer 2Go — Feyenoord vs. Roma
6:15 p.m. — Fox Sports GO/Fox Deportes — Boca Juniors vs. Wanderers
8:00 p.m. — Fox Sports 2/Fox Soccer 2Go — Alajuelense vs. DC United
8:30 p.m. — Fox Sports GO/Fox Deportes — Santa Fe vs. Colo Colo