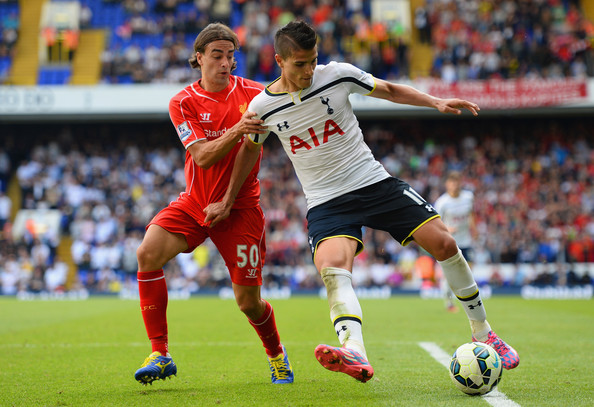 By RYAN TOLMICH
Currently stationed fifth and seventh in the Premier League table, Tottenham and Liverpool can give their respective Champions League hopes a major boost as they clash Tuesday at Anfield.
Liverpool, who currently sit four points behind Tottenham, enter Tuesday with a slew if injury woes. Forward Raheem Sterling has been ruled out of tonight's matchup with a foot injury, while midfielder Lucas Leiva is set to miss six weeks due to a groin injury.
The Reds are unbeaten in their last eight games, but will now have to contend with an in-form Harry Kane, who led Tottenham to a 2-1 comeback victory over Arsenal this past weekend. Kane as scored 11 goals in his past 14 appearances, but Tuesday's goals will have to come against a Liverpool side riding four straight clean sheets.
In other Premier League action, Arsenal host Leicester City, Aston Villa takes on Hull City and QPR visits Sunderland.
If you will be watching today's action, please feel free to share your thoughts, opinions and some play-by-play in the comments section below.
Enjoy the action (Today's soccer TV schedule is after the jump):
TUESDAY'S SOCCER ON TV
2:45 p.m. – Premier League Extra Time – Arsenal vs. Leicester City
2:45 p.m. – Premier League Extra Time – Hull City vs. Aston Villa
2:45 p.m. – Premier League Extra Time – Sunderland vs. Queens Park Rangers
3:00 p.m. – NBCSN – Liverpool vs. Tottenham
3:00 p.m. – beIN Sports Connect – Red Star vs. Saint-Étienne