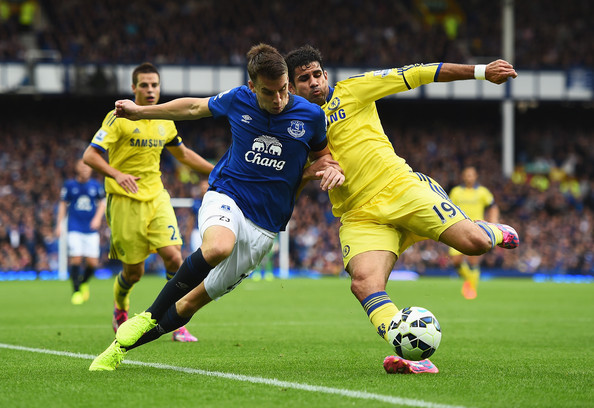 By RYAN TOLMICH
The Premier League takes center stage once again Wednesday, while a Copa del Rey matchup pitting Barcelona and Villareal provides a worthy alternative.
Headlining Wednesday's Premier League action is a clash featuring league leaders Chelsea, who play host to Everton. The matchup is the second of the season between the two, as Chelsea emerged victorious in the first with a highly-entertaining 6-3 victory.
In Spain, Barcelona host Villareal at the Camp Nou for the first leg of the Copa del Rey semifinals. Barca enter Wednesday as hot as any team in Europe, having won nine straight behind 34 goals. One of those victories came earlier this month against Villareal, who pushed Barcelona to a 3-2 scoreline.
In other action, Paris-Saint Germain take on Nantes in the Copa de France, Southampton and West Ham clash in a meeting of Premier League surprises and Manchester United hosts Burnley.
If you will be watching today's action, please feel free to share your thoughts, opinions and some play-by-play in the comments section below.
Enjoy the action (Today's soccer TV schedule is after the jump):
WEDNESDAY'S SOCCER ON TV
1:00 p.m. – beIN Sports Connect – Monaco vs. Rennes
2:00 p.m. – beIN Sports USA – Barcelona vs. Villareal
2:45 p.m. – Fox Soccer Plus – Partick Thistle vs. Celtic
2:45 p.m. – Premier League Extra Time – Manchester United vs. Burnley
2:45 p.m. – Premier League Extra Time – Southampton vs. West Ham
2:45 p.m. – NBCSN – Chelsea vs. Everton
2:45 p.m – Premier League Extra Time – Stoke City vs. Manchester City
3:00 p.m. – Premier League Extra Time – Crystal Palace vs. Newcastle
3:00 p.m. – Premier League Extra Time – West Brom vs. Swansea
3:00 p.m. – beIN Sports Connect- Paris Saint-Germain vs. Nantes
4:00 p.m. – beIN Sports es Espanol – Athletic Bilbao vs. Espanyol
5:30 p.m. – GOLTV USA – Palmeiras vs. Rio Claro
7:00 p.m. – GOLTV USA – Santos vs. Sao Paulo