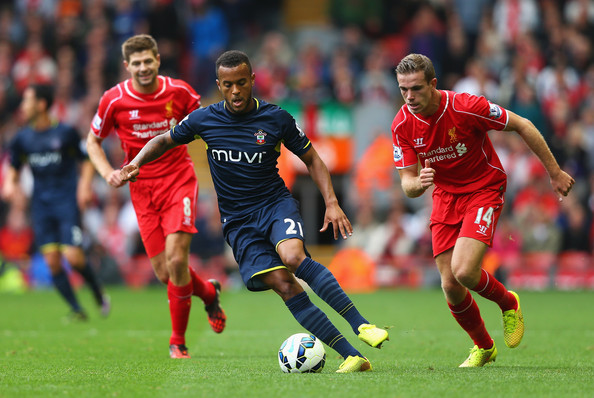 By AYDIN REYHAN
Following the return of European competition, this weekend brings a slate of intriguing matchups as teams get back into league play.
Southampton hosts Liverpool in what is the most exciting Premier Leage game on paper as both sides have it all to prove domestically as both look to climb even higher in the standings.
Wolfsburg have a date at home against Hertha Berlin as they look to continue their hot-streak in the Bundesliga, looking to cut Bayern Munich's lead down to five points.
Some of the other games in Europe this weekend brings us Stuttgart hosting Borussia Dortmund, Roma visiting Hellas Verona, Real Madrid facing Elche and Toulouse's visit to Paris Saint-Germain.
Here is a better look at this weekend's European action:
ENGLAND
Southampton hosts Liverpool in the curtain-closer on Sunday as the visitors took the points at Anfield the first time with a 2-1 scoreline. Now, Liverpool sit in seventh with Southampton resting in fourth. On a more personal level, the matchup will mark the returns of Dejan Loven, Adam Lallana and Rickie Lambert to St. Mary's Stadium, as the trio departed Southampton for Anfield last summer.
In other action, Manchester City host Newcastle United while Chelsea host Burnley on Saturday.  Manchester United and Arsenal both head on the road to take on Swansea and Crystal Palace, respectively.
Here is a closer look at this weekend's Premier League action:
Saturday:
Aston Villa vs. Stoke City
Chelsea vs. Burnley
Crystal Palace vs. Arsenal
Hull City vs. Queens Park Rangers
Sunderland vs. West Bromich Albion
Swansea City vs. Manchester United
Manchester City vs. Newcastle United
Sunday:
Tottenham Hotspur vs. West Ham United
Everton vs. Leicester City
Southampton vs. Liverpool
GERMANY
League-leaders Bayern Munich, fresh off of a disapointing Champions League draw with Shakhtar Donetsk, visits Paderborn. Meanwhile, high-flying Wolfsburg, coming off a thrilling 5-4 win at Leverkusen, host Hertha Berlin hoping to make up the eight point gap that currently separates them from the league leaders.
Borussia Dortmund kicks off on Friday as they visit Stuttgart after winning their last two matches in the Bundesliga. In other action, Schalke takes on Werder Bremen while Bayer Leverkusen faces Augsburg.
Here is a closer look at this weekend's Bundesliga action:
Friday:
Suttgart vs. Borussia Dortmund
Saturday:
Schalke 04 vs. Werder Bremen
Mainz vs. Eintracht Frankfurt
Augsburg vs. Bayer Leverkusen
Freiburg vs. Hoffenheim
Paderborn vs. Bayern Munich
Koln vs. Hannover 96
Sunday:
Hamburger SV vs. Borussia Monchengladbach
Wolfsburg vs. Hertha Berlin
SPAIN
Barcelona host seventh-placed Malaga as the Catalans look to overlap Real Madrid by two points to lead the pack. They drew 0-0 away from home the first time they met the Albicelestes.
Real Madrid visit Elche Sunday after previously defeating the opposition, 5-1, at home earlier in the season. They are coming off a huge 2-0 win at Schalke in the Champions League, so fatigue from playing in midweek could play a factor as they look to protect or even build on their one-point lead ahead of Barcelona.
Atletico Madrid lost 2-0 at Celta Vigo last weekend, so the reigning La Liga winners will need a win Saturday against Almeria to stay within a reasonable-distance of Barca and Real.
Here is a closer look at this weekend's La Liga action
Friday:
Getafe vs. Espanyol
Saturday:
Barcelona vs. Malaga
Cordoba vs. Valencia
Atletico Madrid vs. Almeria
Deportivo La Coruna vs. Celta de Vigo
Sunday:
Real Sociedad vs. Sevilla
Athletic Club Bilbao vs. Rayo Vallecano
Villarreal vs. Eibar
Elche vs. Real Madrid
Monday:
Levante vs. Granada
ITALY
Juventus kicks of the weekend in Serie A against Atalanta on Friday, while second-placed Roma visit Hellas Verona a day later.
AC Milan hosts Cesena, who are coming off of a morale-boosting 2-2 draw at home against league-leaders Juve. Meanwhile, Torino visit Fiorentina in Sunday's last match before Monday's final two matches as Inter visit Cagliari after Napoli welcomes Sassuolo.
Here is an overall look at this weekend's action in Serie A:
Friday:
Juventus vs. Atalanta
Saturday:
Sampdoria vs. Genoa
Sunday:
Milan vs. Cesena
Empolli vs. Chievo
Lazio vs. Palermo
Hellas Verona vs. Roma
Parma vs. Udinese
Fiorentina vs. Torino
Monday:
Napoli vs. Sassuolo
Cagliari vs. Inter Milan
FRANCE
Nice and Monaco kick of Ligue 1 on Friday as the visitors look to climb into the top four of the table.
Paris Saint-Germain, who are looking to wipe their memory of dropping a 2-0 lead before drawing with Caen, host Toulouse Saturday while Lyon hosts Nantes. Finally, Marseille visits Saint Etienne, who sits eight points behind them in fourth.
Here is a better look at Ligue 1's action this weekend:
Friday: Nice vs. Monaco
Saturday:
Paris Saint-Germain vs. Toulouse
Bastia vs. Lille
Caen vs. Lens
Evian vs. Lorient
Rennes vs. Bordeaux
Sunday:
Guingamp vs. Montpellier
Lyon vs. Nantes
Reims vs. Metz
Saint Etienne vs. Marseille