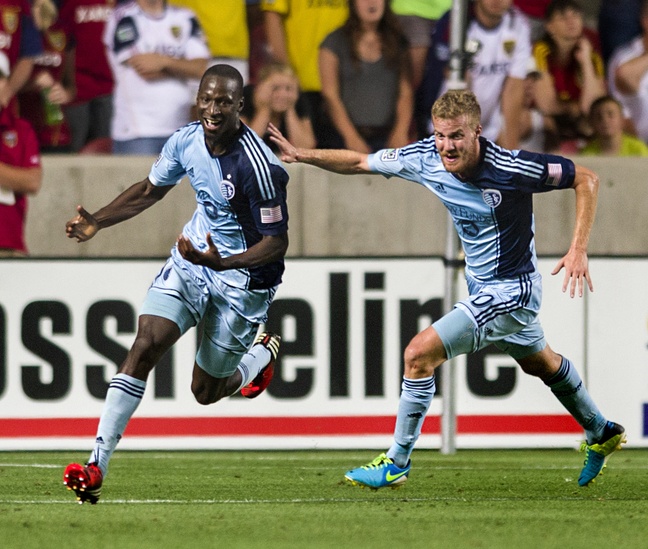 Photo by Douglas C. Pizac/USA TODAY Sports Images
By TATE STEINLAGE 
Sporting Kansas City was plagued by injuries in 2014, but relief is on the way.
Ike Opara and Graham Zusi are just days away from returning to in-game action. Chance Myers is not far behind.
Opara has been sidelined with a right ankle injury — a chondral defect, to be specific — since March 2014, but Sporting KC manager Peter Vermes said Monday that the defender should be gearing up for competitive training when the club returns to Tucson, Arizona Sunday for the second phase of preseason.
"Ike has done a good job of surviving through this first phase because he had to kind of go through the soreness and the days when he was in a little bit of pain and all that type of stuff," Vermes said via teleconference. "That piece was important for him. He got through it. I didn't want to play him in either of the two games yet. I thought that it would be good to put him through all the training sessions and then use the games when we come back for him to start getting involved."
 Zusi, who played with a stress reaction in his foot during the tail end of last season, will also begin competitive play during the second phase. The injury forced him to miss January's U.S. Men's National Team Camp after receiving an initial call-up.
Myers' progress has been more gradual, but still ahead of schedule. The defender ruptured the Achilles tendon in his left ankle in March after re-signing with Sporting KC. He will begin training with the team during the second phase and slowly work towards full fitness. Vermes said it could be eight weeks until Myers is able to play a full 90 minutes.
"Chance has still got a little time left where he still has to get through the everyday trainings and things like that," Vermes said. "He's not there yet. He still has, I would say in my opinion, another couple months. The great thing is, like yesterday, he was in training and he was running down the side and crossing balls. It just wasn't where there was competing with anyone else. We're not there yet."
Here are more Sporting KC notes:
NEMETH'S EARLY FORM IMPRESSING COACHES, TEAMMATES 
Krisztian Nemeth was brought on this offseason for his attacking prowess and versatility at the three forward positions. However, it's been his defensive form that has impressed Vermes so far in preseason.
"He's done a lot more defensive work than I thought that he would, to be honest, and it's not because I thought he couldn't do it. But I think there is sometimes we have a high demand on some of our guys," Vermes said. "He made some very good decisions on where he should go and where he should be defensively. I think it really helped us out winning some balls back. He did well."
The Hungarian played a major role in Sporting KC's 4-2 victory over FC Tucson Monday, tallying three goals and the game-winning assist in just 45 minutes of action.
"He moves very well off the ball," Vermes said. "He's got a very good nose for the goal. He plays the position very much like you would expect from an eastern European forward. His movement was good and he was very clinical around the goal. He was playing in the central forward spot today, but he can play any of the three spots around the field."
Nemeth's preseason form has not only caught the eye of Vermes and staff, but his teammates as well.
"He's just a very intelligent player, I'd say that's his biggest strength," defender Seth Sinovic said. "He reads the game really well, holds the ball up really well. He's a very smooth finisher."
 SPORTING KC COMPLETES FIRST PRESEASON PHASE 
After two weeks in Tucson, Arizona, Sporting KC has returned home — temporarily — to prepare for the final stretch leading up to the start of the 2015 MLS regular season.
The club capped off the first phase with a 4-2 win over FC Tucson Monday after dropping its preseason opener, 2-0, to Portland on Jan. 31.
"It was a good start (to preseason) in that we got through this phase with really no injuries to most of the guys," Vermes said. "We got enough minutes in the games that we wanted to. The roster right now is good and it is something that we'll continue to evaluate as we go as we always do. As of right now, things are good."
Sporting KC will return to Tucson on Sunday for the second and final phase of preseason, which will include the 2015 Desert Diamond Cup. The annual preseason tournament will begin on Feb. 15 and wrap up on March 1. Sporting KC will begin the regular season a week later at home against the New York Red Bulls.
"We have a lot of new guys in camp and a lot of talented guys," Sinovic said. "I have been really impressed with the guys we've brought in. It's starting to come together a little bit. Obviously, with new guys joining in it's going to take a little time to get used to the way we play and the style that we play and the pace we like to play at. We're progressing every day."
OTHER TIDBITS: 
Matt Besler and Jon Kempin will rejoin the team Tuesday after a month away with the USMNT. Besler earned his 25th cap Sunday in a 2-0 U.S. win over Panama. Kempin did not feature in the 18 in either January friendly. Vermes says both will begin training immediately.
Vermes said Monday that it's "likely" Sporting KC is not finished announcing new additions to its roster. Details were not provided.
Sporting KC will enter the 2015 Lamar Hunt U.S. Open Cup in the fourth round. Two MLS sides will be paired in the round.
——-
Will Sporting KC's opener feature Opara, Zusi and Myers? Will Nemeth solidify a starting role?
Share your thoughts below.