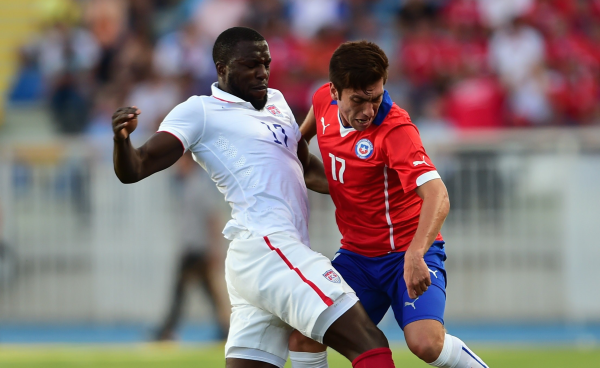 By FRANCO PANIZO
The outcome of friendlies might be meaningless in the grand scheme of things, but don't tell Jurgen Klinsmann and the U.S. Men's National Team that. Not after their recent few games.
After failing to win any of its last five exhibition matches dating back to October, the U.S. is in sore need of a victory in order to ease off some pressure from concerned fans and restore confidence that the team is headed in the right direction. The Americans will get their chance to right the ship on Sunday, as they close out their month-long winter camp by hosting CONCACAF foe Panama at StubHub Center.
For the U.S., the friendly will serve as more than just an opportunity to taste victory for the first time since September. Klinsmann is sure to continue to look at a number of the younger and lesser experienced players in his current squad, with Gyasi Zardes, Steve Birnbaum and Wil Trapp all likely to see the field after making their international debuts in last week's 3-2 road loss vs. Chile.
How all the Americans, old and new, look from a fitness standpoint in this game has become a main talking point, however. Klinsmann has been critical of how some of his players are not in tip-top game-shape in recent days, and pointed to that as a big reason for why they were bested by the Chileans.
In that game in Rancagua, a familiar issue resurfaced. The U.S. was unable to maintain the same kind of tempo that it showed at the start of the match, and was pinned deep in its own half for much of the closing 45 minutes before surrendering its 2-1 halftime lead to the hosts.
Panama will not provide the same type of challenge as the dynamic Chileans, but Klinsmann and the Americans know that anything short of a complete performance from them could lead to another disappointment.
"The most important is if we put in the effort we're good enough to get a result, but the effort has to be there for 90 minutes," said forward Jozy Altidore. "We've played the last few games 75 minutes, 70, but at this level, you saw at the World Cup, you have to play the full game."
While the conversation over the past week has been steered towards the fitness aspect of the game, another main subplot in this friendly vs. the Panamanians will be whether Klinsmann sticks with the new-look formation he trotted out in Chile or tries something else.
Klinsmann went with a 3-5-2 down in South America, and though there were some promising moments in the attack in the first half, the U.S. struggled heavily on defense before switching to its more conventional 4-4-2 setup.
It's unclear which way Klinsmann will line his players up on Sunday, but the 3-5-2 has not been ruled out yet.
"We just want to have this card in our pocket when we need it so the defenders have to deal with it," said Klinsmann. "It's a different setup and a different approach, as well as if you play a 4-4-2 or a 4-3-3 or a different 4-4-2 with a diamond. For us, it's important that they learn how to play different systems without changing our general approach that we want to take the game to our opponent.
"We want to play from the back, keep the tempo high, which I think we did very, very well for 60 minutes in Chile. They were very impressed by the way we played that game. We switched to a 4-4-2 for the second half because they were one man up in midfield, we didn't control that anymore, and too many balls were coming in by process. That's why we made that decision, which still was the right decision to do, but obviously the result at the end of the day didn't give you the argument."
No matter the formation the U.S. goes with, Panama should provide a good test in Carson, California. With MLS-based veterans like Blas Perez, Jaime Penedo and Gabriel Torres all available for selection, the Panamanians have enough talent to extend the Americans' winless streak.
Like Klinsmann, Panama head coach Hernan Dario Gomez could also give time to some of his top up-and-coming players. Several promising youngsters have been included in the roster, and may earn minutes as Gomez attempts to identify which of them might be ready to contribute at this summer's CONCACAF Gold Cup.
"I think over the last couple of years what they've done is impressive," said Klinsmann. "You saw it on a younger note with the Under-20 team, they're bringing players through the pipeline that are hungry, that are physical, that are able to go high tempo, but also that are inspirational. They're very gifted, their young players, and some of them are here out of that U-20 group actually.
"We will fight with them in the Gold Cup and so, for us, it's a great opportunity to kind of see where they are, where we are, in the early stage of the season. They're similar to Chile; they are in the middle of their season. We are just starting the season now, but I think it's a good benchmark to have and we have respect for them."
The Americans might know how dangerous Panama can be, but anything short of victory at home will prove discouraging and add more fuel to the fire of disgruntled U.S. fans. Klinsmann's side is long overdue for a win, but will need to put forth its first complete performance in a while in order to knock off a familiar foe.
"I think it's become a tough game," said Altidore. "They're very athletic, and if we're not careful maybe we won't get a result in this game as well. We need to understand that it's a team that's going to come in with a lot of emotion and play to win the game, so we have to be on our toes."