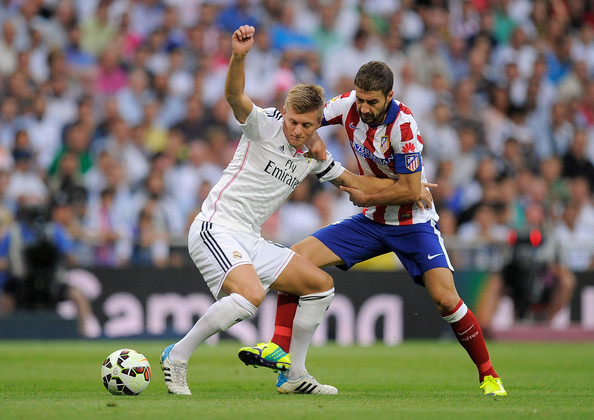 By ADAM TROXTELL
Few teams have been able to find a way to stop Real Madrid, but one team that has consistent success in stopping them this season has been arch-rival Atletico Madrid.
Carlo Ancelotti's side got the better of Diego Simeone's men in last year's UEFA Champions League final, but Atletico has had its way with Real Madrid in this season's meetings. Something Real Madrid will look to halt when the sides meet at the Bernabeu.
The Madrid derby is just one of several rivalry matches headlining a stacked rivalry weekend. In England, the Merseyside Derby is back, with Everton trying to halt a Liverpool side unbeaten in eight league matches. In London, bitter rivals Arsenal and Tottenham renew acquaintances at White Hart Lane, with Harry Kane looking to work his magic against a Gunners side led by Alexis Sanchez.
The high-profile match continue in Italy, where Juventus hosts AC Milan. It's been almost three years since a meeting between the teams ended in a draw.
Cruz Azul hopes to stay unbeaten when they host Moterrey in Liga MX action. Monterrey sealed a 3-1 win last time they met, though Cruz Azul has won six of the last 11 meetings.
Here is a complete look at This Weekend's Soccer on TV:
FRIDAY
2:30 p.m. – GolTV USA – Schalke vs. Borussia Monchengladbach
2:45 p.m. – beIN Sports USA – Deportivo La Coruna vs. Eibar
8:30 p.m. – ESPN3 – Morelia vs. America
9:30 p.m. – Univision – Veracruz vs. Queretaro
SATURDAY
3:30 a.m. – Fox Sports 2 – Melbourne Victory vs. Melbourne City
5:30 a.m. – Fox Soccer Plus – Perth Glory vs. Sydney FC
7:45 a.m. – NBCSN – Tottenham vs. Arsenal
9:30 a.m. –  GolTV USA – Stuttgart vs. Bayern Munich
10 a.m. – beIN Sports USA – Real Madrid vs. Atletico Madrid
10 a.m. – NBCSN – Aston Villa vs. Chelsea
10 a.m. – Premier League Extra Time – Manchester City vs. Hull
10 a.m. – Premier League Extra Time – Leicester City vs. Crystal Palace
10 a.m. – Premier League Extra Time – QPR vs. Southampton
10 a.m. – Premier League Extra Time – Swansea vs. Sunderland
Noon – beIN Sports en Espanol – Villarreal vs. Granada
12:30 p.m. – NBC – Everton vs. Liverpool
12:30 p.m. – GolTV USA – Hamburg vs. Hannover
2:45 p.m. – beIN Sports USA – Juventus vs. AC Milan
6 p.m. – Univision – Cruz Azul vs. Monterrey
8 p.m. – Univision Deportes – Tigres vs. Puebla
9 p.m. – Telemundo – Pachuca vs. Toluca
10 p.m. – Univision Deportes – Chiapas vs. Tijuana
SUNDAY
6 a.m. – beIN Sports en Espanol – Cordoba vs. Almeria
7:30 a.m. – NBCSN – Burnley vs. West Brom
9 a.m. – beIN Sports USA – Cagliari vs. Roma
9 a.m. – beIN Sports en Espanol – Napoli vs. Udinese
9:05 a.m. – NBCSN – Newcastle vs. Stoke
9:30 a.m. – GolTV USA – Werder Bremen vs. Bayer Leverkusen
11 a.m. – beIN Sports USA – Getafe vs. Sevilla
11:15 a.m. – NBCSN – West Ham vs. Manchester United
11:50 a.m. – ESPN2 – France vs. U.S. Women's National Team
1 p.m. – beIN Sports en Espanol – Espanyol vs. Valencia
1 p.m. – Univision – Pumas vs. Leon
2 p.m. – beIN Sports USA – African Cup of Nations Final
3 p.m. – beIN Sports USA – Lyon vs. PSG
3 p.m. – beIN Sports en Espanol – Athletic Bilbao vs. Barcelona
4 p.m. – ESPN – U.S. Men's National Team vs. Panama
6 p.m. –  Univision Deportes – Universidad Guadalajara vs. Atlas