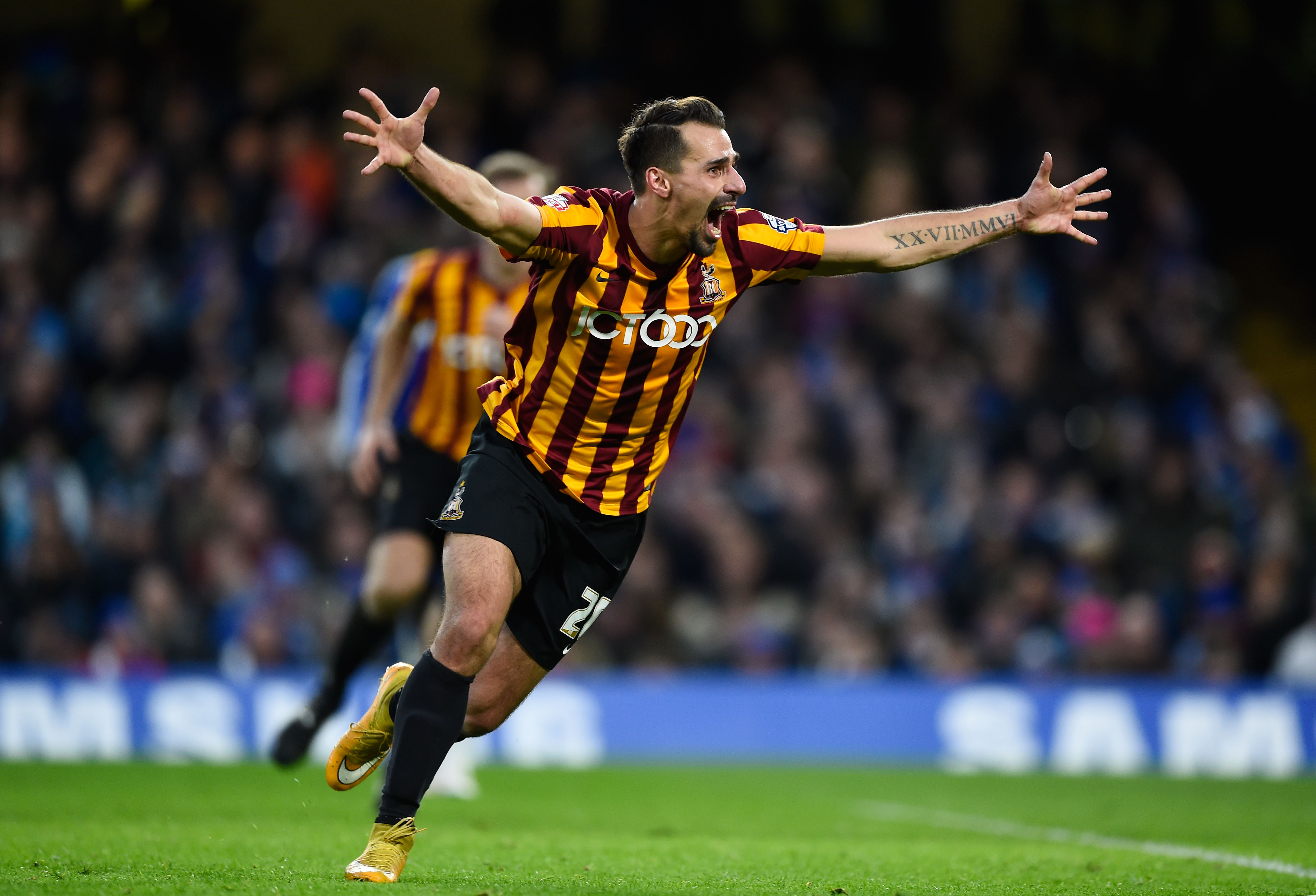 By ADAM TROXTELL
A pair of this season's biggest giant killers in the FA Cup will try to make it two upsets in a row this weekend.
After powering past Manchester City in the last round, Middlesbrough face another tough road trip against Arsenal. The Championship club has won three consecutive games since the triumph over the Citizens, and will be hoping to ride that momentum when it resumes tournament play.
The Gunners have already disposed of one Championship team in this FA Cup, beating Brighton, 3-2, in the last round, and the last time they took on Middlesbrough was April 2009. In that meeting, Arsenal triumphed, 2-0, against a soon-to-be-relegated Boro side in the English Premier League.
The other underdog is Bradford City, whose reward for coming back to beat Chelsea last round is a home game against Sunderland on Sunday. The Bantams are no strangers to making a surprising run in a domestic cup, since it was only two years ago that they went all the way to the League Cup final before losing to Swansea.
La Liga will again be the center of much attention as well this weekend. With one point separating first place Real Madrid from runners-up Barcelona, games each club is expected to win suddenly become more crucial. Los Blancos host Deportivo La Coruna, a team they have not lost to in their last six meetings, while Barcelona host relegation candidates Levante.
Over in Mexico, sputtering Club America will host eighth place Chiapas. Elsewhere, Cruz Azul hopes to stay without a loss against Queretaro. Fifth meets sixth when Santos Laguna and Toluca meet in other intriguing Liga MX, and Chivas de Guadalajara looks to move closer to the top of the table against fourth-placed Veracruz on a busy Sunday in the league.
Here is this weekend's soccer on TV (schedule after the jump):
FRIDAY
2:30 p.m. – beIN Sports USA – Marseille vs. Reims
2:30 p.m. – GolTV USA – Borussia Dortmund vs. Mainz
2:45 p.m. – Fox Soccer Plus – Rangers vs. Hibernian
8:30 p.m. – ESPN Deportes – Queretaro vs. Cruz Azul
10:30 p.m. – ESPN Deportes – Tijuana vs. Pumas
SATURDAY
3:30 a.m. – Fox Soccer Plus – Sydney FC vs. Melbourne Victory
7:45 a.m. – Fox Sports 1 – West Brom vs. West Ham
7:45 a.m. – Fox Soccer Plus – St. Johnstone vs. Celtic
9:30 a.m. – GolTV USA – Bayern Munich vs. Hamburg
10 a.m. – Fox Sports 2 – Blackburn vs. Stoke
10 a.m. – Fox Soccer Plus – Derby vs. Reading
10 a.m. – beIN Sports USA – PSG vs. Caen
10 a.m. – beIN Sports en Espanol – Sevilla vs. Cordoba
Noon – beIN Sports USA – Real Madrid vs. Deportivo La Coruna
12:30 p.m. – Fox Soccer Plus – Crystal Palace vs. Liverpool
12:30 p.m. – GolTV USA – Frankfurt vs. Schalke
2 p.m. – beIN Sports en Espanol – Granada vs. Athletic Bilbao
2:45 p.m. – beIN Sports USA – Palermo vs. Napoli
4 p.m. – beIN Sports en Espanol – Malaga vs. Espanyol
6 p.m. – ESPN Deportes – Puebla vs. Monterrey
6 p.m. – Univision – America vs. Chiapas
8 p.m. – Univision Deportes – Tigres vs. Morelia
9:06 p.m. – Telemundo – Leon vs. Universidad Guadalajara
10 p.m. – Univision Deportes – Atlas vs. Pachuca
SUNDAY
1 a.m. – Fox Sports 2 – Adelaide United vs. Perth Glory
6:30 a.m. – beIN Sports USA – Milan vs. Empoli
7:30 a.m. – Fox Sports 1 – Aston Villa vs. Leicester City
9 a.m. – beIN Sports en Espanol – Atalanta vs. Inter Milan
9 a.m. – beIN Sports USA – Roma vs. Parma
9:30 a.m. – Fox Soccer Plus – Bradford City vs. Sunderland
9:30 a.m. – GolTV USA – Hertha Berlin vs. Freiburg
11 a.m. – Fox Sports 2 – Arsenal vs. Middlesbrough
11 a.m. – beIN Sports USA – Barcelona vs. Levante
1 p.m. – beIN Sports en Espanol – Rayo Vallecano vs. Villarreal
1 p.m. – Univision – Toluca vs. Santos Laguna
2:45 p.m. – beIN Sports USA – Cesena vs. Juventus
3 p.m. – beIN Sports en Espanol – Celta de Vigo vs. Atletico Madrid
6 p.m. – Univision Deportes – Guradalajara vs. Veracruz