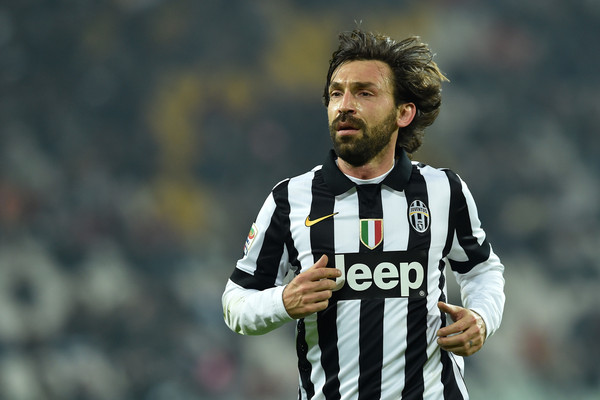 By DAN KARELL
Juventus will be without their talismanic midfielder for two of their biggest games of the season.
According to reports out of Italy, Andrea Pirlo will miss the next 20 days after suffering a right calf injury during Juventus' 2-1 first leg victory over Borussia Dortmund on Tuesday in UEFA Champions League action. The 35-year-old midfielder was substituted in the 37th minute of the match after suffering the injury.
The news means Pirlo will miss Monday's highly anticipated encounter at second-place AS Roma, and he could be short of fitness for the return leg in Dortmund on March 18.
Pirlo has started and played 22 times this season, scoring four goals, including an absolute belter on Feb. 20 against Atalanta.
Here are some more stories to catch you up around the world:
CLUB AMERICA SCORED THREE GOALS IN SIX MINUTES TO STUN SAPRISSA
After more more than an hour and a quarter of soccer with no goals scored at The Monster's Cave, the floodgates opened for visiting Club America.
The Mexican champions scored three goals in six minutes late in the second half to run away to a 3-0 victory over Deportivo Saprissa in Costa Rica in the first leg of their CONCACAF Champions League quarterfinal bout. Oribe Peralta scored the final two goals to take America back to Mexico with a huge advantage.
Both teams had numerous chances to break the deadlock in the first 78 minutes of soccer, but Paul Aguilar was the first man to do so, sneaking behind the Saprissa defense and connecting on a cross for the game's opening goal.
In the 81st minute, America countered with numbers on the Saprissa goal, and after Darwin Quintero took a defender out of the play with a fake shot, he fed Peralta at the penalty spot and "El Cepillo" calmly tucked his shot home. Three minutes later, Peralta added another for good measure as he broke the offside trap and scored off the inside of the near post to make it 3-0.
PATO BRACE LEADS SAO PAULO TO HUGE VICTORY
Following a disastrous 2-0 loss to city rivals Corinthians last week, Sao Paulo bounced back in a huge way in the second round of Copa Libertadores matches.
Back at home, Sao Paulo thrashed Uruguayan side Danubio, 4-0, with former AC Milan froward Alexandre Pato scoring the opening two goals. After Pato's two first half goals, Reinaldo added one in the 69th and Jonathan Cafu scored in the 89th to complete the rout.
Pato's first goal was off a cross from Reinaldo that he volleyed home from inside the box.
Elsewhere in Copa Libertadores action, Mexican side Club Atlas took down Brazilian side and former Copa Lib champions Atletico Mineiro, 1-0, in the driving rain in Belo Horizonte. Guido Carillo scored a hat-trick for his Argentine side Estudiantes de la Plata as they win, 3-0, against Barcelona of Ecuador. And finally, at altitude, Peruvian side Universitario tied Brazilian club Cruzeiro, 0-0.
QUICK KICKS
Egyptian authorities have decided to allow the Egyptian soccer league to continue after a 40-day mourning period but fans will not be allowed to attend matches. (REPORT)
Barcelona holding midfield maestro Sergio Busquets has extended his contract with the club through 2019. (REPORT)
Local boy Mark Noble has signed a long-term extension with West Ham, tying him to the club through 2020. (REPORT)
Inter Milan boss Roberto Mancini believes Argentine forward Mauro Icardi could be one of the world's best players in the future. (REPORT)
Former World Cup winning coach Marcello Lippi has parted company with Guangzhou Evergrande. (REPORT)
————
What do you think of these reports? Do you see Juventus struggling without Pirlo? How much do you believe he'll be missed? What did you think of Club America's win last night?
Share your thoughts below.