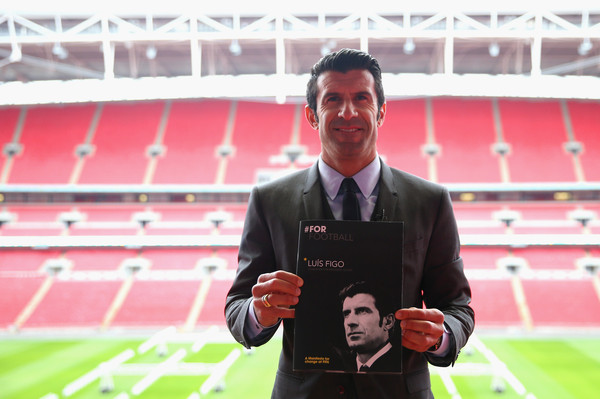 By DAN KARELL
If Luis Figo has his way, the World Cup could look more like today's iteration of the NCAA Tournament in men's and women's college basketball.
Figo, running for the FIFA presidency, outlined some of his campaign promises at a media event in Wembley Stadium on Thursday. His proposals included a World Cup taking place on two continents as well as increasing the funding for smaller nations.
"Both these options are feasible with an extra three to four days of tournament play," Figo said, via BBC Sport. "If this expansion were to take place I believe that additional teams should come from non-European nations. We not only make sure that we include more countries from across the world, but also enable FIFA to raise significant increased revenues that can be used to invest in the growth of the game globally."
The former Portuguese international, one of four candidates running for the FIFA presidency, proposed that the World Cup could be increased to 40 teams, or have a group stage phase with 24 teams on one continent and 24 teams on another before the knockout phase commences together on one continent.
Figo's idea of increasing funding is to get rid of FIFA's $1 billion plus in reserves and distribute that money through grassroots soccer programs.
Here are some more stories to start off your Thursday:
TIGRES ROUTS JUAN AURICH IN COPA LIBERTADORES
Tigres UANL continued their strong run of form at the Estadio Universitario in Nuevo Leon with a rout of Peruvian side Juan Aurich.
Joffre Guerron scored a brace and Jesus Dueñas added the third goal in spectacular fashion to give Los Felinos a perfect start to their Copa Libertadores campaign, beating Juan Aurich, 3-0.
After Nahuel Guzman made a big save early for Tigres, Guerron stepped into a loose ball at the top of the box in the 38th minute before rifling home. In the 59th minute, Guerron was played through and finished in style, leaving Juan Aurich goalkeeper Pedro Gallese in no man's land.
Six minutes later, Dueñas found himself open from 30-yards out and with Gallese way off his line, Dueñas picked a corner and curled home a fantastic strike to put the game away to the delight of the home fans.
MESSI ADMITS HE STRUGGLED ON AND OFF THE FIELD LAST SEASON
Fans and media weren't the only ones who noticed a dip in Lionel Messi's form last season.
The Argentine midfielder admitted he knew he wasn't at his best when speaking on a program, Mundo Leo, on Wednesday evening.
"This year I tried to get off to a good start from the word go," Messi told DeporTV. "I knew that I wasn't coming off the back of a great year, in which I had to get through many problems, both on and off the pitch. It was a real challenge to change the image that I had given last season and to get back to my old self. That was my objective and with that in mind I started the season."
Messi has turned it around this season, scoring 38 goals in all competitions, including 26 in La Liga and eight in the UEFA Champions League.
QUICK KICKS
Liverpool is expected to offer young midfielder Jordon Ibe a new long-term contract after recent impressive displays. (REPORT)
Paris Saint-Germain winger Lucas Moura will miss the next four weeks of action after scans came back showing a groin injury, which he originally suffered on Saturday against Caen. (REPORT)
Klaas-Jan Huntelaar will not miss as much time as originally thought after suffering just a severe bruise in Schalke 04's 2-0 defeat to Real Madrid. (REPORT)
————-
What do you think of these reports? What do you think of Mourinho's proposals? Do you see them convincing the smaller nations to vote for him? What did you think of Tigres' win?
Share your thoughts below.