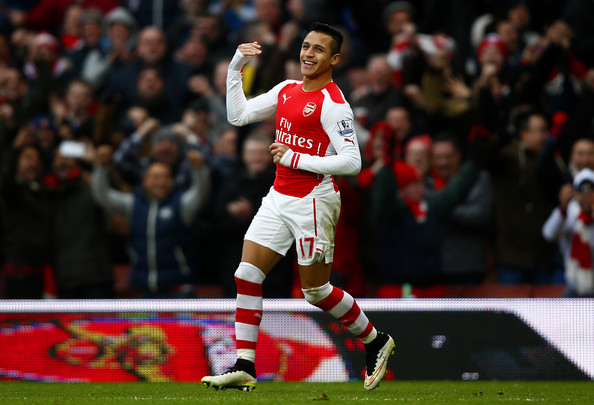 By DAN KARELL
Arsenal will be without their star of the season when they take the field to take on their arch rivals Tottenham on Saturday.
Alexis Sanchez remains sidelined with a hamstring injury, and according to manager Arsene Wenger, the injury will keep him out until next Tuesday's match against Leicester City, at the earliest.
"The latest is that Alexis is not ready," Wenger told Arsenal's website. "He is not far away, the Leicester game is a possibility. He is of course very difficult to keep quiet! He is training but it's light training."
Many have warned that Sanchez could be succeptible to muscular injuries due to overwork, as he had played two to three games a week regularly for nearly five continuous months. He's played 32 games already for Arsenal in all competitions, scoring 18 goals.
On the plus side for the Gunners, Danny Welbeck has resumed full training and is available for Saturday's match.
Here are some more stories from around the world:
BOATENG SUSPENDED FOR THREE GAMES
Jerome Boateng's red card against Schalke 04 last Tuesday was more costly than just reducing the team to ten men on the day.
Boateng has been handed a three-match ban for his professional foul on Sidney Sam in the 12th minute, which ended up being whistled as a penalty kick. Boateng still believes that the foul occurred outside of the box, but he agreed with the referee's decision on the red card, according to German publication Kicker.
It's the fifth red card suffered for Boateng in his Bayern career.
HONDURAS FALLS IN PINTO'S DEBUT IN CHARGE
Jorge Luis Pinto's debut with the Honduran National Team wasn't a night to remember.
Los Catrachos fell on Wednesday in San Pedro Sula, 3-2, in the first of two friendly matches against Venezuela. Ricardo Blanco, Arquimedas Figuera, and Edder Farias all scored in the first 76 minutes to give the visitors a 3-0 lead, before Honduras cut the deficit to one.
Antony Lozano scored in the 80th minute and Juan Montes scored for Honduras in the 90th minute. Houston Dynamo midfielder Luis Garrido started and played 66 minutes, and Sporting KC midfielder Jorge Claros came on at the start of the second half and finished the game.
QUICK KICKS
Argentina, Brazil, Uruguay, and Colombia have all qualified for the upcoming FIFA Under-20 World Cup in New Zealand. (REPORT)
West Bromwich Albion are reportedly fed up with forward Saido Berahino's attitude and are ready to listen for offers for the England U-21 forward in the summer. (REPORT)
Rangers FC in Scotland have been told that the five Newcastle players they acquired on loan must play every week. (REPORT)
Sao Paulo's Alexandre Pato scored a hat-trick in a 4-2 victory over Capivariano in the Sao Paulo state championships. (REPORT)
————–
What do you think of these reports? Do you see Arsenal struggling against Tottenham without Sanchez? How do you see Bayern performing without Boateng in the back line?
Share your thoughts below.