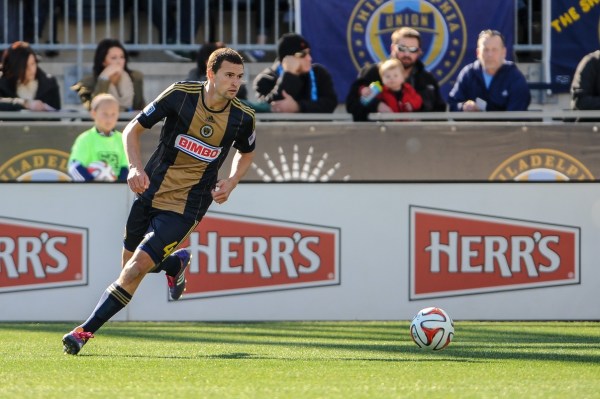 Photo by John Geliebter/USA Today Sports
By RYAN TOLMICH
Austin Berry knows his future doesn't lie with the Philadelphia Union. Now, it's just a matter of waiting for the Union to help him find an exit.
In a detailed interview with Philly Soccer Page, Berry laid out the details of a situation at the club that has been a forgettable one for the former MLS Rookie of the Year. Stuck on the bench with the Union for most of his time in Philadelphia, Berry is desperate for a move away from the club.
"It's been that way since a point in the middle of last season," Berry told Philly Soccer Page. "This has been going on for about 6-7 months now, that it's been moving that way. I've been trying to be a good professional about it and not make a big fuss or too big of a distraction, but it has taken way too long.
"I've been patient, I've been waiting," Berry added. "We've had conversations. Each time when I think something is going to happen, nothing goes through, and it's pretty frustrating because we're less than a month from the season starting and we're less than a month from my apartment lease being up, so I'd like some things to happen. I've told them, I need things to happen, so I can move on."
After recently training with the New York Cosmos, Berry is once again in limbo. With few trade options available, the Union may have little choice but to part ways with Berry in order to avoid a six-figure salary cap hit for a player who doesn't appear to be part of Philly's 2015 plans.
Here are some more of Tuesday's MLS news and notes:
RICHARDS IN CAMP WITH RED BULLS
The New York Red Bulls are currently stationed in Bradenton, Florida and a familiar face is along for the ride.
Former Red Bull Dane Richards is currently in camp with the team as an unsigned player. The Jamaican was a trialist with the Vancouver Whitecaps earlier this preseason.
Richards previously played for the Red Bulls from 2007-2012 and scored 21 goals in 147 appearances for the club. Since leaving the team, Richards has featured for the Whitecaps, England's Burnley and Norway's Bodø/Glimt.
Also included in the Red Bulls preseason roster are fellow trialists Jhon Kennedy Hurtado, Karl Ouimette, Kemar Lawrence and Anthony Wallace.
NYCFC LAUNCH YOUTH ACADEMY
New York City FC is set to start the process of developing the club's future stars.
NYCFC announced Tuesday that the club has launched a new youth academy, starting with a single team on the U-13 and U-14 level. Players will be drawn from the club's existing youth affiliate system, which currently features 11 clubs.
The U-13/U-14 will begin play in the US Soccer Development Academy League in the 2015-16 season.
"This is another critical step as we build New York City FC," said sporting director Claudio Reyna. "This is a Club, not just a team and we want to develop a long and sustainable future, rooted in our community. We want to show the world how much young talent there is in and around New York and make sure we are playing an active and enthusiastic role in nurturing it.
"We believe that starting with one team at this age group, we can give those players the best pathway to the senior roster, giving them at least four years playing in the style which we want to establish. This will have the added benefit of ensuring a strong pipeline of talent from our Affiliate Club network."
CANADIAN INTERNATIONAL DE JONG IN CAMP WITH SPORTING KC
Sporting KC is getting a closer look at a player with plenty of international experience.
Canadian international Marcel de Jong has joined Sporting KC for the team's trip to Tuscon, Arizona for the Desert Diamond Cup.
De Jong has spent the past five years with Augsburg in the Bundesliga and has made 31 appearances for Canada on the international level.
The Canadian is joined in camp by fellow trialists Matt Bersano, Amadou Dia, Christian Duke and James Rogers.
—
What do you think of Berry's situation? What MLS teams do you think could use a player like Berry? Would you like to see Richards return to the Red Bulls?
Share your thoughts below.