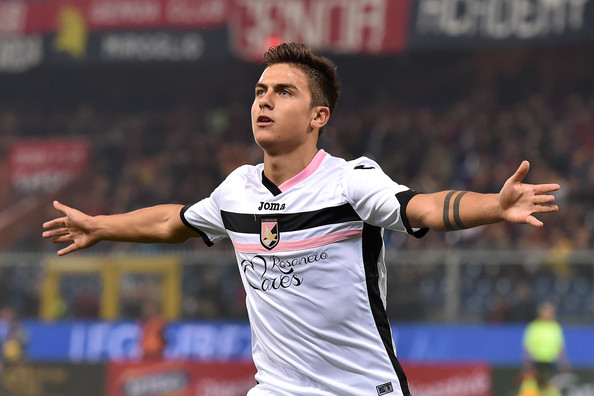 By DAN KARELL
Even with Olivier Giroud playing at the top of his game, Arsenal are still looking at some possibilities to partner up top with Giroud.
According to reports out of Italy, Arsenal are set to meet with the agent of 21-year-old Argentine forward Paulo Dybala today in London, to discuss what it would take to complete a transfer for the player this summer. Dybala has taken Italy by storm this season, scoring 11 goals in 21 Serie A matches with Palermo.
While Palermo's front office has recently denied reports that Napoli's sporting director met with Palermo to hash out a transfer, Palermo president Maurizio Zamparini was quoted recently as saying that his club will likely have to sell Dybala this summer with the player's contract ending in June 2016.
The reports in Italy state it would take around €40 million for Arsenal to sign Dybala.
Here are some more stories to start your Tuesday:
SACCHI CLAIMS HE WAS MISINTERPRETED
Famous AC Milan and Italian National Team coach Arrigo Sacchi claims that his controversial comments about the racial makeup Italian club youth sides were misinterpreted.
On Monday, Sacchi was reported by numerous outlets in Italy as claiming that there were too many black players on Italian teams he watched played at the annual Viareggio Youth Tournament. After receiving plenty of criticism from across Europe, Sacchi took a half step back on Tuesday, claiming his comments about Italy losing their national pride and importing too many foreigners were misunderstood.
"I have been misrepresented," Sacchi told the Gazzetta dello Sport. "How could I be racist? I just said I saw a game featuring a team who fielded four coloured boys. My history speaks for itself, I always coached teams with different colours and I bought many, both at Milan and at Madrid. I just wanted to point out that we are losing our national pride and identity."
QUICK KICKS
Osasuna are under investigation for allegedly taking part in a match-fixing scheme. (REPORT)
UEFA have confirmed that Liverpool forward Lazar Markovic will have to serve a four-match suspension for his red card last Dec. 9 against FC Basel. (REPORT)
Borussia Dortmund have sent scouts to Valencia to watch German World Cup squad member Shkodran Mustafi. (REPORT)
Parma reportedly still have not played the players and staff's wages, even after a new ownership group came in earlier this month. (REPORT)
Bologna have been docked one point and former president Albano Guaraldi was banned for not paying income taxes. (REPORT)
————-
What do you think of these reports? Do you see Dybala moving to Arsenal? Which clubs do you feel can afford him? What do you think of Sacchi's comments?
Share your thoughts below.